Ski Chalets Switzerland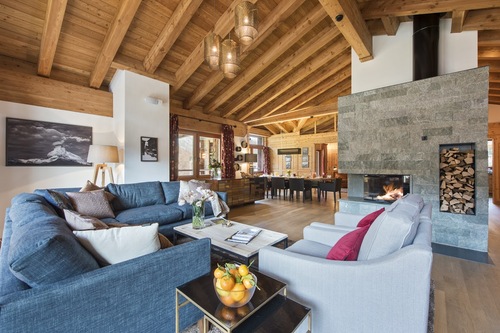 Most of the chalets in Switzerland are found in the Valais region - Verbier and Zermatt being the key resorts. However, there are chalets in other famous Swiss resorts such as Davos, St Moritz and Klosters. Switzerland is the birthplace of downhill skiing and is therefore a must-do destination for Alpine lovers. Ski resorts in Switzerland are very traditional and charming and look just like how you would imagine a traditional alpine village to be. With regards to quality, the chalets in Switzerland are a step above what you typically find in France and make for a really spectacular ski holiday.
Ski chalets Switzerland - availability and prices
Nearly 50% of our Swiss ski chalets are found in Verbier and the surrounding resorts of the 4 Valleys ski area. Verbier is so popular with the British market due to the relatively short transfer from Geneva (less than 2 hours), variety of slopes, lively après ski and excellent ski schools. There are chalets in Verbier to suit all budgets including some of the most exclusive chalets in the Alps.
One of the 'must-see' destinations in Switzerland is Zermatt. However, the sight of the Matterhorn Mountain towering over the traditional village is something that can only really be appreciated first hand. Chalets in Zermatt tend to be at the upper end of the price scale and offer some of the best food and highest quality of in resort service in the Alps. If you are after a truly luxurious chalet in Switzerland, then Zermatt is the place to look.
Switzerland has a reputation as being highly expensive. Whilst this perhaps is the case in the world renowned resorts of Zermatt and Verbier there are some great value chalets in the pretty ski resorts of the charming Val d'Anniviers. Grimentz, which has to be one of the most authentic alpine villages in the Alps, is the perfect resort for a family ski chalet holiday and the neighbouring resorts of St Luc and Zinal offer some of the best high alpine off-piste terrain to be found anywhere in the world.
Chalets in Switzerland tend to be beautiful, stand alone properties - the typical 'chocolate box' chalet is common. Whilst the buildings themselves may be old, a lot of the chalets have beautiful modern interiors and some fantastic features – many have outdoor hot tubs, saunas and other spa facilities for you to enjoy. If you are after a truly special ski holiday we recommend booking one of our chalets in Switzerland.
Please note
Our service is completely free and booking your ski chalet could not be easier.
Your money is also fully protected with our ABTA membership.
Our after sales service extends to arranging private transfers, recommending restaurants and sorting childcare or ski school.
Chalet star ratings are formed from our own expert opinion based on the quality of the property, cooking, staff, location, value for money and the holiday company itself. Please note that there is no official star rating system for chalets.
A heart symbol is awarded to chalets that, in our opinion, are the best chalets for any given star rating.
Prices are per person for 7 nights (based on two people sharing a bedroom).
Prices and availability are subject to change and can ONLY be confirmed at the time of your ski chalet holiday booking.
To view prices and availability select a departure weekend from the drop down menu.