Chalets with Hot tubs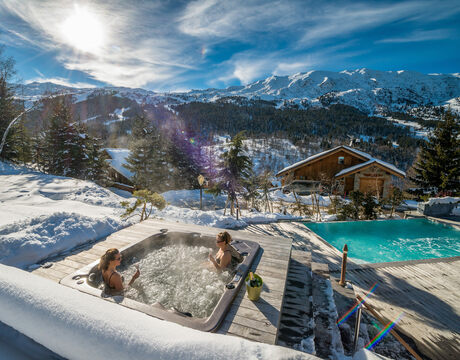 Ski chalets with hot tub are highly sought after. So, it's a good thing that we have over 500 alpine properties with a Jacuzzi to choose from. A soak in your own hot tub after a hard day on the ski slopes has become hugely popular with skiers. After all what's finer than relaxing your aching muscles in hot bubbling water whilst enjoying a wonderful mountain view?
However, it's not quite as easy as simply 'diving in' to book your tub-endowed chalet without proper consideration. You need to think about whether the hot tub in your chosen chalet is inside or outside, sunken or free-standing, located at the front or the back of the property, and whether it's large enough for your needs. it's not an easy choice but our team of experts are here to make sure you book the perfect chalet for your next ski holiday.
The retro fitted ski chalet hot tub
The first thing to consider when choosing the right chalet (or indeed the right hot tub) is that many of the chalets on the ski holiday market were not originally built with a hot tub. However, the large increase in demand from clients since the new Millennium for chalets with this accessory meant that chalet owners and chalet holiday companies were forced to retro fit hot tubs to their chalets. In many cases this has meant the location chosen for the tub is far from ideal. Check out the three most popular locations for a retro fitted chalet hot tub below.


1. Balcony hot tub
Some retro fitted tubs end up on the main balcony of the chalet which actually is a great location, so long as the chalet is in a secluded setting. You can enjoy far reaching mountain or valley views while you let the bubbles soothe your body, and when it gets dark your relaxing soak can turn into a spot of star gazing. However, if the chalet's balcony happens to overlook a busy pedestrian thoroughfare then you may need to find your inner exhibitionist if you fancy a dip.


2. Ski chalets with hot tub located 'around the back'
If the chalet doesn't have a suitable front facing balcony which is large enough, or structurally strong enough, to support a hot tub then very often a bit of outside space at the rear of the building is found by the developers. Given that most chalet properties are built facing the sun (to maximise the use of sunlight) the rear of a chalet is often a rather shady, dark place. The view from the rear of a chalet is also usually facing up the mountain which means no far-reaching vistas are possible.


3. Indoor ski chalet hot tub
Some smaller chalets don't have space either on the front balcony or at the rear for a hot tub. For these chalets the only option is to place the hot tub in the basement, or in a converted garage. This is fine to a point but a hot tub with no external view is always somewhat disappointing.
The best ski chalet hot tubs
Chalets that have been built since 2010 very often have been developed with the all manner of spa and entertainment facilities appearing on the architect's brief from the outset.
This means that modern chalets often have a large south facing balcony or deck which is strong enough to support a large sunken hot tub, and private enough to allow guests to access the tub without feeling they are taking part in the swimwear beauty pageant. These hot tub designed balconies also give fantastic mountain and/or resort views which really make for a memorable spa experience. So it's our advice to look for a chalet which was designed and built with the hot tub on the plans from the outset.
Chalets with Hot tubs
Advanced Search