Chalets in Alpe d'Huez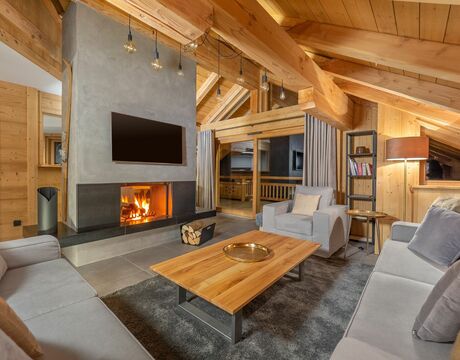 Chalets in Alpe d'Huez are perfect for groups and families and we have over 20 to choose from. To search availability for all chalets in Alpe d'Huez use our easy to use chalet search below. There are plenty of ski in ski out chalets in Alpe d'Huez which are perfect for families.
Alpe d'Huez chalets - check availability and prices
We recommend looking for a chalet at the upper section of the resort. Not only is the access to and from the ski area easier but also this is where the main gondola stations and ski school meeting points are located.
There are easy, wide nursery slopes that descend to the upper village from all directions so this is the perfect beginner skier playground. The views from Cognet area are also the best in the resort and there is now a great selection of luxury chalets in Alpe d'Huez located here.
The Eden Chalets with VIP Ski (see photo above) are the latest addition to a growing collection of genuinely comfortable catered chalets in this great resort. These properties are located at the upper end of the resort and offer ski in ski out convenience as well as close proximity to the ski school meeting points.
---
Using the search engine below first select your departure weekend then easily refine your search by chalet size and/or chalet quality. There are other search criteria you can use to easily find your perfect chalet in Alpe d'Huez.
Simply add favourite chalets to your shortlist (this can be done from the chalet detail page) and then send this shortlist to our team of advisers. We will be back to you within a few hours to help you select the best chalet for you. For more information on Alpe d'Huez see our resort guide to Alpe d'Huez
Search 13 chalets in Alpe d'Huez
Advanced Search