About Us
Who We Are
When it comes to finding the ideal holiday we are the best ski chalet company in the UK. Of course we are going to say that but we truly believe that the breadth and depth of our product, and the knowledge of that product (we have been doing this since 1992 after all) is the best there is. We also understand that customer service is all about 'after sales' care rather than the initial sale. We invite you to make use of our concierge service to find out for yourself.
We are a dedicated, professional team of expert skiers and boarders. This specialist team, hand picked by Earl & Simon (who have been in the ski holiday industry since 1987) has gained a vast amount of knowledge through first-hand skiing experience. Our team have all worked at least one winter season in the mountains (most have done two or three or more seasons) and each winter they visit resorts, chalets and hotels to keep up to date with developments. Collectively we know the Alps and North America better than anyone on the planet. We've booked tens of thousands of ski holidays and will probably know your next trip's needs even before you do! We are constantly in touch with all the ski tour operators and pride ourselves on staying on top of the market...
View individual staff profiles
What We Do
We specialise in finding the right ski holiday for you whatever your requirements or budget. We cover catered chalets & hotels, late deals and bespoke tailor-made holidays including corporate trips. We are a Member of ABTA which means you have the benefit of ABTA's assistance and Code of Conduct. Many of the travel arrangements that we sell are protected in case of the financial failure of the travel company. Please ask us about the protection that applies to your booking. Alpine Answers also holds an ATOL licence.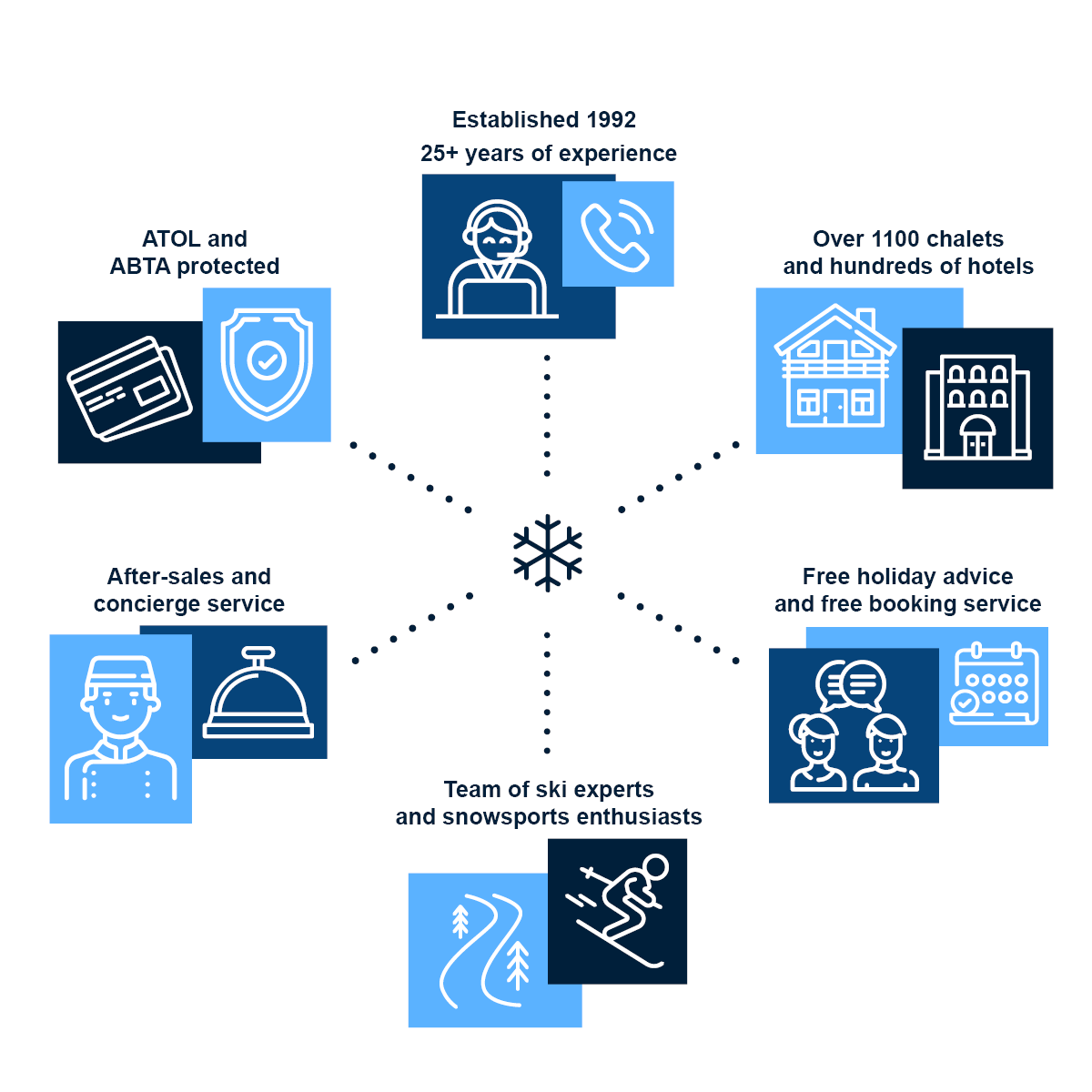 How We Work
Simply tell us what you're looking for. We'll offer sound, totally impartial advice, make appropriate recommendations and send you the relevant information. Whether it's a question of price, resort, accommodation, or how, when and where - we're here to help. In using Alpine Answers you get the benefit of our expert advice and avoid the hassle normally associated with booking a holiday - we take care of it all for you.
Your Financial Security
Unfortunately the travel industry has more than its fair share of players that operate outside the boundaries of expected ethical business practice. Given that the contractual obligations surrounding a holiday booking involve clients paying considerable sums of money for products they will not see for many months this is hardly surprising. For your peace of mind we are members of ABTA and also hold an ATOL licence.
ABTA, the Travel Association, was first set up in 1950 to protect the interests of paying clients and to provide travel companies with an ethical code of conduct (see below). We are proud to say that we have been members of ABTA ever since we fist started in 1992.
For details of how your money is protected please see our financial bonding page.
Aims of ABTA
Raising standards in the industry and by giving guidance on issues from sustainability to health and safety.
Providing schemes of financial protection.
Offering holidaymakers a course of redress if something goes wrong.
Presenting a united voice to government to ensure the industry and the public get a fair deal.
The ABTA Code of Conduct
Accurate information so you can make an informed choice.
Advice or assistance on passport, visa and health requirements.
An offer of a suitable alternative if there are building works that will seriously impair your holiday.
A refund of your holiday cost if there's a significant flight delay and you don't want to travel.
A response to any complaint you might have within 28 days.
Resolution of your complaint as quickly as possible and, if it can't be resolved amicably, the guaranteed option of arbitration to find a settlement.
What's the Catch?
There is no catch! We get a small commission from the tour operator that we recommend to you. The price you pay is the same as if you had booked direct with the holiday company. However, we often have special discounted offers that you cannot get elsewhere. See our Chalet Late Deals section for discounted ski holidays.