Ski Chalets with a Cinema Room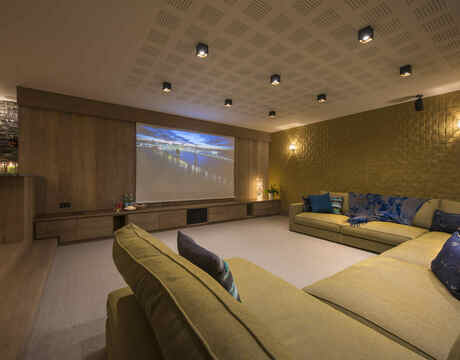 Ski chalets with cinema room, or at least a dedicated TV room, are becoming increasingly popular with our clients. Staying in is beginning to replace 'going out', especially in our current Covid affected world. When the weather is bad and the snow is falling outside there is nothing quite like settling down on a comfy sofa to enjoy a cracking movie.
We have plenty of of luxury ski chalets with a cinema room and a decent surround sound system to choose from, and some even come with tiered seating so that everyone gets a great view of the screen.
If you are on a family ski holiday having a separate TV room for the children can be a real plus. If they are young and have had an early high tea you can settle them down in front of their favourite film while the adults have their own dinner.
Many of the luxury chalets with cinema also come with streaming services of Netflix or Apple TV - with these properties there is barely any limit to what movie/series or podcast you can watch.
We have selected all the chalets below with either a cinema room or separate TV room. You can search availability and see prices to make your search even easier.
Ski Chalets with a Cinema Room
Advanced Search