Ski Chalets for Groups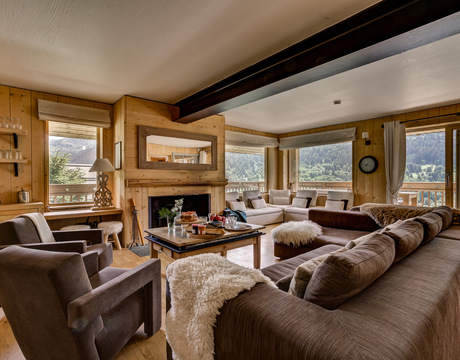 Huge selection of large ski chalets for groups. We have over 25 years experience in helping party leaders arrange their group ski holidays with 200+ large chalets located in the best ski resorts of the Alps. These properties will accommodate groups sizes from 14 people upwards.
Ski chalets for groups - prices and availability
If you have a group of more than 26 people you are likely to need a 'chalet hotel' to accommodate everyone comfortably. These larger properties are simply a hotel (usually a former 3 or 4 star property) that has been taken over by a chalet holiday company and offered exclusively to their guests. We have a wide range of these larger chalet hotels on our website (sleeping up to 100 guests). However, if you are looking for that traditional chalet atmosphere for your group the largest practical size would be a chalet for 26 guests.
Why we recommend ski chalets for groups...
1.
Larger chalets offer very good group discounts which can make a real difference to the per person cost of your ski holiday. The standard group discount is one free place for every ten full paying guests, or to put it another way, 10% off for each guest. However, there are chalet companies which during low season will offer 3 or even 4 free places for groups of twenty guests. This level of group discount is approaching a 20% discount from the list price and might easily be worth £200 per person (which goes a long way to covering the cost of a lift pass).
2.
If you can get your group organised and can book early (during the summer) then it's possible to book a chalet for your group's exclusive use. We have nearly 150 chalets on our website that sleep between 16 and 40 guests so there will be a chalet property that is the perfect size for your group to take for sole use. Booking early ensures that you have the widest possible choice of available chalets open to your group.
Booking early might also mean you can take advantage of 'early booking offers' which might include half price ski and boot hire, or even
free lift passes
.
3.
Larger ski chalets for groups quite often will have a private bar which serves reasonably priced drinks, a wellness area with sauna or steam room, a hot tub on the terrace/deck, separate dining and sitting rooms and sometimes a cinema room too. The better quality large catered chalets come with luxury facilities which means you can enjoy hotel quality accommodation combined with the informal atmosphere of a chalet holiday.
Our Top Tips for Party Leaders
Organising a ski holiday for a large group is quite an undertaking and one that often goes un-thanked. However, we are here to help and will guide party leaders through every step of the booking process from initial enquiry right through to your arrival in resort. Although your holiday company will be looking after you whilst you are in resort we are always available for help at any time.
Our 'after-sales' care is recognised as the best in the ski holiday industry, and we are here to help you resolve any niggles you may experience whilst on holiday. As a party leader and client of Alpine Answers you will always have our support and backing. See our party leader advice page.
Ski Chalets for Groups
Advanced Search