Chalets in Verbier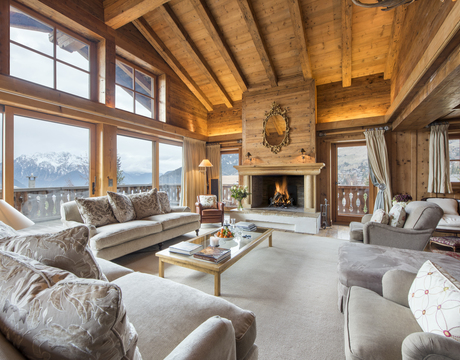 Chalets in Verbier are almost exclusively aimed at the luxury end of the ski holiday market but with nearly 60 chalets in Verbier to choose from we will have the ideal property, whatever your taste.
Chalets in Verbier - prices and availability
With its proximity to Geneva Airport Verbier has always been popular with banking professionals commuting to the City in London and other European financial districts.
Luxury Chalets in Verbier
Luxury chalets in Verbier are widely available to book for a week or even a weekend. The 2007/8 banking crash encouraged many of the high end property owners to make their multi million pound properties 'pay their way' through holiday rentals. In particular the chalet holiday rental companies Bramble Ski and Ski Verbier Exclusive found themselves in a position to help these owners, and between them these two companies now offer most of the luxury chalets in Verbier available for weekly rent.
The high minimum working wage in Switzerland, combined with high rental costs, drove out the operators with cheaper catered chalets after the 2013/14 winter season. Today it is hard to find any accommodation in Verbier whether it be hotel, chalet or apartment which sits at the lower end of the price scale. Verbier has latterly evolved as a playground almost exclusively used by the wealthy. Proximity to Geneva and the large stock of high end properties have continued to attract a truly international clientele.
Chalet holidays Verbier
Verbier covers a large area so its important to consider the location of your chosen chalet. Those on the most elevated area above the Savolyres lift station and near the Sonalon restaurant have the best views (south facing overlooking the entire resort) but are some distance from the resort centre. The properties near the Medran lift station give easier access to and from the skiing and also the centre of resort but do not offer the same elevated views.
The resort of Verbier sits on a south facing gently sloping bowl at 1,500 metres above sea level. The resort is largely made up of privately owned chalets and chalet style hotels so that today it is one of the most attractive alpine resorts. The ski area is one of the best in the Alps and offers fantastic terrain for intermediate and expert skiers (beginners are less well catered for) with wide ranging pistes and huge areas of off-piste. For more information on Verbier see our:
Resort guide to Verbier
.
Search 55 chalets in Verbier
Advanced Search