Chalets in Val d'Isere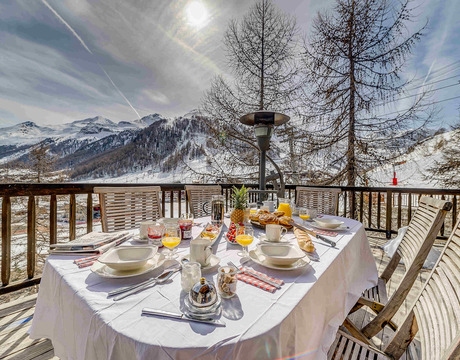 Chalets in Val d'Isere come in all shapes, sizes, styles and prices. We currently feature nearly 200 Val d'Isere chalets and show availability and prices for them on this page. To find your ideal chalet simply use our easy to use chalet search below. We feature Val d'Isere chalets from the smallest (which sleep 4) to the largest (which sleep well over 30 guests). We also feature several chalet hotels and many ski in ski out chalets in Val d'Isere.
Val d'Isere chalets - check availability and prices
Ever since Alpine Answers started (way back in 1992) Val d'Isere has been our biggest selling resort. It is hugely popular with the British market and the number of chalets available in Val d'Isere seems to grow with each passing season. With nearly 200 chalet properties to choose from we have the market covered and in our selection below we offer every type and size of chalet and chalet apartment. From cheap and affordable catered chalets right through to luxury chalet properties in Val d'Isere costing £150,000+ a week.
The different chalet companies in Val d'Isere
There is a huge range of chalet companies in Val d'Isere and we sell holidays with all the companies listed below - their chalets are all found in our search engine. Whether you are looking for a cheap last minute budget option with charter flights from the UK or would like to stay in one of the most luxurious chalets in the Alps and combine with private jet travel and helicopter transfers to resort we can cater for your needs.
Alpine Culture | Arctic Lodge & Co | Belval Chalets | Chalet Les Branges | Chalet Skadi | Chalets Pearl | Chardon Mountain Lodges | Cimalpes | Club Med | Consensio | Domaine Toit du Monde | HIP Hideouts | Chalets by Hotel La Mourra | Inghams | Le Ski | Mark Warner | Mountain Rooms & Chalets | Project Ski | Scott Dunn Ski | Ski Beat | Ski Savoie Fayre | Ski Esprit | Ski Total | Ski Val | Skiworld | VIP Ski | YSE Ski
---
To show prices and availability please enter your preferred departure weekend. Refine your search by entering the number of people in your party. Use other search criteria to further narrow your search results.
Simply add your favourite Val d'Isere chalets to your shortlist (this can be done from the chalet detail page) then send this shortlist to our team of advisers. We will be back to you within a few hours to help you select the best chalet to suit your needs.
Search 192 chalets in Val d'Isere
Key
Funicular
Cable Car
Gondola
Chair lift
Drag lift
Property