Hotels with Pools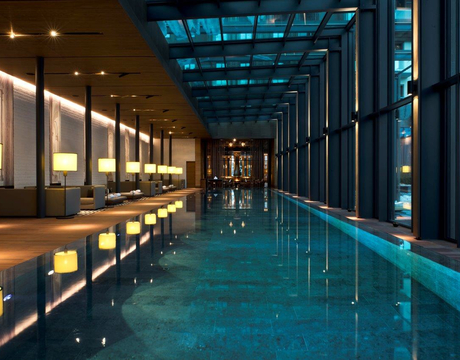 Nothing beats plunging into a refreshing ski hotel swimming pool after a day out on the slopes. For many clients this is now an essential part of their ski holiday whether it's keeping the children entertained or relaxing muscles after a long day skiing. If you are after a hotel with a pool on your next trip away here are some of our favourites. We can offer anything from small and romantic fireside pools to vast 5,000 square metre spa centres.
View all ski hotels with swimming pool
We have a great selection of ski hotels with swimming pool for skiers that want to do more than just ski. Over 50% of our ski hotels have swimming pools and you can find them located in many of the top class resorts. A swimming pool is a great facility to have – perfect for non-skiers as an off-slope activity and ideal for skiers to stretch out those muscles after a long day on the slopes.
Our recommended ski hotels with swimming pool
The
Hotel Chedi in Andermatt
offers one of the best spas to be found anywhere in the Alps. The hotel opened its doors in December 2013, designed to appeal to the world's most discerning clients. Finished in a modern style with inspiration taken from its Asian roots, where many of the other Chedi Group hotels are based. The 105 rooms here are vast, with heated stone floors, open fireplaces, piles of cashmere rugs, iPads that control everything (blinds, music, lights, fire) and fabulous Acqua di Parma toiletries in the luxury bathrooms. The spa is the real highlight of this luxury hotel with the swimming pool as the centrepiece. There is a hydrotherapy zone with an unbelievable number of baths and saunas and the endless indoor swimming pool is covered by a glass roof to allow natural light to illuminate the water. Please note that the pool does look directly through to the lobby area - so make sure to bring a decent one-piece.
If your budget doesn't stretch quite that far but you need a ski hotel with a swimming pool then don't panic. If you are looking for something a little more reasonably priced but don't want to skimp on the pool or the luxuries the
Hotel Village Montana in Tignes
is a great alternative. Having recently completed a complete refurbishment of all its bedrooms the hotel can offer luxury high altitude skiing at a fraction of the price of many of its rivals. To top it off it has a fantastic indoor/outdoor pool. At 2,100 metres altitude things can get pretty chilly in the middle of winter. However, the hotel makes sure that the pool is always heated to a balmy 30 degrees. What could be better than relaxing in a warm outdoor swimming pool while the snow falls all around you?
The
Montana Lodge & Spa in La Thuile
, Italy, is a relatively new hotel which effortlessly combines modern design furniture with discrete functional luxury. It really is finished to a very high standard and the friendly Italian staff and sumptuous furnishings will instantly make you feel at home. As La Thuile is a relatively unknown resort the hotel is very reasonably priced compared to hotel options in France of a similar standard. The Montana Lodge & Spa has the most fantastic spa and the large indoor swimming pool is the highlight. Surrounded by huge windows there are gorgeous views of the surrounding mountain landscape. There is also a large sauna, steam room and a several relaxation areas.
Saas-Fee's chalet-style
Ferienart Resort & Spa Hotel
offers first class service, excellent facilities and a central location in the chocolate box resort of Saas Fee. Better yet, it offers the Paradia Spa which will delight spa connoisseurs with its incredible array of treatments and facilities.
You can choose from ayurveda massages, reflexology, hot stone therapy, Moroccan facials and Tibetan honey massage. For true indulgence you could try a Cleopatra wrap where you are slathered in goat's milk and oils, or how about a Wallis hay bath? There is a split level pool and Jacuzzi area with running water features, a caldarium, a rasul area and individual treatment rooms. There are even massage programmes for children and babies if you want to get yours to discover the art of 'well being' at a young age.
Resort search