Ski Chalets Austria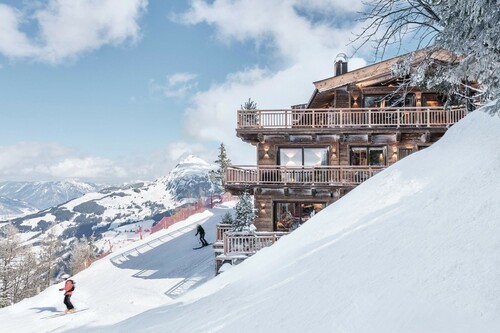 We have over 100 ski chalets in Austria ranging from luxury properties in Lech, to great value options in Mayrhofen and Solden. Other European countries may offer higher altitude interlinked ski areas but Austria is a country that once skiers have visited, they don't wish to ski anywhere else. The Austrian ski villages are traditional, the scenery outstanding, the locals friendly & welcoming and in-resort prices set at reasonable levels. If you need any further persuading then you might want to watch 'Chalet Girl' which was filmed in St Anton am Arlberg.
Ski chalets in Austria - availability and prices
There is something to suit everyone in Austria, from family skiing in Obergurgl to the best après ski in the Alps in St Anton and Ischgl. Whilst Austrian resorts are generally not as high as some in France, the snow in Austria tends to be much more consistent as a result of the colder, continental climate affecting the Austrian Alps from the east. The Arlberg region for example averages over 7 metres of snow a season with plenty of skiing right through to mid April.
Most of the ski chalets in Austria are found in the Arlberg area: St Anton (the vast majority of chalets are here), Lech, Stuben and St Christoph. Other Austrian resorts with chalet accommodation are Ischgl, Obergurgl, Solden and Mayrhofen.
Ski chalets in Austria - guest house or chalet?
A lot of chalets in Austria tend to be former guest-houses and as such the bedrooms are often quite spacious with nearly all of them having en-suite facilities. A downside to these properties is that quite often they don't have a proper living room and instead offer only a dining room and maybe also a small bar area in which to relax. Smaller chalets in Austria are quite hard to find (outside of St Anton) and tend to be chalet apartments rather than stand alone chalets. However, on the plus side there are barely any stark apartment blocks which dominate the architectural landscape of some French ski resorts. Austrian resorts seem to have made a big effort to keep all new buildings in a traditional style which definitely adds to the resort atmosphere.

Chalets in Austria range from fantastic value to the super luxury – some of the chalets in Lech are the most expensive in the world! However, the recent growth of chalet hotels in Austria has meant that there are some great mid-market options also available. These properties are former hotels so often have facilities such as a swimming pool, wellness centre and plenty of space to relax. Additionally, some of these chalet hotels have bedroom suites and inter connecting rooms, both of which are perfect for families.
The 'Austrian twin' bedroom
In Austria (and German speaking Switzerland) chalets often have continental style bedrooms, otherwise known as 'Austrian twins'. In these bedrooms two people share a bed which is a fixed super kingsize bed frame with two single mattresses and two single duvets. Whilst this arrangement is fine for couples, some clients do not like the overly close proximity of their room mate.
Package ski holidays to Austria tend to be slightly more expensive than in France. This can be attributed to the lower number of tourist beds available. However, once in resort, Austria can be very good value. With some of the biggest ski areas in the world, outstanding off-piste skiing and great value on-mountain dining we thoroughly recommend booking a ski holiday in an Austrian ski chalet.
Ski Chalets Austria search
Advanced Search