Ski Chalets with a Sauna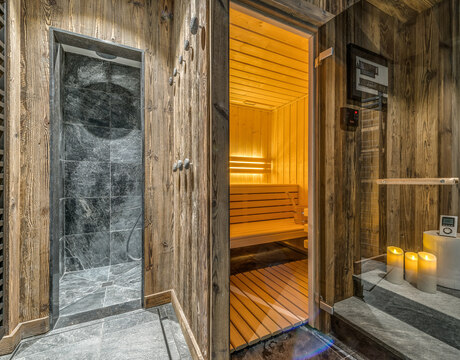 Chalets with sauna are the latest 'hot ticket'. Spa facilities in your ski chalet are becoming a 'must have' extra as shown by recent search trends by our clients. We have over 600 chalets with sauna which vary in price. A chalet spa is now an affordable luxury for all. Saunas and steam rooms come in many shapes and styles whether you prefer a traditional cedar sauna or chic contemporary style hammam. Either way they are a great way to relax your muscles after a hard day's skiing, or to detox and recover from a hard afternoon's après partying!
Chalets with sauna - prices & availability
Steam rooms and saunas both offer a more hygienic option compared to a hot tub/Jacuzzi. Whereas most chalets with a hot tub have staff that have been suitably trained to look after their Jacuzzi (with very regular cleaning and chemical changes) not all chalet staff are as diligent with the cleaning and refilling regime as they should be.
Sauna vs Steam room (hammam)
This choice really comes down to personal preference. Saunas operate at temperatures ranging from 160 - 212 degrees Fahrenheit. Steam rooms are not so hot (typically 110 degrees Fahrenheit) but they do offer 100% humidity which is better for those with respiratory conditions or dry skin. Exercise physiologist Tom Holland explains that both saunas and steam rooms "eliminate toxins through sweat, ease joint pain, improve circulation and strengthen the immune system." However, as both will dehydrate the body it is recommended that you do not spend longer than 15 - 20 minutes in either.
If you consider yourself a fairly hardcore spa person try tipping the bucket of water you find in a sauna over the hot coals. If these are hot enough (bear in mind that 212 degrees Fahrenheit = 100 degrees Celsius) the water will be immediately converted into steam.
If you mix the air by whipping your towel around your head you will have instantly converted your 212 degree sauna into a high humidity steam room operating at twice the normal temperature. How long can you endure?
Ski Chalets with a Sauna
Advanced Search