Ski Chalets with a Steam Room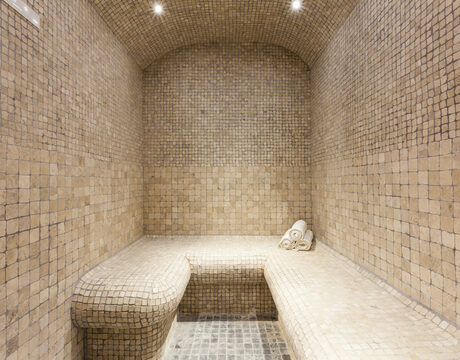 Ski chalets with a steam room (or hammam as they are also known) provide guests with an extra level of post-skiing relaxation. The traditional Scandinavian sauna offers a very hot dry heat usually between 180 and 200 degrees Fahrenheit and whereas there are some weight loss advantages (the heart has to pump a bit harder when all the skin's capillaries are opened by the heat) many people find the dry heat hard to take. Steam rooms operate at about half the temperature of a sauna (typically 100 - 120 degrees) but as the heat is generated from boiling water the humidity is at 100%. It is this humidity that makes a steam room feel hot.
Apart from being an easier heat to manage the high humidity of a steam room has the extra benefit to improve one's respiratory health. The water vapour in the air will moisturize the lungs and respiratory tract.
We have selected below all the ski chalets we have on our books with a steam room. After a long day on the mountain a session in the steam room will feel very rejuvenating. Your muscles will recover quickly making you ready for the next day on your skis or snowboard. Half an hour in a steam room also gives you time to relax your mind making them great for the mind, body and spirit.
Ski Chalets with a Steam Room
Advanced Search