Ski Chalets with a Driver Service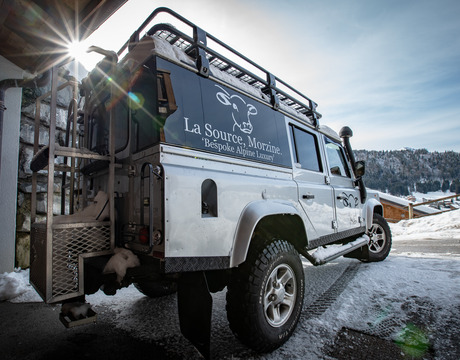 Approximately 25% of our chalets come with a driver service included in the price. Access to and from the ski lifts and the resort centre could not be easier with a private vehicle and chauffeur at your disposal. We all know that walking in ski boots and carrying skis & poles is an acquired skill. And if you are carrying someone else's skis at the same time - well the job just gets harder.
View all our ski chalets with driver service
For this reason most clients look for a ski in ski out ski chalet to get around the whole 'walking in ski boots' issue. Whereas a ski in ski out chalet certainly gives super easy access to and from the skiing they are often booked out early (only 16% of our chalets are located piste side). Plus, if you are lucky to find one available you then have to deal with the price premium these popular chalets carry.
Let your chalet driver/chauffeur take the strain
We therefore highly recommend booking a chalet with its own driver service instead of fixating on finding a ski in ski out chalet. These sometimes outlying properties are invariably great value. Furthermore, once you have stayed in a chalet with a driver you wont want to book anything else for your ski holidays. Apart from the onboard banter with your charming driver you can easily access any of the ski lifts you want. If you want to ski a certain area you can go straight to the most convenient lift. And if at the end of the day you end up in the wrong place by accident just whistle up your driver to pick you up!
Lastly your driver will most likely be a keen skier willing to divulge where the best powder stashes are to be found. For this reason alone booking a ski chalet with a driver is highly recommended.
Ski Chalets with a Driver Service
Advanced Search