Gourmet Ski Chalets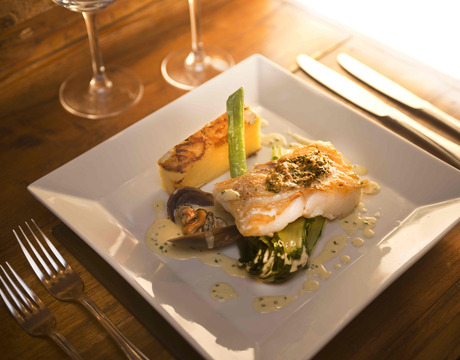 We have selected the ski chalets with the highest standards of cooking giving you a truly gourmand fine dining experience to your ski holiday. Over the years we have sat down to eat more chalet dinners than we care to mention. However, along the way we have learnt which chalet companies take their cooking seriously and employ the best chefs for their chalets.
Book the best fine dining ski chalets
Most catered chalets follow the same formula when providing a weekly chalet meal plan. Morning breakfasts are provided, as are afternoon teas, and then in the evenings a 3 to 5 course dinner with complimentary wines is served. However, it's impossible for the inexperienced to differentiate before booking between those chalet companies serving basic cooking with those that are serving genuinely delicious dinners prepared by proper cooks/chefs using the finest ingredients. Luckily we know which ski chalet companies to recommend for an authentic fine dining experience.
Please note: Do not be misled by the price of a chalet holiday. We know plenty of chalet companies which charge a high price for their chalets but actually serve rather indifferent chalet meals, usually cooked by well-meaning but inexperienced chalet staff. However, there are plenty of good value chalet holiday companies who can be justifiably proud of the high standards of chalet cooking their dedicated staff provide. The trick is knowing which ski chalet companies you can trust when it comes to providing a proper fine dining experience.
Gourmet Ski Chalets
Displaying 1 - 20 of 284 in total
Key
Funicular
Cable Car
Gondola
Chair lift
Drag lift
Property