Ski chalets with good views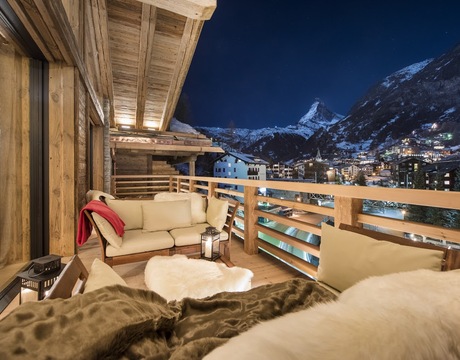 Ski chalets with great views are always popular with clients who have non-skiers as part of their group. Whereas some guests will happily thrash up and down the mountain from first to last lift there are others that are quite happy to relax in their chalet, soaking up the mountain atmosphere at their own pace.
Generally speaking the more elevated the chalet above resort the better and further reaching the views and vistas from that chalet will be. For this reason we are seeing a greater prevalence in new build properties for an 'upside down' approach to design - where the main sitting and dining room is located in the highest floor, and the bedrooms located on the lower floors.
Luxury chalets which sit in their own grounds make the most of the fine views available to guests with large sun terraces and balconies. However, unless you have a south (or south west) facing terrace or balcony you are unlikely to be spending much time on it. The sun's rays are warming in March and April but the basic air temperature is still very cold - you will need full sun to be able to sit outside in comfort.
This is why most traditional mountain villages are built on the side of the mountain that catches the most sun. However, ski resorts which have grown in size will often spread out onto the other side of the hill. If a great view from your chalet balcony is important and you want to sit out and admire it paying attention to the detail of which way your chalet is orientated is important.
Ski chalets with good views
Advanced Search