Ski in ski out chalets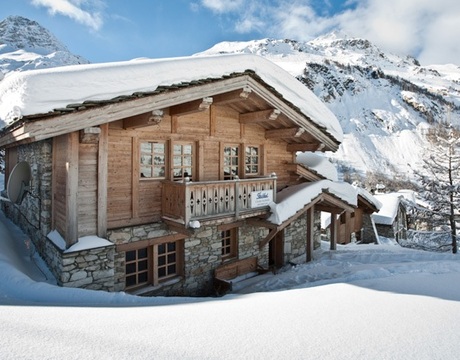 Ski in ski out chalets are at the top of most skiers' wish list and we have hundreds of piste side chalets to choose from. Are you tired of trying to squeeze onto busy local buses to get first lifts? Still trying to perfect the swagger walk in ski boots and pro way to carry your skis? Why not save yourself the hassle and book into one of our ski in ski out chalets. The dream of walking out of your front door, clipping into your skis and being on the mountain within minutes can become reality.
Ski in ski out chalets - prices and availability
If this sounds like your ideal skiing holiday take a look where we have ski in ski out chalets. Simply scroll down to view all the chalets we feature that are either ski in ski out, or are situated so close to the lifts or the edge of the piste that they offer pretty much the same convenience. We feature Google maps and the positions of the chalets are marked. To see the exact location of your chosen chalet simply zoom in using the + toggle. You can switch to 'satellite view' or even 'street view' for a closer look.
Things to consider when searching for a ski in ski out chalet
There is no doubt that a true ski in ski out location is a thing of beauty and it's no surprise that clients highly prize a chalet property that is located piste side. What could be easier than enjoying a leisurely breakfast (cooked up by your chalet host) and then clipping into your skis outside the front door for a gentle ski down to the main lifts? Or even better would be skiing back to resort at the end of the day and 'swooshing' to a stop back outside your chalet - no need to carry your skis (or your childrens') and no painful trudge in ski boots. However, there are things to consider when a chalet is described as ski in ski out.

1. It's quite possible that the chalet might be 'ski in' or 'ski out' but not necessarily both. The location of the chalet should be checked carefully to make sure that there is no lengthy ski boot walk either at the start or the end of the day.

2. Although a chalet may well be correctly described as ski in AND ski out you should consider how easy the ski access to and from the property actually is. Sometimes egress and arrival can only be achieved by skiing over terrain that is deemed off-piste. This is easily navigated by most skiers when the snow is soft and fluffy but towards the end of the season the conditions might well be very rutted and icy in the morning and a slush fest in the afternoon - neither being great for nervous intermediate or beginner skiers.

3. If a chalet is 'ski out' then by virtue it must be situated at a higher altitude than the lifts and/or resort centre. Whereas this usually means you will be able to enjoy lovely elevated views (perhaps over the resort) it might also mean that there is a long walk back up a hill to the chalet if you decide to go down to resort to sample the nightlife in the evening. In most resorts there will be a free bus service running around resort but you should check on this if your chalet is located up a hill and you don't want a cardio work-out every time you walk back to it.


Ski in and ski out - versus - private driver service
When it comes to it most people will discover that using a private minibus service to and from the lifts is actually easier and more convenient than skiing in and out of their chalet. When you are nearing the end of your breakfast simply make a call to your driver to say that you would like picking up from the chalet in 10 minutes. The driver shows up as ordered, stows your skis and boots, gives some pleasant chat on the way to the main lifts and then helps unload your kit when you arrive 5 minutes later. How simple is that?

At the end of the day you can end up in an apres ski bar, or at the other end of resort to your accommodation but none of this matters. Simply call the driver and say you want picking up. The return journey to the chalet is even easier than the morning trip.

So our advice is not to get too hung up on looking for a ski in ski out chalet as the answer to any practical problems of getting to and from the lifts/piste. If there is a private driver service that comes with your chalet then this is often more useful and practical than being able to ski to and from your chalet's door.

If you are hellbent on booking a ski in ski out chalet come what may (and we totally get why you would want to) then use our chalet search engine below. We have pre-selected all the chalets in our portfolio that are close enough to the piste to be deemed 'ski in', 'ski out' or both. All you have to do is select your preferred departure weekend to see details of all the available options. If you find there is a lot of choice then why not 'refine' your search by choosing from one or more of the other search criteria open to you.
Ski in ski out chalets
Key
Funicular
Cable Car
Gondola
Chair lift
Drag lift
Property