Ski Chalets with Childcare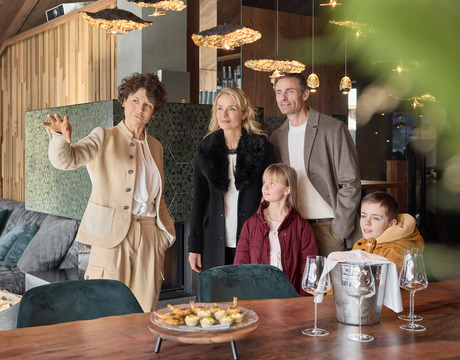 The ski chalets with childcare we list below are properties that come with their own childcare services. If you need babysitters for the evenings, or daytime crèche, or childcare wrapped up with ski school this can be pre-booked through your chalet operator before you travel. This eliminates the stress of organising childcare, and leaves you free to enjoy your ski holiday as much as your children will.
Chalets with optional childcare - prices & availability
Using the same holiday company to provide your accommodation and also your childcare makes things a lot simpler. You have just one holiday invoice to cover your in-resort costs, and just one point of contact to sort out any holiday issues if they do happen to arise.
Chalet companies offering private nannies
Until Brexit and Covid there was a wide range of chalet companies offering their own private nannies in resort. This companies provided a neat solution to childcare whereby the cost of childcare could simply be added to clients' main holiday invoice. Today there is just one chalet company still offering private nanny care, VIP Ski. They offer chalets and nannies in Morzine, Les Gets, Avoriaz, Arc 1950 and Val d'Isere. View all their chalet options
here.
Chalet companies offering childcare and children's ski school
If your children are old enough to ski (usually this is when they have reached their 4th birthday) but young enough to need some sort of formal childcare then there are several different chalet operators to choose from. These specialist family friendly companies offer a practical combination of childcare and ski school.


Ski Esprit
Ski Esprit look after children aged from 17 weeks to 12 years old. They offer crèche, kids clubs, evening care as well as their own dedicated ski classes so that your children can be looked after all day if required. They formerly offered a wide range of resorts but their childcare is now largely based in La Rosiere, France.


Ski Famille
Ski Famille is a rival to Ski Esprit and they offer a very similar wide ranging childcare service. The principal difference is that the Ski Famille childcare takes place 'in-chalet' rather than in a separate crèche building found in another part of the resort. Ski Famille offer an 'a la carte' service whereby clients pick and choose from different elements of childcare service to truly suit their family's needs.


Club Med
Club Med also offer a wide range of different childcare services but the style of service on offer will depend on which Club Med resort you stay at. Most properties offer Mini Club Med (for ages 4-10 years old) and Junior Club Med (ages 11-17) which both include ski lessons, all day childcare and evening childcare and activities. Some Club Med resorts also offer Baby Club Med (for infants) or Petit Club Med (for toddlers aged 2-3 years).


Family Ski Company
The Family Ski Company offers childcare and ski school solutions for families with children aged from 3 months to 13 years old. There are three different age groups: Powder Pups (3 months to 4 years old), Powder Hounds for children aged 4 - 6 years old, and Adventurers Club for children aged 7 - 13 years old. In all cases children are picked up by nannies in the morning and then dropped back at their chalet in the afternoon. Children who are skiing are looked after all day including a supervised lunch with dedicated helpers at the ski school exclusively looking after Family Ski Company children. Resorts on offer are Morzine (Ardent), Reberty and Les Coches in La Plagne.
Booking childcare with an independent nanny agency
Whereas chalet companies with childcare options undoubtedly offer a neat one-stop shop to meet your childcare needs other clients prefer to book childcare separate to their accommodation. This gives a far greater choice of accommodation options. To cover any childcare needs they are happy to outsource using a
specialist in-resort nanny agency
.
Ski Chalets with Childcare
Advanced Search