Home /
Half Term Ski Chalets 2019
Half Term Ski Chalets 2019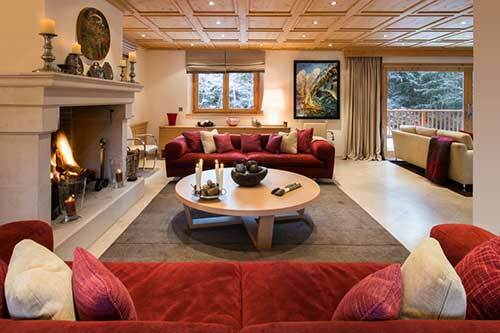 Half term ski chalets - prices & availability
Half Term ski chalets are a great choice of accommodation if you are looking to take a family ski holiday in February 2019. Not only do they provide a great value option (especially if you choose a package with flights and transfers included) but they also provide your family with the perfect space in which to enjoy some quality time together.
February is when the snow is at its deepest levels providing maximum coverage over any underlying rocks; the days are also longer and the air temperatures just a little warmer than they are during December. Although the sun and temperatures climb higher still by the time the Easter school holidays start in late March many don't like the afternoon slush conditions at this time of year.
February half term week falls in line with the winter season's best skiing conditions. However, this also makes this week a hugely popular week for families meaning high prices and resorts filled to their maximum capacity. Although modern high speed lifts have largely dealt with any queuing issues we used to associate with half term ski holidays the high prices are unlikely to go away in a hurry. Given these high prices for booking half term ski chalets or hotels it is important to book the right property for your family's needs. We examine the things to look for when choosing your perfect chalet for half term week.
Check how easy it is to access your ski school meeting point
Although there are efficient free bus services in most ski resorts you need to consider that half term is one of the busiest weeks (if not the busiest) of the season and no matter how efficient the service clambering on to an already crowded bus carrying your children's skis and poles is not going to be fun. If you add into this unhappy scene another random family that are 'pushier' than yours then it's not hard to imagine how tempers might fray. Children complain, mothers stress and fathers sweat and curse - fighting your way onto the public bus early in the morning is not the relaxing family ski holiday you envisaged. So, whereas choosing a chalet close to the bus stop is fine for less busy weeks of the season we would not recommend it for the half term week.
Ski in ski out chalets are the ultimate prize for half term family ski holidays. Providing your children are competent enough on their skis or snowboard to navigate a blue grade piste then a ski in and ski out chalet provides the ultimate convenience. Being located on the edge of the piste may mean you are not as near to the centre of resort as you might like but given hitting the après ski scene or nightclubs is going to be low down on your priorities list this should not bother you. All you have to check is that the piste running by your chalet leads you directly to the ski school meeting points. It usually does but it's worth checking to be sure.
Many of the better quality catered chalets offer a private minibus shuttle service for their guests. Many dismiss this service or overlook it completely but it should never be undervalued. Your pick up time in the morning is usually agreed the night before with either your chalet staff or the drivers themselves so all you have to worry about is getting your nearest and dearest dressed, kitted out and ready for the agreed time (which to be fair is often easier said than done). However, providing you can get a routine going and that all members of your family know that routine tumbling out of your chalet and into a Landrover or VW Caravelle (the wagons of choice) is a complete doddle. On the three minute journey your driver will let you know where the best places are to ski that day, the weather forecast is and will also ask what time and where you would like picking up from in the afternoon. The provision of a shuttle service is just about as valuable as finding a chalet with a ski in ski out location so we recommend looking out for this service.
Half Term ski chalets - choose the right resort
Given that half term weeks falls slap bang in the middle of the winter season you will not need to consider how snow sure your chosen resort is. Unless it is a terrible snow year even the low lying ski stations will have ample snow cover in February. However, you will need to consider the choice of ski schools (if your children are still learning); the transfer time from your arrival airport and also what else there is to do in the resort other than the skiing. We have plenty of advice to offer on finding the right ski school so please do ask for our help with this. Choosing a resort with a wide range of non-skiing activities is useful if there is a bad weather day. Horse drawn sleighs, toboggan runs, swimming pools or aqua park centres and English film cinemas are all things to look out for.