Home /
Christmas Ski Chalets
Christmas Ski Chalets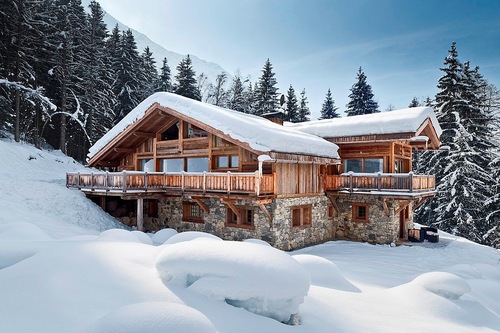 Christmas ski chalets in the Alps are the perfect accommodation option for a festive family ski holiday. Christmas is a big family occasion and booking your own private chalet means that an extended family group, perhaps with grandparents included, can live in an alpine 'home from home' for a magical week in the snow.
Christmas ski chalets - prices and availability
The chalet sitting room is the perfect environment to make the most of Christmas Day as it gives you your own personal family space to sit in front of the fire, drink champagne, eat nibbles and open presents. A self-catering apartment might enable you to save costs but do you really want the stress of shopping and cooking a family Christmas dinner after a tiring day skiing? And a hotel might give you facilities you want but do you want to share your family Christmas with a bunch of people you don't know?
Christmas ski chalets really do provide the best of all worlds for a family holiday. Not only do you have your own 'home' and space in which to enjoy quality times but you also have a team of cheerful chalet girls and boys to clean, cook, put up and decorate the tree, light the fire, make the beds and open the champagne. On top of all this if you book a half decent chalet you probably will also get a few other quality touches such as a hot tub, sauna, steam room or cinema room.
Christmas Ski Chalets - special features to look out for...
1. Large and comfortable sitting room
We have been booking ski chalets for our clients since 1992 so we like to think we know a thing or two about what properties are perfect as a Christmas chalet. First up on the list is to look for a chalet with a large sitting room which has plenty of comfortable sofas and a proper open wood burning fireplace. As this is a family holiday it's more than likely that you will be spending considerable time in the chalet. Making first lifts in the morning and seeking out the rowdiest apres bars in the afternoons are things not likely to be high on your agenda. So, make sure that your chalet is comfortable and that it offers plenty of sofa space. If the weather is bad, which it often is in December, you are likely to be hunkering down inside away from the elements. There is no better place to be on a cold, wintry day than on comfortable sofa in front of a roaring log fire, and if you have the people you love most in the world all around you at the same time then that is just perfect.


2. Cinema room
Christmas would hardly be Christmas without the family film - the cheesier and soppier the better. Come on, this is Christmas! It's good to get all sentimental once in a while and if you can't do it at Christmas then when can you? So, a cinema room comes second on our recommended list. If the chalet has its own DVD library then check that they have a good selection. Your wife and young children probably won't thank you if the only choice it to sit them down to watch 'How England won the Ashes'. However, as most of the better chalets these days have a connection to an on-line library which means you should have plenty of choice.


3. Sauna or steam room
A few years ago chalet owners were scrambling over each other to retro fit a hot tub to their properties to meet demand from clients. Whereas there are indeed some great chalet hot tubs in the Alps (some with stonking mountain views) for the most part they're just not as exciting as they sound. The main problem is that keeping them clean is not that easy (and trust me a dose of hot tub folliculitis at Christmas is about as welcome as your great aunt Agatha). Secondly, as most hot tubs were retro fitted they very often are situated around the back of the chalet, by the bins and with no view. Or worse still they are situated in a windowless and dingy chalet basement. Our advice is to look for a chalet with either a sauna or steam room as either would be much more hygienic and just as relaxing. If you must have a hot tub (we do recognise that it's jolly good fun to freeze yourself stupid making snow angels before jumping back into the warm embrace of the bubbles) then look for one that is outdoor and has a decent view and some deck space around it. The deck space is vital for making the snow angels and a view, especially under the stars at night, is always a bonus.


4. High quality chalet cooking
If your budget can stretch to it we recommend you book with a company that has a solid reputation for producing good quality chalet cooking (ask us for our recommendations). The smaller companies (generally) are more reliable in this respect as they are more generous with their food budgets, employ better cooks and give these cooks greater freedom to serve what they want. Whereas giving freedom to a chalet cook isn't always the best idea ("duck a la banana" anyone?) it does mean that the cooks are motivated and don't cut the corners that the 'cooking by numbers' chalet staff do.


5. Snowsure Christmas ski resorts
Lastly, you might want to consider choosing a snow sure resort is. If you are planning on having a white Christmas then it's best to aim reasonably high. However, there are subtle nuances to bear in mind when looking for a snow sure ski resort. Les Gets in France which is at a modest altitude of 1,200m above sea level only requires 20cm of snow at resort level to cover the grass pastureland that makes up its ski terrain. Compare this will the 100cm or more snow depth that Tignes needs to cover its boulder-strewn topography. However, don't get too hung up on looking for the snowiest spot in the Alps. For one thing, if it snows in December it's usually cold enough to settle on the ground even in the lower resorts. And for another thing the quality of the resort and its suitability for families is arguably more important for a Christmas holiday than whether it has snow.
Search your ideal Christmas ski chalets here
To take the hassle out of researching the best Christmas ski chalets for your holiday you can use our chalet search engine below which has prices, availability and reviews to help you. Even easier still would be to call us and speak to one of our team. We would be delighted to help you book the best Christmas chalet holiday for your family's needs.
Key
Funicular
Cable Car
Gondola
Chair lift
Drag lift
Property