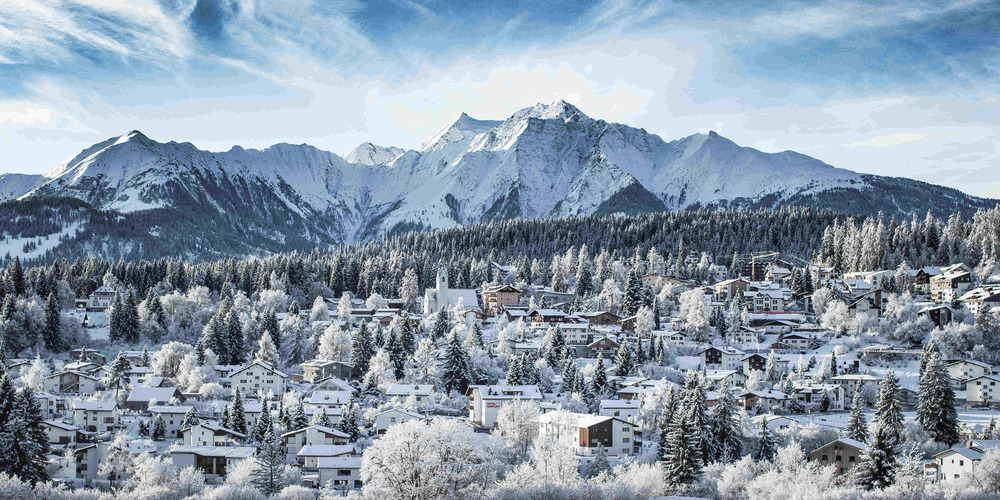 Best Small Ski Resorts in Europe
Elizabeth Willis | 05 December 2019 | Ski Resorts
We've always loved smaller ski resorts at Alpine Answers, and we love recommending our favourites to clients who are looking for something different to the large, popular superstations British skiers flock to every season.
If you are serious about your skiing and are tired of spending time in pushy lift queues instead of enjoying empty pistes, you might be happier with one of the hundreds of smaller ski resorts in the Alps. They are typically better value for money, with fewer people on the slopes. They are often beautiful villages that retain the charm and atmosphere of the countries they are found in. Visiting a smaller resort can give you a truly authentic alpine experience.
We've been singing the praises of smaller resorts on our blog for years. Delicious food, great restaurants and a friendly, village atmosphere. We think you will love skiing in small resorts too!
Here is a list of our favourite small ski resorts to visit this winter 2019/2020 season!
Flims, Switzerland
The Swiss ski resort of Flims is linked with Laax, and together they make Switzerland's second-biggest ski area. The region has extensive, varied slopes which are accessed by an efficient lift system. Thanks to the local glacier, and with slopes up to 3,000m, Flims has an excellent snow record despite its sunny orientation. The mountains here are famous for their long, sweeping runs for all standards of skiers. In recent years, there has been a big investment into terrain parks in Flims/Laax, and the area now has some of the best in Europe, with plenty of half-pipes, quarter-pipes, drops and jumps.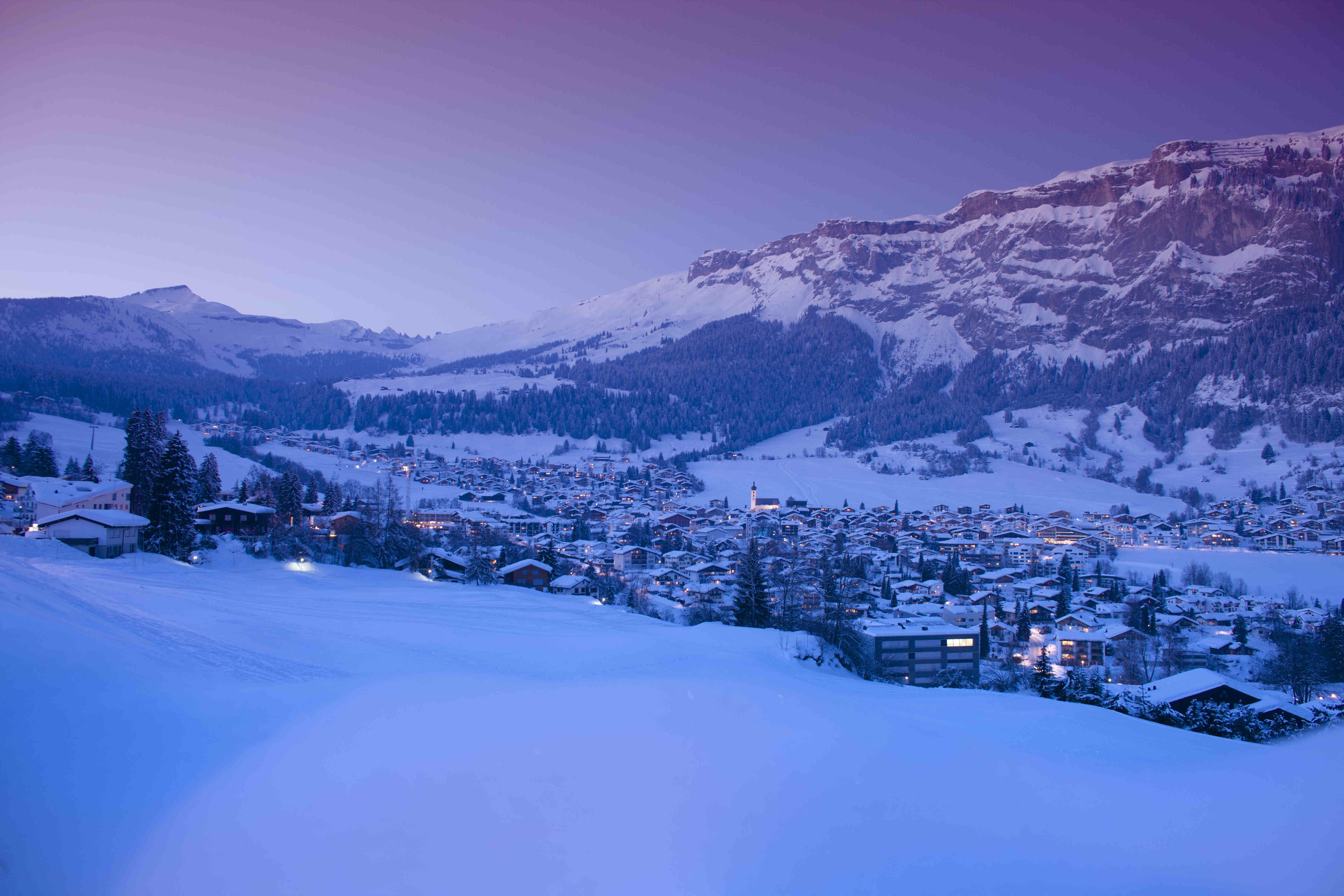 The village itself is peaceful and pretty. It is a popular resort with Swiss and German skiers, but remains relatively unknown to British skiers and is not offered by most tour operators. This means that Flims hasn't lost its authentic Swiss atmosphere, and remains an idyllic mountain retreat. There are a number of excellent hotels to stay in, and a great selection of mountain restaurants. Those looking for a lively après scene can spend the afternoon in nearby Laax, which has a number of good bars. Flims is also great for a weekend ski holiday, as it has a short transfer time from Zurich airport and many of the hotels are happy to offer short stays.
San Cassiano, Italy
San Cassiano will be most enjoyable for intermediate skiers, families and food lovers! It is connected to the Alta Badia ski area, with 130km of pistes. The resort also has access to the huge Sella Ronda network, with over 1,100km of ski slopes covered with the one lift pass! With this much terrain, there is naturally a wide variety of slopes for all abilities here. San Cassiano sits at 1,537m altitude, with the slopes going up to 2,950m here. There is a great terrain park for snowboarders and an excellent ski school. Private lessons are great value compared to the big French and Swiss resorts (make sure you ask for an English speaking instructor).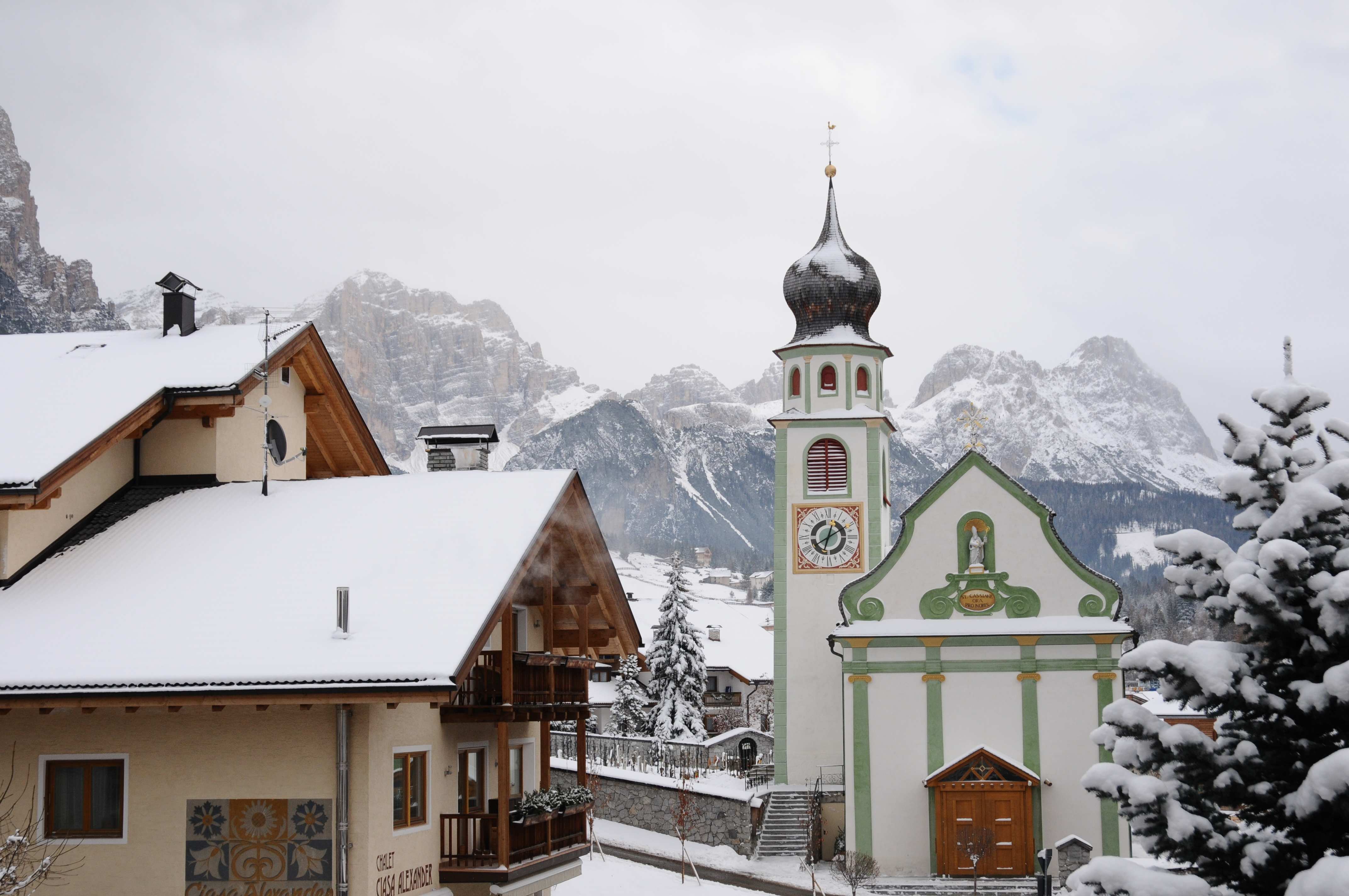 Whilst staying in San Cassiano, challenge yourself to complete the Sella Ronda run. It is a 14-mile circular ski route through Selva, Colfosco, Corvara, Arabba and Canazei. It is well-marked and suitable for intermediate skiers, but make sure you start early as it can take up to 6 hours to complete, depending on how fast you ski and lift queues. San Cassiano also has easy access to the 'hidden valley' run, one of the best ski descents in the whole region.
The village itself has kept its traditional Italian feel and is surrounded by the stunning scenery of the Dolomite Mountains. It is quiet and peaceful, with a beautiful old church in the centre. Within the next few years, there are plans for the village to become completely car-free, but it is practically there already. There are a number of truly excellent restaurants with Michelin stars, offering a culinary adventure both at resort level and on the mountain. Apart from skiing, there is also an ice rink, sports centre and swimming pool to keep you entertained, and kids will love the 3,5km toboggan track down from Piz Sorega.
Megeve, France
Megeve is a beautiful French village, made into a ski resort in 1916, with the resort built up around the medieval centre. Located just a short distance from Geneva airport, it was the original French resort for the rich and famous in the 1920s. Whilst many of them have moved on to Courchevel, it still attracts a sophisticated crowd. The village centre has narrow, cobbled streets; horse-drawn sleighs and a stunning old church, and it has held on to its traditional French feel. There are lots of stylish and luxurious hotels to stay in, alongside a range of galleries and classy shops. The new sports centre opened a few years ago and it has separate indoor and outdoor pools for adults and children, saunas, steam rooms, indoor tennis, indoor hot tubs, a gym and an Olympic standard ice rink. There is also an outdoor ice rink, for those who prefer to skate in the sunshine!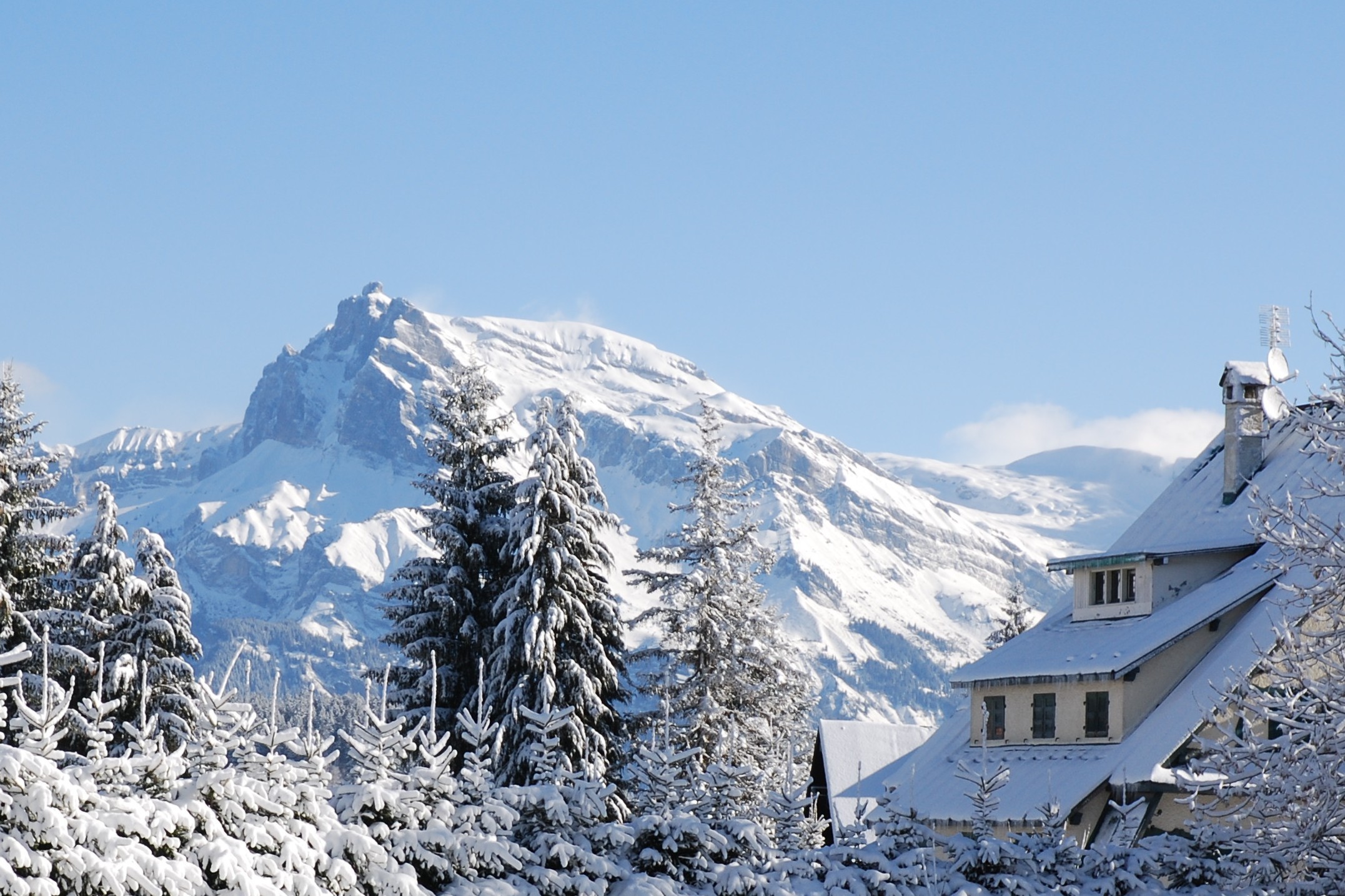 Megeve is connected to an extensive ski area, which is best for intermediates who love to ski the miles on well-groomed slopes. A local lift pass covers Megeve's pistes and those of neighbouring Les Contamines. Serious skiers might prefer to buy a Mont Blanc Unlimited ski pass, which also covers Chamonix, Courmayeur and Verbier. The scenery is beautiful, with views of Mont Blanc from many of the slopes. Outside of peak French holiday weeks, Megeve's ski area is virtually empty.
Although a generally quiet and gentle resort, there's still something for those who like a classic après experience. La Folie Douce Saint Gervais is at the top of the Mont Joux lift. Down in the village, the Cinq Rues jazz bar is popular, as well as the casino.
However, the real highlight of the region is the food. There are lots of amazing mountain restaurants to enjoy serving traditional French food. You can read more about fine dining in Megeve here.
Grimentz, Switzerland
Grimentz is a truly picturesque Swiss alpine village, connected to the Val d'Anniviers ski region alongside St Luc, Zinal, Chandolin and Vercorin. The region lies between Zermatt and Verbier, deep in the Swiss Alps, and remains relatively undiscovered by British skiers. Grimentz village is filled with traditional mazots, century old chalets and small, family-run hotels.
The Valais food of the region is world-renowned, and you can enjoy many delicious fondues and raclettes during your stay here.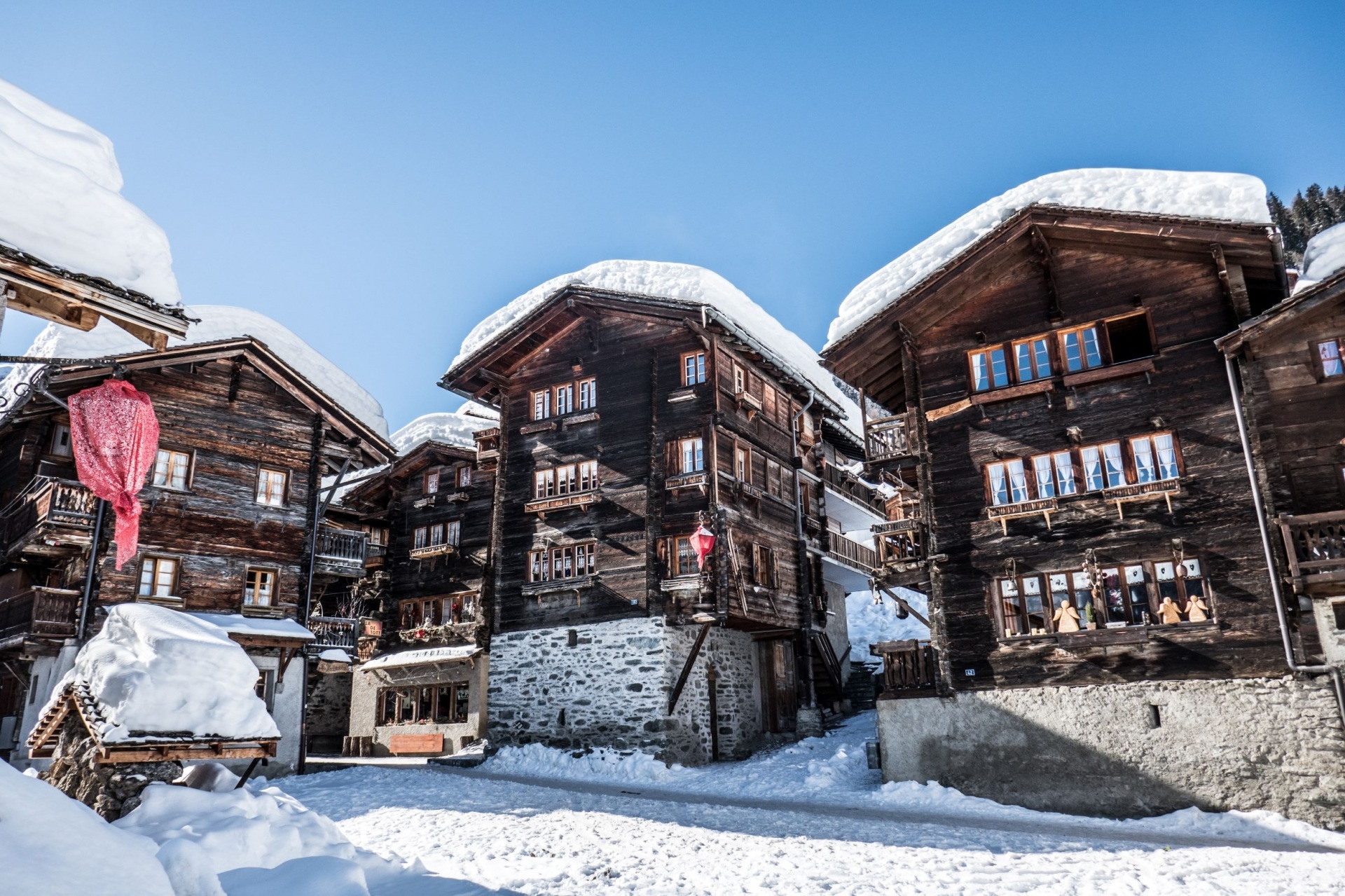 Up on the mountain, there is 120km of slopes shared between Grimentz and Zinal, with another 75km connected to St Luc. The north- and east-facing pistes hold the snow well, and there are excellent snowmaking facilities due to the high altitude lake nearby. The top station is just under 3,000m and the incredible off-piste available hardly ever gets tracked out, so you can enjoy the powder days after a fresh snowfall.
Add to that the wonderfully friendly locals, relaxed atmosphere and excellent mountain crèche for children, and you can understand why Grimentz makes such an excellent destination for a family ski holiday.
Read our blog post to find out more about why we love skiing in Grimentz.
Alpbach, Austria
Alpbach is officially the prettiest village in Austria, but it might just be the prettiest village in the whole of the Alps. It sits at just under 1,000m, under the 1,899m peak of the Gratlspitz mountain in the Tyrolean region of Austria. Building regulations are extremely strict, which is why the resort retains so much of its beautiful character. Traditional, timber-clad chalets are dotted among the trees and there are many affordable restaurants and a number of lovely hotels. As expected of a small resort, Alpbach has a relaxed and informal après-ski scene, which reflects the atmosphere of the village.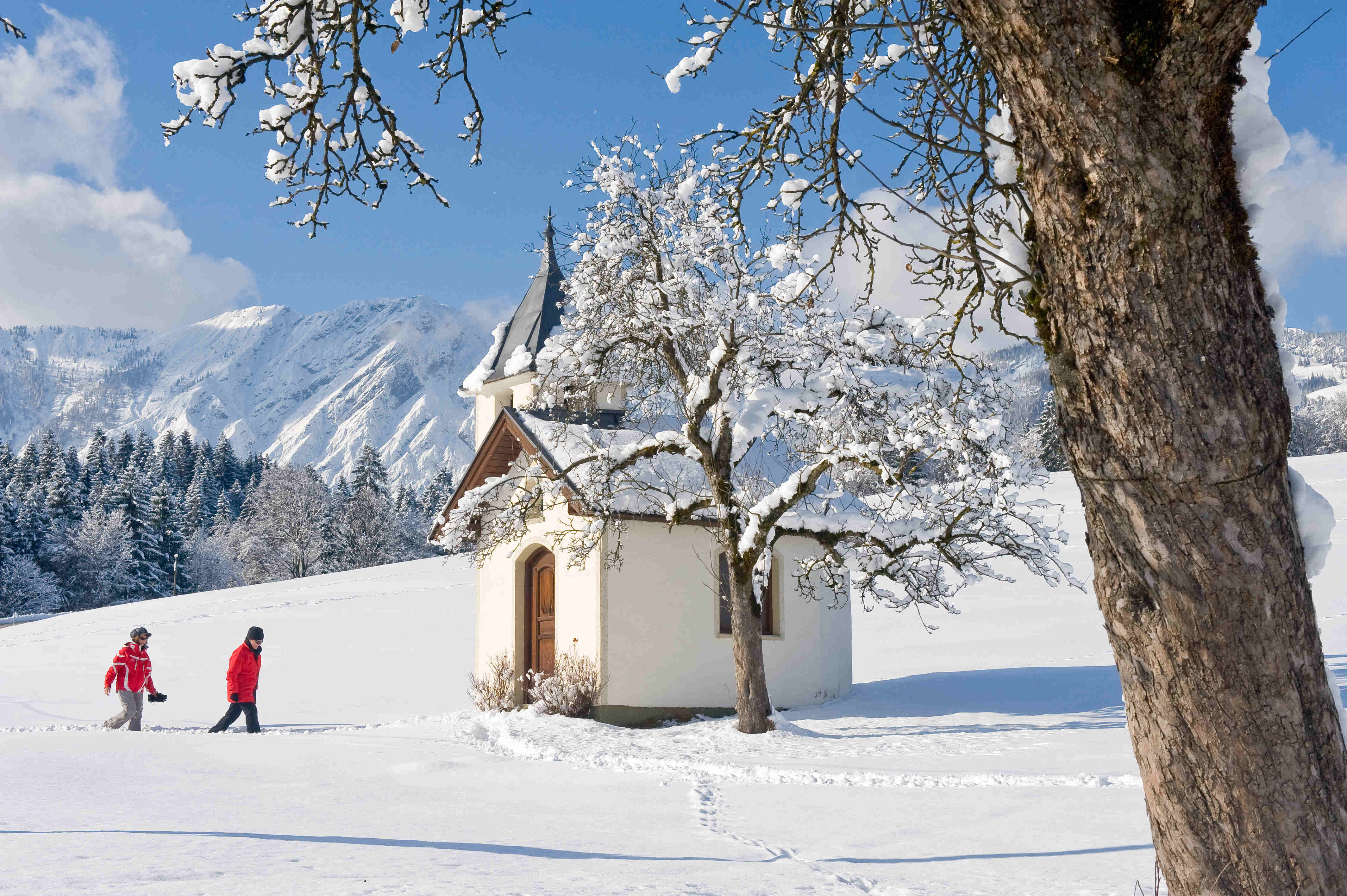 Connected with Reith, Oberau and Niederau, the villages make up the Ski Juwel area with 150km of pistes. Alpbach is still a working farming village in the summer months, so nearly 100 traditional farmhouses are scattered across the slopes. The lifts are fast with short queues, and the slopes themselves well-marked and generally quiet. The terrain is best suited to intermediate skiers, but there is an excellent ski school with English speaking instructors for those wishing to improve their technique! Also, the pistes at Reith are floodlit three times a week for night skiing. For non-skiers, there's 70km of alpine walking paths, including a panoramic trail through the valley past waterfalls, woods and farmhouses.
Alpbach is popular with British skiers, and a number of them are very loyal to the region, but it is certainly not overcrowded like some of the larger French resorts. The village itself is a short bus ride from the main ski lifts, but there is an efficient and free service between the two. At just 1 hour from Innsbruck Airport, Alpbach is a great resort for families or those who like a relaxed, charming winter ski holiday.
There are many other amazing small ski resorts in the Alps. If you're interested in visiting any of the resorts discussed here or want to hear more about other amazing small ski resorts in the Alps, give one of our ski specialists a call on +44 (0)20 7801 1080. We love sharing our extensive mountain knowledge and help you find the ideal resort and accommodation for your group. Or just fill out our enquiry form with your details and requirements, and we'll get back to you at a more convenient time.
In the meantime, you might also like to read our post on Serre Chevalier, and why we think it is one of the most underrated resorts in the Alps.
Best Small Ski Resorts in Europe
Alpbach: Officially the prettiest village in Austria, Alpbach is the best choice if you want to stay somewhere really beautiful
Flims: After lots of investment, Flims/Laax has some of the best terrain parks in Europe
Grimentz: The relaxed atmosphere in the village makes this the perfect resort for a family ski trip
Megeve: There are lots of amazing restaurants here, serving delicious and traditional French food
San Cassiano: A great resort if you love skiing for miles. There is 1,100km of skiing in the Sella Ronda region that is covered with just one lift pass
Recent Posts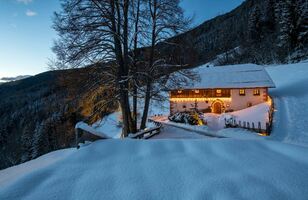 Simon Hoskyns | 10 November 2020 | Ski Chalets
Plenty of clients look at remote ski chalets in the Alps for their winter hol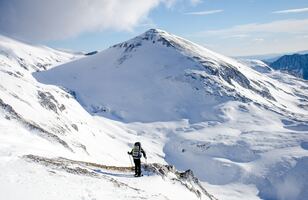 Elizabeth Willis | 13 October 2020 | Ski Resorts
As most people only take a couple of ski holidays a year at the most, you wan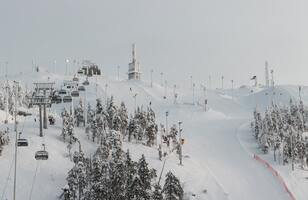 Elizabeth Willis | 05 October 2020 | Ski Resorts
If you love waking up for first lifts and packing as many ski-miles as you ca