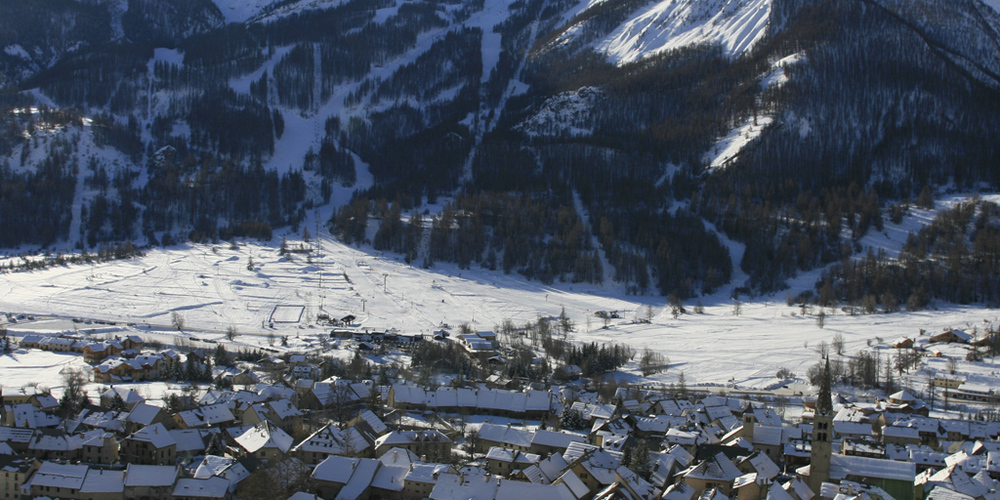 The Underrated ski resort, Serre Chevalier
Hattie Evans | 06 June 2018 | Ski Resorts
Serre Chevalier is not a single resort but 4 distinct and separate villages; Briancon, Chantemerle, Villeneuve and Le Monetier all of which link into the ski circuit and offer a whopping 250km of piste.
We like Serre Chevalier as a refreshing change from the big resorts like Val d'Isere, Tignes, Courchevel, Meribel and so on. In particular the pretty, tree-lined pistes as well as the charming restaurants on and off the mountain. We also love the fact that Serre Chevalier retains a Gallic atmosphere where speaking a bit of French goes a long way. The lower prices are also a big plus.
Serre Chevalier's ski area is quieter, prettier, and more forgiving than many of the larger super stations.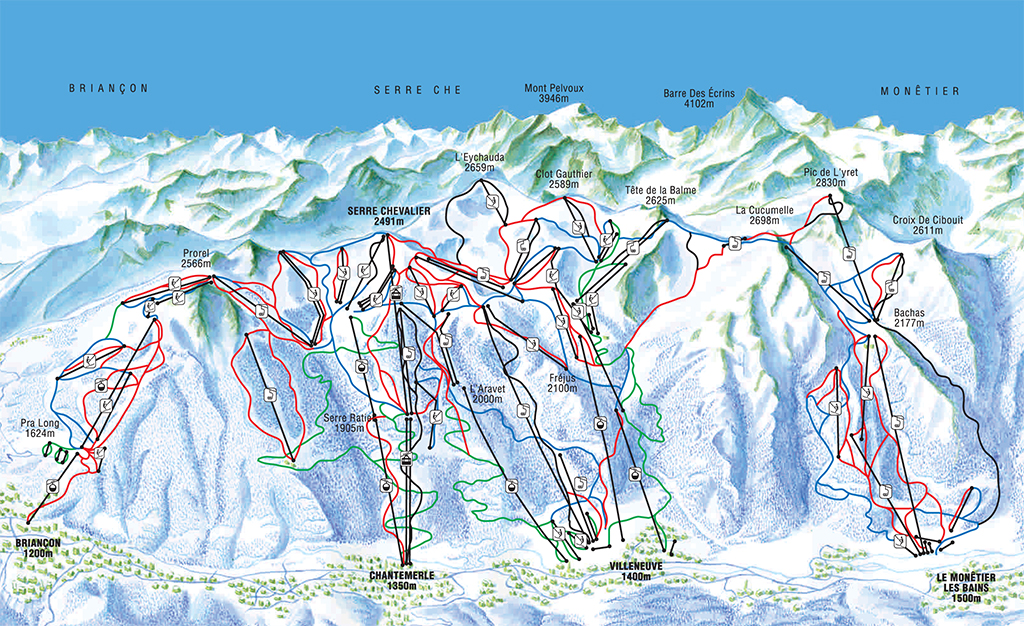 Piste map of Serre Chevalier
PLUS POINTS FOR THE SKI AREA
250km is a fair old size and only 50km less than Vald'Isere and Tignes put together.
Lots of tree lined runs It's unusual to find so many on the slopes of a French resort.
Large parts of the ski area are North facing This is a good thing as the slopes tend to be colder for longer, and hold their snow well. The resort also offers something that sets it apart from other resorts in Europe – Les Cols Porteurs. These are free 90-minute guided tours of the ski area, every day of the week. Generally only offered to red-run skiers.
WHO BENEFITS MOST?
Intermediates will love Serre Chevalier!
Of the different sectors, Monetier is the most appealing and usually the least crowded. This is the best part of the mountain for accomplished skiers and riders. All the other Area's offer fantastic skiing for beginners and intermediates.
Serre Chevalier has learnt much from our friends across the pond in North America offering a free ski hosting service called Les Cols'Porteurs. The Hosts take 90-minute tours of the mountain every day and – as long as you can manage a red run – you can join. As well as acting as guides, they'll also teach you about ski safety and make your time with them fun as well as educational. The second North American influence is piste grooming which Serre Chevalier excels at. They even have their own Grooming School where, in a 20-minute session at the top of the Casse du Boeuf chair-lift, you can learn how to drive a piste-basher yourself.
Ski resort Serre Chevalier Lots of trees in Serre Chevalier
VERY GOOD FAMILY FACILITIES
Serre Chevalier has good locally-run facilities. EurekaSKI can organise private (English-speaking) childcare for little ones from three months old. For toddlers in Chantemerle, Les Poussins accepts little ones from eight months to six years. Les Petits Aigles is a leisure centre with activities for three to six year olds. In Villeneuve, Les Schtroumpfs cares for children from six months, and Micro Creche takes non-skiers from three months to six years. In Monêtier, Les Eterlous accepts children from six months (18 months during French school holidays).
The ESF Jardin des Neiges in Briançon , Chantemerle , Villeneuve and Monetier provides a mix of tuition and play for children from three years. New Generation offers a wide range of English-speaking classes for kids aged 4-13. Children's lessons with Buissonniere ESI are also very good as is the ESI Generation in Chantemerle, which offers lessons for children aged 7 to 11 years.
A bus-service links the various villages: Chantemerle (1,350m), Villeneuve (1,400m) and the adjoining rustic hamlet of Le Bez, Monetier-les-Bains (1,500m), the garrison town of Briançon, and the hamlets of Puy Saint Andre and Puy Saint Pierre.
Chantemerle (at 1,350m) is the best base for families. This is the nearest village to Briançon. It has a pretty historic core as well as a fast gondola to access the slopes and a six-seater chair-lift provides fast access from mid-mountain to the top of the ski area.
Villeneuve (at 1,400m) has some of the best-value accommodation. It also has most of the nightlife, making it the base that attracts singles and groups.
Monetier (at 1,500m) has been a resort since Victorian times, but this is the base that has been most recently updated. It's a good spot for couples who'd enjoy staying in a traditional farming village with skiing on its doorstep. However it has also been burnishing its appeal to families. It's now home to a large ESF children's club, nursery slopes with magic carpet, a newly developed lift base, a spacious restaurant and bar, and a thermal spa for the whole family. This is also where you'll find the highly-rated British ski school New Generation.
Monetier is the place to stay if you're an advanced to expert skier or snowboarder, as this end of the valley is where you'll find the best off-piste.
Serre Chevalier Traditional Village of Le Monetier
Briançon (at 1,200m) is a large, old walled town above the gondola station.
The town and commune is called Briançon, but the old walled town is actually called Cité Vauban. This is a UNESCO World Heritage site with considerable charm, but it lacks the atmosphere of a ski resort. However, the old town is changing and there's a wonderful choice of restaurants, lots of apartments too. But it is less convenient than the new town for accessing the slopes, 10 minutes' walk up or down the very steep hill.
Serre Chevalier is not a party resort. If you're looking for non-stop nightlife in this part of the Alps, you'd be better off going to Les Deux Alpes or Alpe d'Huez. The scene consists almost entirely of local bars and the occasional very Gallic disco.
SPA
Les Grands Bains features indoor and outdoor thermal pools, saunas, steam rooms, treatment rooms and all sorts of imaginative extras!
Ski resort of Serre Chevalier Thermal Baths in Le Monetier
TO CONCLUDE
We highly recommend Serre Chevalier as a ski resort that won't cost the earth. It has some great skiing for all levels and is family friendly. If you are looking for something different, try Serre Chevalier!
Have a look at Luxury Chalet CHEZ BEAR – sleeps 8-12 Have a look at the CLUB MED in Serre Chevalier We feature two hotels in Serre Chevalier – Hotel Plein Sud and Hotel Le Grand Aigle Call one of our experts for some help if you would like to consider Serre Chevalier.