Meribel Chalets with Fireplace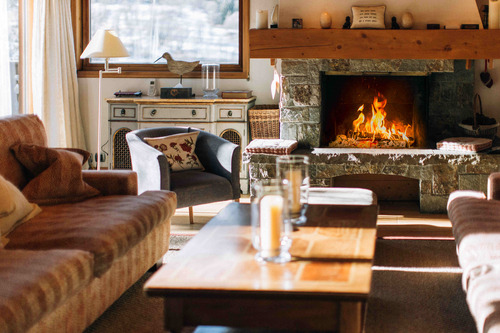 There are probably more chalets with a fireplace in Meribel than there are in any other alpine resort. There is a massive choice of chalet properties to rent in this Three Valleys ski station and nearly all of them have a fireplace to hunker down in front of when the weather turns.
Meribel chalets with fireplace - search
However, which of the many chalets available with a fireplace offer the best winter ski chalet experience? In our opinion the chalets with an arrangement of comfortable sofas collected in front of a proper open wood-burning fireplace are the ones to book. In our chalet search you can elect to be shown only properties with a fireplace but we are not sure that this goes far enough to finding you the chalets with the best fireplaces. The reason for this is that there are plenty of chalets which have a fireplace (either open or with a glass screen) but do not also have comfortable sofas arranged in front of it. Although these fireplaces will effectively heat a room the room layout means that you cannot gather around the fire and experience the true 'alpine chalet' experience.
If you want to widen your choice
The ski in ski out chalets in Meribel offer the easiest access to and from the pistes but of course there is only a limited choice of these properties and they do tend to get booked up early. You may prefer therefore to widen your options and search through all our chalets in Meribel.
Search all our chalets in Meribel
Below we list our pick of the best properties to choose if you like to get cosy in front of an open fire when you come back from skiing. However, be warned, these wonderful properties tend to get booked up very early. If you are looking to travel over one of the peak weeks (Christmas, New Year, February half term or Easter) then you need to be thinking about booking 12-9 months before you intend to travel. The shoulder season weeks of early and late February, and mid March should be booked by the end of September at the latest. Low season dates can sometimes be booked nearer the start of the season but you may need to be flexible as to which week you book if you do leave it later.
Recommended Meribel chalets with fireplace
Chalet Varappe (sleeps 10-12)
For some the traditional decor of this luxury chalet might be a bit over the top. However, we love it for all its kitsch alpine style and those deliciously comfortable sofas. It's hard to imagine dragging yourself to the dinner table once getting cosy in front of Chalet Varappe's fireplace. It's probably just as well that the standard of chalet cooking at this property is of the highest order. After all you will need something seriously enticing on the dinner table to get you up from the fireside.
Chalet Trois Ours (sleeps 10-12)
This has to be one of the best chalets in Meribel but like the best things in life it is not widely known about. That's ok. The kind of people that book this chalet like its discreet location and the fact that it flies somewhat under the radar - they come here to get away from their busy lives and love the grace, style and most importantly the privacy that Chalet Trois Ours offers. Situated in one of the most desirable locations in Meribel this fine property offers guests true ski in ski out convenience, a wonderful hot tub, first class service, and of course one of the best fireplaces to relax in front of.
Chalet Cecilia (sleeps 10)
Situated not far away from the Chalet Trois Ours this freestanding property is one of the older chalets in Meribel. It too offers a ski in ski out location and also a high degree of privacy. It is comfortably furnished, without being luxurious, and although the rooms are a little compact it offers a wonderful chalet atmosphere. The fireplace is, as it should be, the focal point of the sitting room and there are comfortable sofas positioned in front of the fire that allow good foot warming possibilities. For its comfort, ski in ski out location and welcoming open fireplace we rate the Chalet Ceclia highly.
Chalet Pasarale (sleeps 10)
This modern classic has a hugely loyal and growing band of devotees so if you want to secure the Chalet Pasarale this winter then you had better book quickly. Located very close to the centre of the resort (and also the Chaudanne lift hub and ski school meeting point) makes taking a holiday here very practical. However, this chalet offers way more than a convenient location. In 2015 the British owners gutted the interior and refurbished the entire chalet with a modern take on traditional alpine style. It could have gone horribly wrong but the designers did a great job in making this property what it is today. Although this not a freestanding chalet once inside you would never know it. The open wood burning fireplace creates a wonderful atmosphere and really makes this chalet.
Chalet Ruisseau Renarde (sleeps 8-11)
Like Chalet Cecilia this old chalet is one of the original Meribel chalets which date back to the post war years of the 1950's. Situated on the Route de Renarde and immediately above the tourist office this chocolate box property has a very desirable address. The centre of Meribel and the edge of the Doron piste (leading down to the Chaudanne lift area) are both less than 3 minutes walk from the chalet. Apart from having a proper fireplace and a sitting room layout to properly appreciate it the Chalet Ruisseau Renarde also has a wonderfully atmospheric top floor bedroom with five single beds. This children's room makes the chalet one of the best family properties in Meribel. It is also one of the few older style chalets that is sold on a self catering basis. If you are an extended family group then do not hesitate to snap this one up.
Chalet Telekie (sleeps 12)
The general rule goes that you need to pay more to get the best quality and looking for the chalets in Meribel with the best fireplace is no different in this respect. However, there are some very good three star rated chalets that have a great fireplace and Chalet Telekie is one of these. Located behind the famous Chez Kiki restaurant in the Morel area of Meribel this great value chalet has easy access to the Morel chairlift. The chalet comes packaged with charter flights and transfers which makes booking a holiday here very good value.
As mentioned the chalets in Meribel with the best fireplaces do get booked up early. It is our advice therefore that you get your group organised as soon as possible to secure yourselves one of the most desirable properties in the resort. When you settle down in front of that roaring log fire as the snow falls outside you will thank us for the advice.
No time to browse our site now? No problem. We would be delighted to hear from you with any current ideas you have for your ski holiday. Please fill in our quick Enquiry Form: