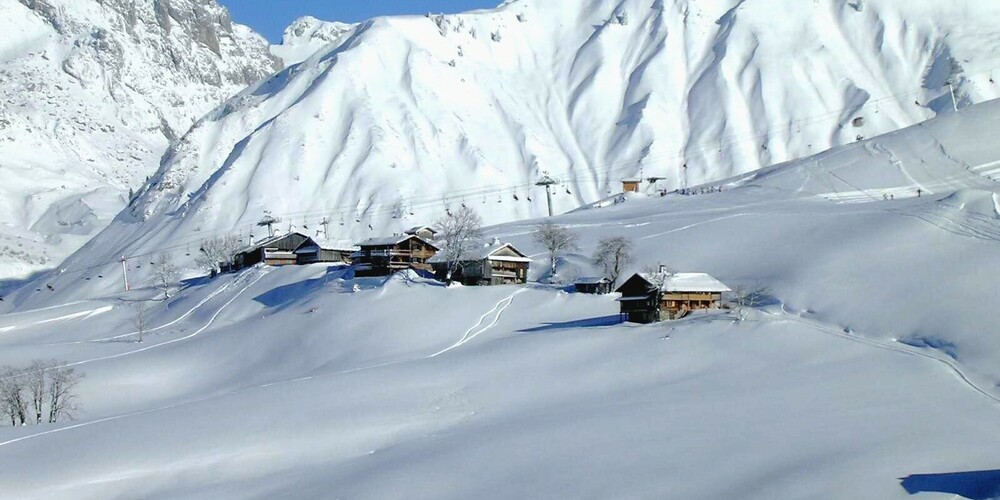 Why are these chalets available for Half Term 2023?
Simon Hoskyns | 13 June 2022 | Ski Chalets
There are a few different factors at play but the long and short of it is the ski chalet holiday market for next winter 2022-23 is much more booked up than normal (for this time of year). Following the French government's last minute decision to ban the Brits from skiing last Christmas and New Year meant a lot of bookings were simply rolled over a year later to December 2022. This in turn put pressure on the other key family ski weeks of February Half Term and Easter 2023. Combine this with a general bounce back in demand for holidays (we have been deprived a ski holiday for two years in most cases) and it's easy to understand why the key weeks for next winter are getting full.
Our portfolio of chalets in the Alps covers the length and breadth of the ski holiday market place (we have chalets from over 170 different holiday companies). Nearly 1,000 properties cover the price spectrum from lower mid-market to the highest luxury. Approximately half the chalets we offer are catered with staff and the remaining half are offered on a self-catered basis. We also offer traditional packaged ski chalet holidays with companies like Le Ski, Ski Vertigo, Ski Famille, Ski Beat, Inghams, Mark Warner etc. as well as chalets that are sold without travel from the UK.
The main Half Term week next winter is the one starting Saturday 11th Feb 2023. Already (and here we are only in mid June) nearly 65% of the properties in our portfolio are booked up. As one might expect the properties that suit families the best are the ones to get snapped up. Generally speaking these are the properties which offer good value, ease of access to and from the ski slopes/lifts/ski schools and ones that are located in great family suited ski resorts with excellent ski schools, modern lift infrastructure and ski terrain to suit all standards.
However, there are some really great family ski chalets still available to book for February half term 2023. Quite why these remain unsold at the present time is one of life's mysteries - there is everything to like about them. We list a few of the best properties currently still available to book below. They appear in no particular order but any would make a fantastic choice for a family ski holiday in the Alps.
Sleeps 10-11. Price per person including flights and transfers: £2,029 (catered)
This chalet ticks pretty much all the boxes - all but ski in ski out; very close to the ski school meeting point, good value, hot tub and sauna; all bedrooms with en-suite facilities and easy access to and from the Three Valleys ski area. It doesn't get more family friendly than this.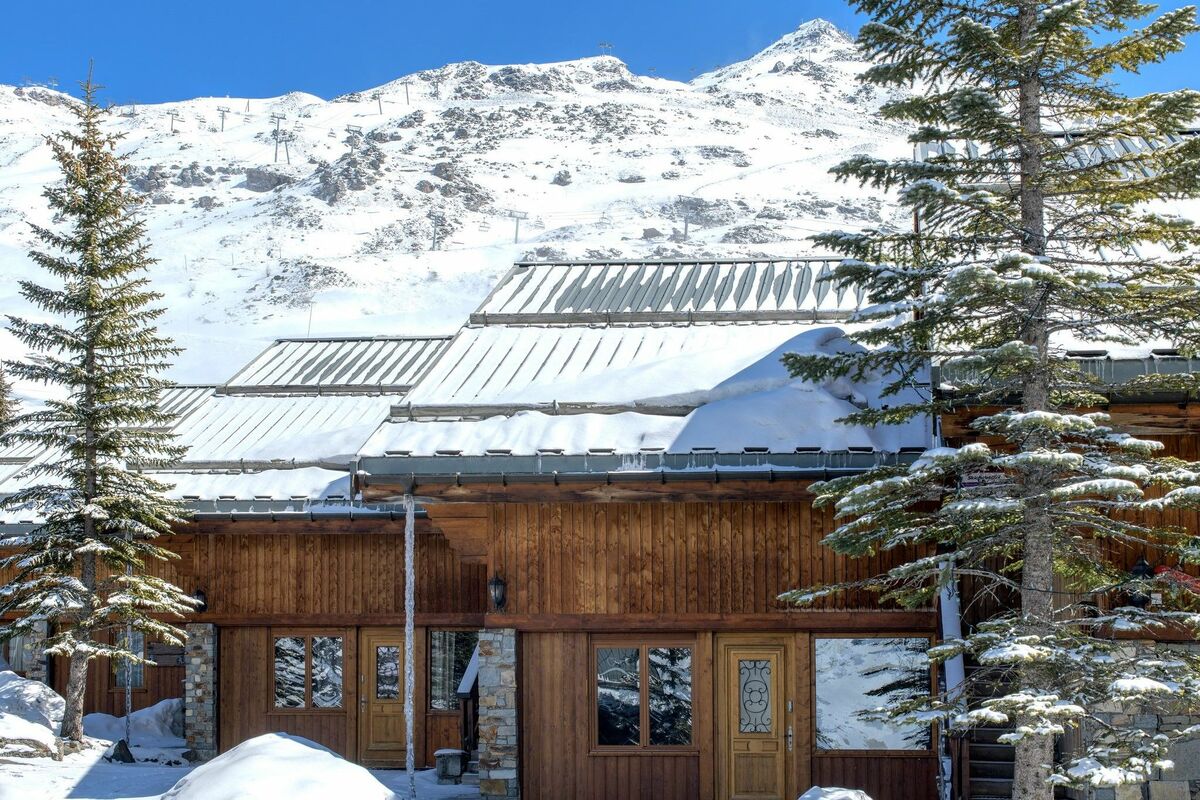 -----------------------------------------------------------------------
Sleeps 14. Price per person including flights and transfers: £2,243 (catered)
Val d'Isere is always our best selling resort each winter. In short it has everything anyone could ever want or need in a ski resort. The Chalet Bellevarde is not close to the lifts or slopes but it does offer a minibus service which for many is a far easier option than walking, even if just a short distance. I don't know if you have checked the price of flights yet for next February half term but let me tell you that they are fairly eye-watering. This makes chalets like the Bellevarde with flights from MAN or LGW included in the price a very attractive proposition. And this is before you consider the hot tub, reliable in-resort service and more than decent chalet catering on offer.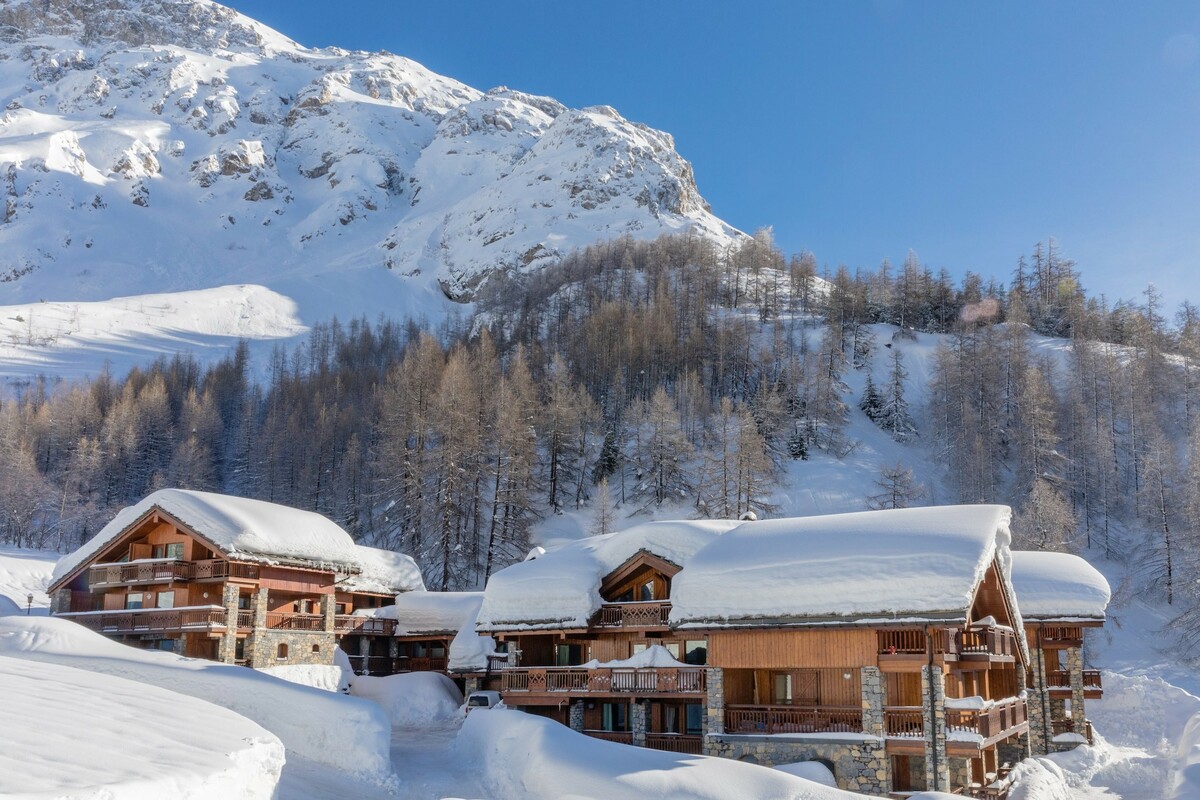 -----------------------------------------------------------------------
Sleeps 12-14. Price per person excluding travel: £1,079 (catered)
For those that don't like a large resort like Val d'Isere, which let's face it will be very busy during a peak week, the smaller ski stations such as Grand Borand are perfect. The Ferme du Soleil is privately owned and managed and provides an unforgettable holiday experience. Located on the mountain and accessible only with skis or skidoo it offers the perfect antidote to the bustling super stations. Enjoy fabulous views, quieter slopes, tailored hospitality and the peace and quiet of the mountain landscape that surrounds the property.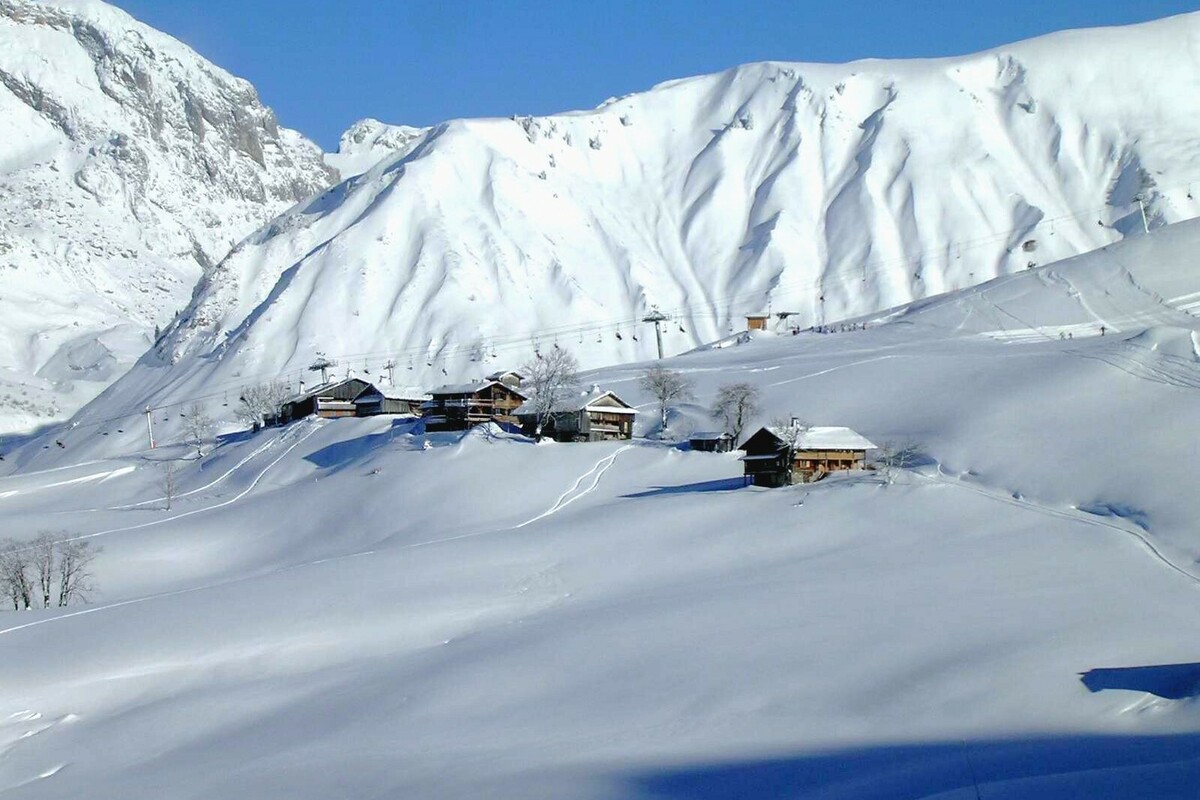 -----------------------------------------------------------------------
Sleeps 24-30. Price per person excluding travel: £1,416 (catered)
If you are thinking of getting a large group together with 4 to 6 families (or even one large extended family group) the Ferme du Lac Vert near Morzine offers an amazing experience. This renovated old farm building offers lots and lots of space and wonderful in-resort service. The Ardent ski lift (usually with minimal queues even at high season) is easily reached via the private minibus service and there is a beginners' ski area at the top of the lift. The outdoor hot tub is sure to be a hit with all the family as is the high end service and top quality food.
-----------------------------------------------------------------------
Sleeps 10-12. Price per person excluding travel: £1,600 (catered)
Ski in ski out chalets in Meribel are as rare as hens' teeth yet here is one that not only offers immediate access to and from the piste but is also close to the resort centre (5 minutes or less on foot) and reasonable value. Chalet La Fuge is one of the oldest chalets in Meribel - hence its perfect location - and offers much charm and atmosphere. It also gives guests fantastic views across the valley from the sitting/dining room and the larger than average balcony.
-----------------------------------------------------------------------
Sleeps 8. Price per person excluding travel: £2,945 (catered)
There are few chalets in the Alps that offer the undisputed charm of Chalet Bear in Klosters. Privately owned and lovingly renovated by its English owner a family ski holiday in Chalet Bear offers fantastic memories that will last a lifetime. To the uninitiated Klosters offers a large, snow sure ski area with red mountain trains (this is Switzerland after all), traditional mountain hut restaurants, toboggan trails, alpine village charm with chocolate box vistas.
-----------------------------------------------------------------------
Sleeps 6-8. Price per person excluding travel: £1,010 (self-catered)
Val d'Isere is a large sprawling resort and if you are not careful you can end up choosing accommodation that is a long way from anything. Yes, there is a very efficient free bus service in Val d'Isere but for families with younger children this is not an attractive proposition when the buses are packed and dad is left to carry all the skis and poles! We get it - we've been there. Apartment Squaw Valley gets around the location issue by offering the best location possible - less than 50 metres from the snow front with lifts and ski school meeting points in one direction and the centre of resort in the other.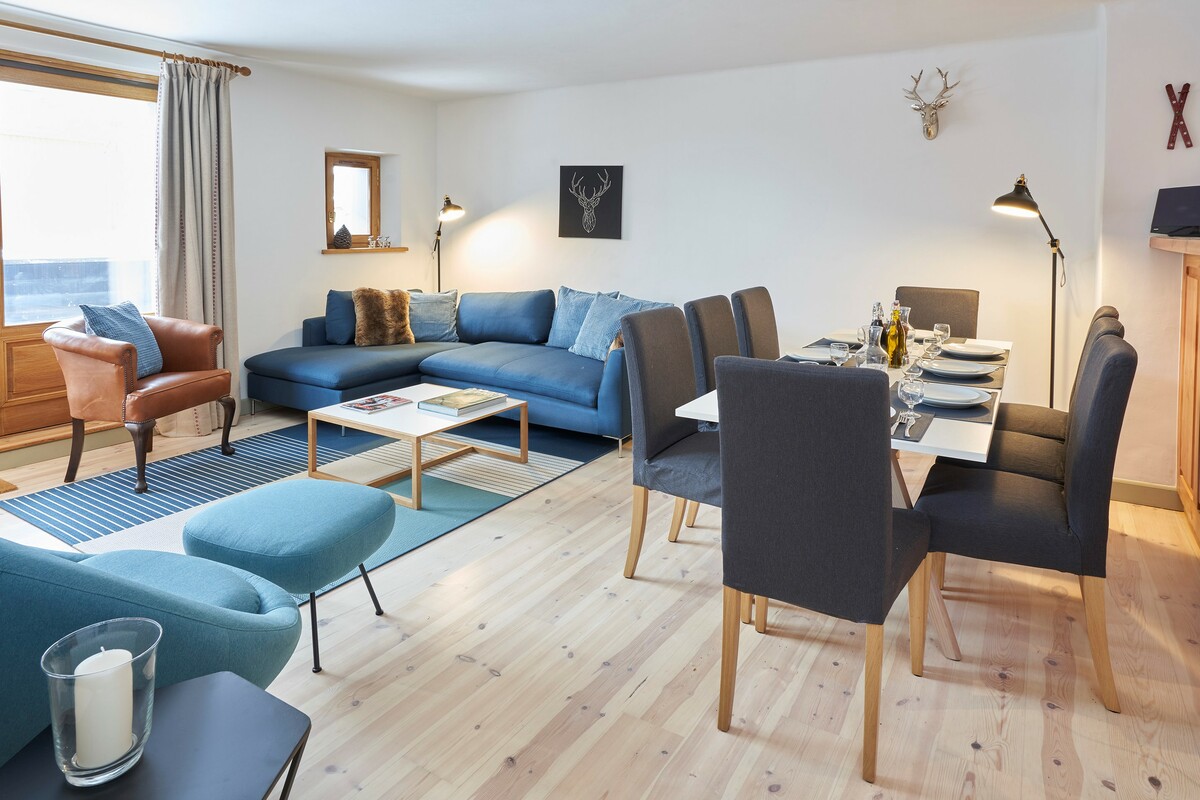 -----------------------------------------------------------------------
Sleeps 12-16. Price per person excluding travel: £950 (self-catered)
This famous property is where the legendary Hannes Schneider (1890 - 1955) lived. he was the inventor and promoter of skiing as we know and love it today and established the 1st ski school in the Alps. Considering the quality of this property and its history it is offered at am amazing price. Located in the charming village resort of Stuben it offers direct access to the huge Arlberg ski area of Austria which includes the household name resorts of Lech, Zurs and St Anton. Stuben is a quiet, family friendly resort (with ski school meeting point) offering considerable charm, some lovely local restaurants and a real mountain atmosphere.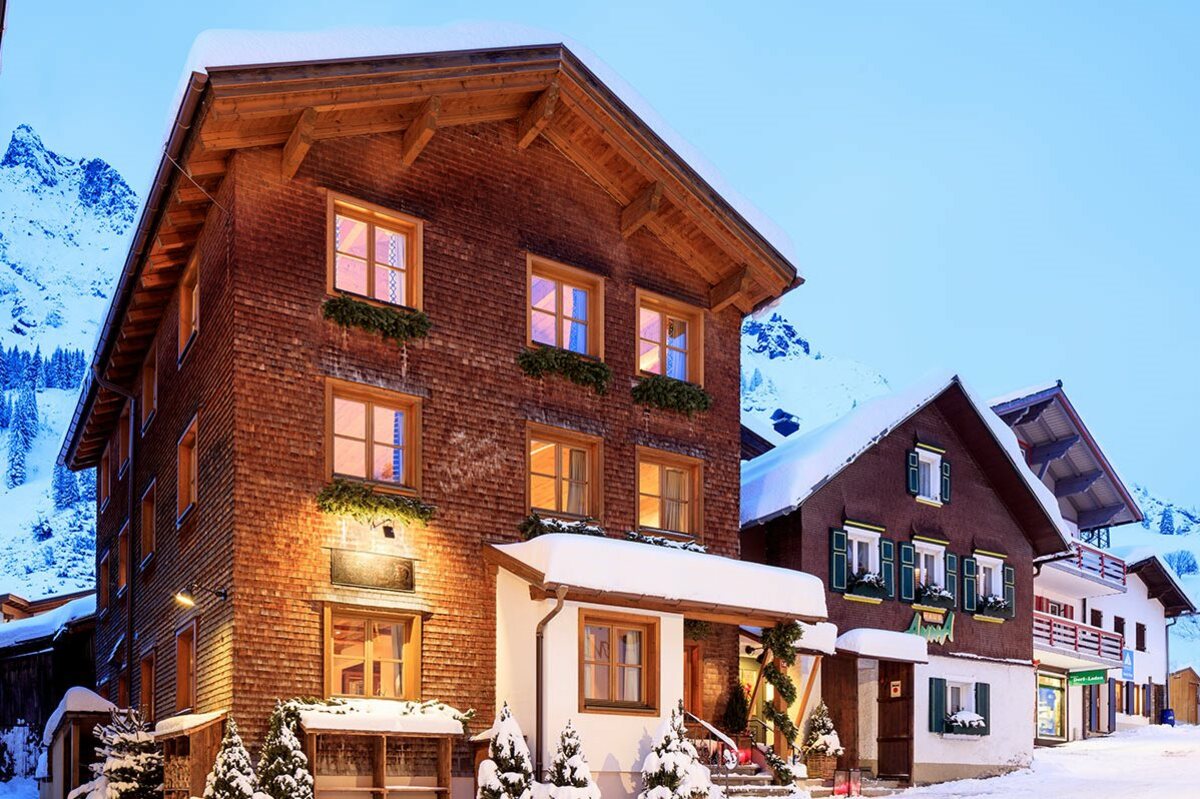 -----------------------------------------------------------------------
The selection above represents just some of the many chalets we have available to book for February half term week winter 2023. We do have cheaper options starting at approximately £650pp for the week on a catered basis, and under £400pp self-catered. We also have expensive luxury chalets with reassuringly high prices. So, if you happen to be a pro sports person, on The Times rich-list, or have just sold your fabulously successful company please do get in touch. We have just the property for you.
Recent Posts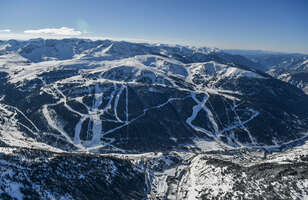 Philip Grobien | 28 June 2022 | Ski Resorts
We still get funny looks from people when we tell them that we love skiing in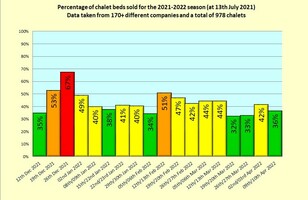 Simon Hoskyns | 13 July 2021 | Ski Chalets
What a strange and unpleasant last 17 months the UK travel industry has endur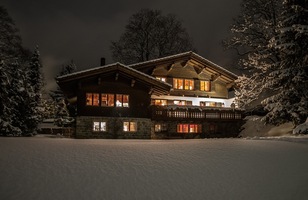 Simon Hoskyns | 21 June 2021 | Ski Chalets
We have seen unprecedented high levels of advance bookings for next winter 20