Home

/

Best Family Ski Resorts
Best Family Ski Resorts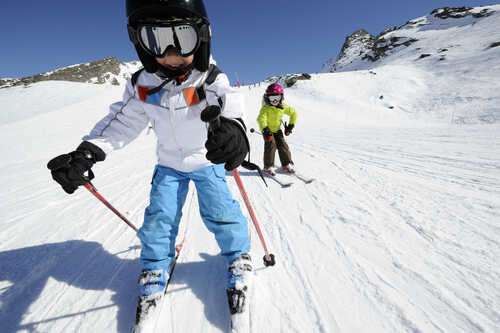 Choosing the best family ski resort is easy. Tap into our knowledge and experience and let us guide you as you will discover that family ski holidays are some of the best trips that a family can take. There are so many amazing memories to be made and, for the children, a lifelong love for a fantastic envigorating sport.
We understand that the first trip to the mountains as a family can be a daunting one – after all, it's very different from going away with a group of friends! However, rest assured. We have been selling family ski holidays since 1992 and know which are the best family ski resorts, ones with slopeside accommodation, children clubs and some outstanding child friendly ski schools. Plan your family ski holiday right and you will enjoy a fabulous holiday with beautiful memories that will last a lifetime.
The perfect family ski resort - things to consider
At Alpine Answers we are big fans of family skiing and know all the best resorts that will suit you and your family's needs. Below is a list of attributes for ski resorts that you should look for when choosing where to go.
3. Ski resorts with best ski schools for children
It is very important to start your children off on their ski careers with formal ski instruction, either in a class or, if the budget will stretch, with a private instructor. Every ski resort has at least one ski school but the larger resorts have enough demand to allow more than one ski school to exist. In the largest French resorts there are at least 10 different ski schools to choose from and this healthy competition has driven the standards of tuition ever upwards. We generally will recommend the smaller, specialist ski schools aimed squarely the UK market but faced with competition from these schools the ESF (Ecole Ski Francais) has done much in recent years to up its game. Today it offers a great value alternative to the independent ski school offering.
Approximate ski school costs for the ESF (season 2020-2021)
Group lessons all day for 6 days (5 hours x 6 days = 30 hours) = 400 euros (13 euros/hour)
Group lessons half day for 6 days (2.50 hours x 6 days = 15 hours) = 280 euros (19 euros/hour)
Private instructor all day (09.30 - 16.30 = 6 hours) = 440 euros (73 euros/hour)
Private instructor half a day (morning or afternoon = 4 hours) = 350 euros (88 euros/hour)
If a good ski school is important to you then look no further than Tignes. This is one of the most snow sure resorts in the Alps and along with its perfect nursery slopes has an excellent selection of high quality British and French children's ski schools for you to choose from. Our top picks are:
New Generation. A high quality British run ski school. Offer both group and private lessons for children aged 4 years upwards.
Evolution 2. Will take young children from 3 years old and upwards. They also offer all day care with lunchtime supervision.
8. Choose a ski resort with a large ski area
If parents are advanced skiers but their children are beginners, then it's important to choose a resort that is both child-friendly and one that also provides ample skiing with challenging terrain. La Tania in the Three Valleys strikes a perfect balance here – the largely car-free village is perfect for families and there's a large beginners area. It is also extremely easy to access the whole of the Three Valleys ski domain from La Tania so there's plenty of possibilities for children's progression and skiing for parents of all abilities. Other fantastic family ski resorts that offer 'backdoor' access to huge ski areas include St Martin de Belleville (also part of the Three Valleys) and Vaujany (which links to Alpe d'Huez).