Home /
Ski Holidays in the SkiWelt
Ski Holidays in the SkiWelt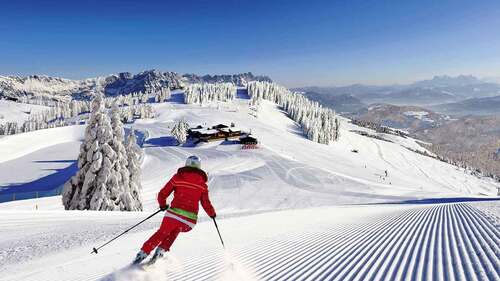 Ski holidays in the SkiWelt region of Austria give you access to one of the top 10 ski areas of the Alps. This huge interlinked ski domain is the perfect destination for those looking to experience traditional Austrian hospitality in smaller village style ski resorts. The SkiWelt region is made up by 9 separate interlinked ski villages with the main resorts being Ellmau, Söll and Westendorf. Together they offer 284km of pistes, 90 modern ski lifts, 77 mountain restaurants, 4 fun parks, 3 floodlit toboggan runs and a transfer time from Innsbruck Airport of just 1 hour.
The SkiWelt region's ski area is suited to all standards of skiers and snowboarders and with an average snowfall of approximately 3 metres it is far more snow-sure than people give it credit for – in fact for the season 2016/17 it had more snow than either Alpe d'Huez or Meribel in France both of which are significantly higher ski resorts with top lifts well over 3,000 metres in altitude.
Whereas the winter season in the SkiWelt region may not last much past the beginning of April the snow quality from December through to March is surprisingly good. The ski area is a wonderland for intermediate skiers who love piste cruising as there are lots of blue grade runs as well as a good selection of more challenging red runs. The gigantic ski area boasts 90 lifts but if you have an eco conscience there is no reason to worry. All of the 90 lifts run on 100% renewable energy sourced from Tylorean Hydropower.
A ski holiday in the SkiWelt region will always entertain with so many events on year round and there is much to do here for skiers and non-skiers alike. The Moonlight Bar in Soll hosts live music throughout the winter, the January Freeride camp in Westendorf allows you to ski with the stars and the Skihutten Gaudi weeks in March will have you dancing on the tables in your ski boots.
There are numerous options in terms of travelling to the SkiWelt region, with Munich, Salzburg and Innsbruck airports all within a couple of hours of the area. Innsbruck airport is, however, the main gateway and is only one hour's drive from most of the resorts within the area. This short transfer time is hugely popular with families as it vastly reduces the door to door journey time from the UK.
Snow Conditions in the SkiWelt region
Due to the relatively low resort heights in comparison to higher resorts in France and Switzerland some are concerned about snow reliability in the SkiWelt. However, there is no need to be concerned. The average air temperatures between December and March are consistently below freezing and vary from -3 to -6 degrees. Compare these temperatures to Meribel in France which experiences average temperatures of +3 to +5 degrees during the winter months. Even the highest resort in France, Val Thorens, has an average daytime temperature above freezing for most of the ski season.
So although most of the resort heights do not break a thousand metres in altitude the winter weather is far colder than in the French Alps. The climate in the SkiWelt is largely influenced by continental Russia with much lower temperatures than the warm climate of the Atlantic Ocean which dictates the weather in the French Alps. The cold air temperatures of the eastern Skiwelt mean also that the 1,500 snow cannons which cover 95% of the area's pistes work effectively throughout the winter. Furthermore the snow in the SkiWelt region is kept on the mountain much longer and in far better condition than in the French Alps.
Ski Holidays SkiWelt - Ellmau
If you are looking for a lovely family ski village with great links to the rest of the SkiWelt then Ellmau is the place for you. With numerous free buses running every hour and the main lifts and the bottom of the home slopes only a 5 minute journey away Ellmau provides a wonderful base for families looking for a relaxed and quiet village atmosphere. The Hartkaiserbahn lift which opened in 2016 even has heated seats and Wi-Fi to ensure a pleasant ride up the mountain - a 9 minute journey transporting you 1,530 vertical metres. The fantastic nursery slopes are an excellent option for anyone looking to learn and there are numerous slopes for intermediate skiers. Experts may be left wanting more as there are few black runs to be found in the local area of Ellmau. However, there is the Intersport Kaiserpark located in the Ellmau area which includes 2 different lines to choose from.
For a lively après ski scene (you are in Austria after all) head no further than the Ellmauer Alm which usually serves up live music and a wonderful atmosphere. Continuing the revelry later into the night is possible at Pub 66 or Sandy's Disco bar (good luck making first lifts). Although there are some good bars Ellmau is seen mainly as a family ski village - the gentle local slopes and relaxed atmosphere is perfect for children.
Ski Holidays SkiWelt - Söll
Historically Soll has been seen as the region's hot spot for partying. However, it is quieter than it used to be and today is considered by many as being family orientated. Söll is a very pretty village with easy access to the SkiWelt ski area and families like the traditional atmosphere. There are smaller, local ski lifts that service the nursery slopes in the village centre which means minimal children's ski carrying time by parents. The main gondola to the SkiWelt ski area is approximately 1km outside of the village centre but there is a free bus service which is very efficient. Soll has its own experts snow-park called the Crazy Kangaroo which runs around the Hohe Salve peak offering more of a challenge with some interesting black runs.
As the sun begins to set on another beautiful day in Söll there are many more available options for après ski compared to Ellmau. The Moonlight Bar and Pub Salvenstadl are both very lively and fun places to be rocking and rolling from the early afternoon right through into the evening. After getting in the mood why not head over to the Whiskey-Mühle disco to dance the night away?
Ski Holidays SkiWelt - Westendorf
A ski Holiday in Westendorf is a great option for a party looking for both good local beginner slopes and also more challenging pistes higher up the mountain. Westendorf has a great choice of red runs which can be easily reached from the main lifts. There are many very good mountain restaurants on the slopes above Westendorf as well as in the town itself. Westendorf was voted the most beautiful village in Europe in 1998 by Entente Floral and is only a 20 minute car journey from Kitzbühel, for those who fancy a bit of retail therapy.
Ski Holidays SkiWelt - ski schools
Ellmau
Top Ski School - This is a fantastic ski school that has an excellent reputation. Clients are asked to take part in an assessed 'taster day' after which your instructor makes the decision on what direction and style of teaching is best to progress your skiing.
Freaks on snow - This is a snowboarding school with an equally as good reputation for those looking to take up boarding or even just refine their techniques.
Söll
Ski School Söll - Ski School Söll is an award winning ski school which will help its students progress quickly as skiers or snowboarders.
Westendorf
Ski School Westendorf ('the reds') - 'The reds' ski school has been operating since 1947 and their instructors are immediately recognisable through their red uniforms. Based right in the heart of Westendorf 'the reds' offer numerous different programmes for different ages and levels of skier.
Ski Holidays SkiWelt - Activities for Non-Skiers
There are many activities for non-skiers throughout the SkiWelt region so if you're not the most confident on skis then there is no reason to worry. For those looking to cross country ski there are nearly 200km of marked trails across the pretty valley floor area. In Ellmau there is a leisure centre which offers a swimming pool with slides - fun for the whole family. There are also numerous toboggan runs (some of which are floodlit) around Ellmau, Söll and the neighbouring smaller resorts. Ellmau also offers Snowmobiling, hang gliding, helicopter tours, a cinema and a bowling alley. Söll offers winter walking or snowshoeing with routes which are both well maintained and well signposted. There are also numerous day trips running from Söll including to the nearby medieval resort of Kitzbühel as well as trips to Innsbruck and Salzburg (the birth town of Mozart). For those seeking a more romantic atmosphere there are also horse-drawn sleigh rides on offer in Söll. Westendorf has an igloo village which often hosts parties as well as other events. This is easily accessed via the gondola lift. It too has a good selection of cross country tracks as well as snowshoeing and dog-sledding.
Ski Holidays SkiWelt - Travel and Accommodation
Getting to the SkiWelt from the UK is remarkably easy. Nearly all the ski holidays to the Skiwelt come packaged with charter flights and transfers. The flight time to Innsbruck is approximately 2 hours from Gatwick and the transfer to any of the resorts takes no longer than one hour. Given that Innsbruck is a relatively small airport the door to door journey time is much shorter than a journey to any of the main French resorts. Innsbruck is the nearest airport (78km). Salzburg and Munich are 118km and 144km away respectively and the transfer time from either is around 2 hours.
There are very few (if any) catered chalets in the Skiwelt region but for a ski holiday here there is a great choice of hotels to choose from. The Hotel Hochfilzer in Ellmau is a fantastic 4 star hotel with an amazing location just 150 metres to the ski school and 20 metres to the ski bus stop. Along with its superb location the Hotel Hochfilzer offers an indoor pool, sauna and steam room. In Söll the Hotel Postwirt is one of the town's finest establishments which dates back to the 13th Century. This 4 star hotel is in an ideal location right in the centre of resort with the free ski bus stopping outside the door. It too offers a leisure spa area with various saunas, a steam room and heated outdoor pool. The Hotel Post, located in Westendorf, is another good option in the area. It is located 200 metres from the lifts and offers a brand new wellness area including sauna and steam room to help anyone recover from a hard day on the slopes. This traditional hotel used to be the original village inn and has its roots deeply embedded within the local history of Westendorf.