Ski Holidays in Meribel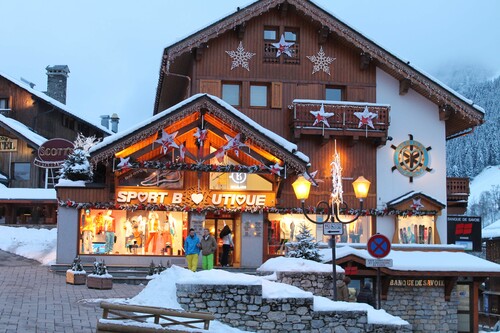 Ski holidays in Meribel have been popular with the British market ever since Col. Peter Lindsay started property developing here after WWII. The resort has grown considerably in the last 70 years but the general look and feel of the resort has remained unchanged since the early days.
Although there are a few hotels in Meribel most of the buildings in the resort are pretty, individual chalets which follow fairly strict building guidelines that were laid down in the early years. With so many chalet properties it is perhaps no surprise that the great British institution of the 'chalet holiday' has flourished here.
Meribel has a central position in the huge Three Valleys (Trois Vallees) ski area so if you are taking a ski holiday in Meribel you have the option of skiing East into the Courchevel valley or South West into the Val Thorens valley. Being in the centre of the ski system means that all of it can be explored from Meribel – even by relatively timid skiers.
Ski holidays in Meribel - getting to the resort
The main airport gateways
90% of clients holidaying in Meribel fly into Geneva, Grenoble, Lyon or Chambery airport and then either take a transfer bus provided by their holiday company (tour operator), or a hire car, the latter really only being possible from Geneva as the only airport of the four that has a large choice of hire car companies.
From Geneva there are two routes that you can take to resort. The most obvious is to stick on the motorway heading south to Chambery and then turn east towards Albertville and on to Moutiers. From the Tarentaise valley town of Moutiers there is then the half hour journey up the mountain to Meribel itself.
However, the quicker route is actually to cut across country, first to Annecy and then from there drive south along the length of Lake Annecy to Albertville. There is not much in the total journey time between the two routes but the one through Annecy is a bit quicker, considerably shorter in distance (saving petrol) and avoids most of the expensive motorway toll charges. It also the far more scenic route of the two.
Using Chambery Airport
The transfer time from Geneva to Meribel (on a good day) is about 2 two hours 15 minutes. From Grenoble or Lyon it is about the same but from Chambery the journey is approximately 40 minutes quicker. For this reason Chambery is often the airport of choice. However, there are two large pitfalls to be aware of when flying into Chambery.
The first is that Chambery is often affected by bad weather, in particular fog, which means that flights are often diverted to either Geneva or Lyon at short notice creating the inevitable delay as your transfer coach, which was waiting for you at Chambery, makes its way to your new arrival airport.
The second is that Chambery is a pretty dismal airport with no shopping, poor restaurants and limited lounge facilities. Our recommended airport for a good start to your ski holiday in Meribel is therefore Geneva - the journey time to resort may be a bit longer than from Chambery but there are lots and lots of flight times to choose from, cheap car hire options, good restaurant and fast food options and first class shopping opportunities. Geneva Airport is THE place to buy yourself or your partner a properly decent Swiss time piece.
Self drive or Eurostar train to Meribel
Apart from driving all the way from the UK (journey time from Calais is approximately 9 hours) the other transport option is to take either the day or night direct Eurostar train service. Travel direct from London St Pancras to Moutiers and enjoy a virtually hassle free journey out to Meribel.
The total journey time, if you live in or near London, is usually 2-3 hours longer than flying but many prefer this option for its stress free nature, low carbon footprint, and two extra days' skiing (if you catch the overnight train). Please note that if you would like to travel to Meribel on the train you will need to book many months in advance - tickets sell out very quickly once they are released.
Ski holidays in Meribel - the thriving après ski scene
Meribel, a distinctly British ski resort, has a lot to offer. It's pretty to look at, offers a huge accessible ski area suitable for all standards and more recently also offers a thumping après ski vibe. The Rond Point (aka Ronnies) which is situated on the home piste just above the resort centre has been for many years the mecca for an après ski drink. The large terrace catches the afternoon sun and the live bands ensure a fun party atmosphere.
In April 2014 a Folie Douce apres ski bar and live music venue opened a little way further up the same piste at the Plateau area of Meribel. This offers more table dancing space, louder music and the undiluted party vibe that Folie Douce offers. Whereas ski holidays in Meribel used to be a little tame regarding the 'apres ski' scene they now 'rock' just as hard as a holiday in Verbier, Zermatt and Val d'Isere.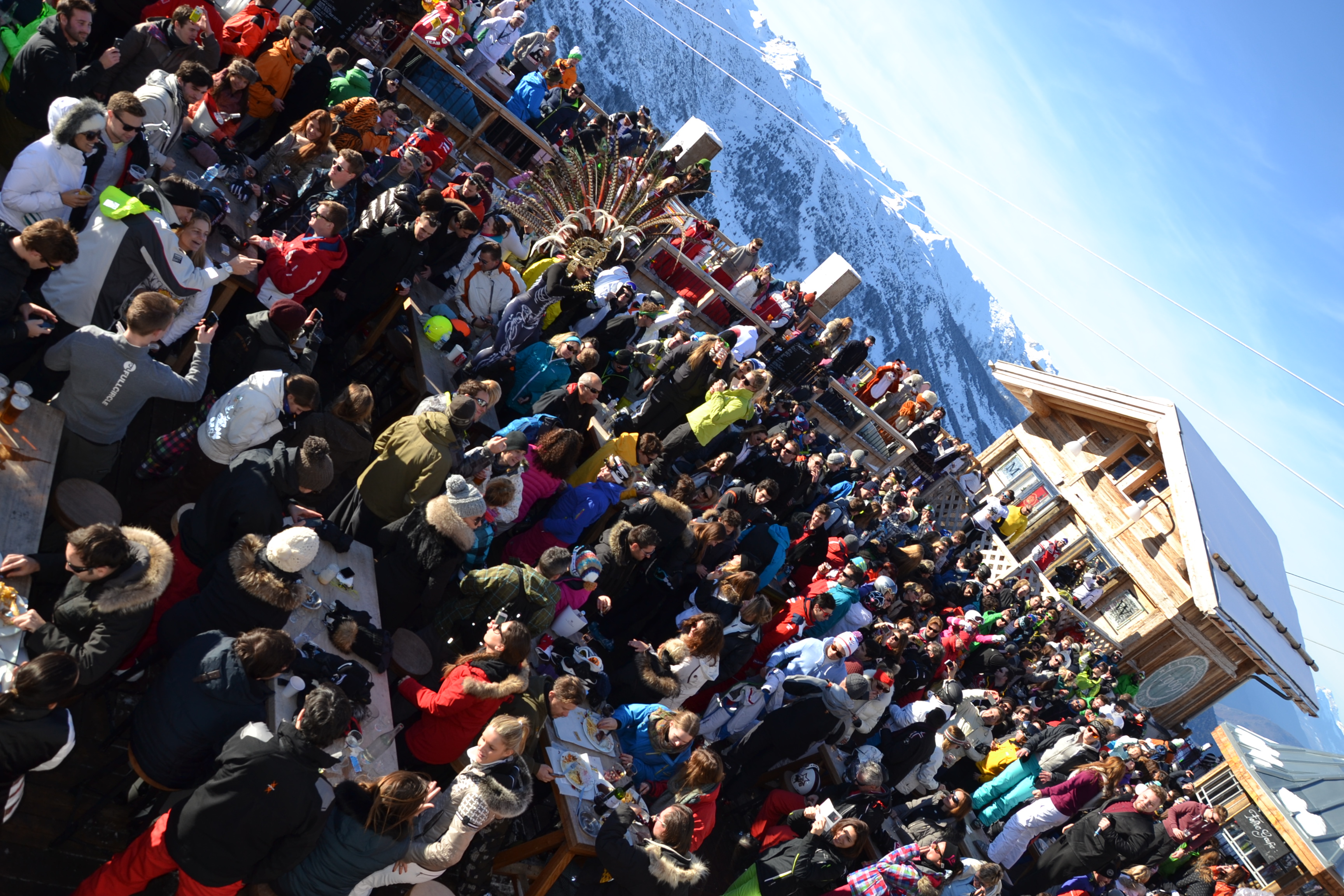 Group ski holidays in Meribel
Group ski holidays in Meribel are made easy by the relatively high number of larger chalets in the resort which give plenty of accommodation options. There are over 30 catered chalets that sleep 13 - 16 guests but only a handful that sleep 17+ guests.
If you are planning a group ski holiday to Meribel try and limit the size of your party to 16 people to ensure you have maximum choice. Despite the popularity of the resort the chalets in Meribel still offer good value and with the Eurostar service stopping in Moutiers (just 30 minutes from the resort) there are plenty of travel options for a ski holiday here.
Family ski holidays in Meribel
If you are looking to book one of our family ski holidays in Meribel then you need to make sure that your hotel or chalet is well located for accessing the ski lifts and ski school meeting points. Meribel is strung up the side of the mountain and there is a 250 vertical metre difference between the bottom of the resort (Mussillon) and the top (the Plateau) which means a walk generally involves negotiating a steep climb, either up or down.
There is a free bus service that runs around the resort and many of the chalet companies also offer minibus shuttles between their accommodation and the main lifts but it is far easier to choose one of the ski in ski out chalets in Meribel which are situated close to the blue grade Doron Piste which runs down the side of the resort and ends up at the main lift hub of Chaudanne where the main ski school meeting points also are located. Chalets Cecilia, Chalet Trois Ours and Pasarale are great examples of chalets situated either on, or close to, the Doron piste. They are especially perfect for families looking for easy access to and from the ski area.
Late season ski holidays Meribel
The home slopes leading down to Meribel are west facing which means they get a lot of afternoon sun. This is perfect for January, February and March but not so great in April when the sun's strength can turn the snow on the lower slopes into thick slush. Meribel has access to the high North facing slopes of Courchevel and also to the super high ski area above Val Thorens either of which are in good condition through to the end of April, so ski holidays in Meribel for the late season should not be overlooked. However, unless you are a strong skier we advise 'downloading' on the gondola from the mid station if you are staying in Meribel during April. This is the best way to avoid the heavy afternoon snow but also means that you miss out on skiing past either the Folie Deuce or Ronnies. Decisions, decisions....
If you are looking to book one of our ski holidays in Meribel please do give our team a call for the best advice on which chalet or hotel to book. We would be delighted to help.
No time to browse our site now? No problem. We would be delighted to hear from you with any current ideas you have for your ski holiday. Please fill in our quick Enquiry Form: