Home /
Ski Holidays in Italy
Ski Holidays in Italy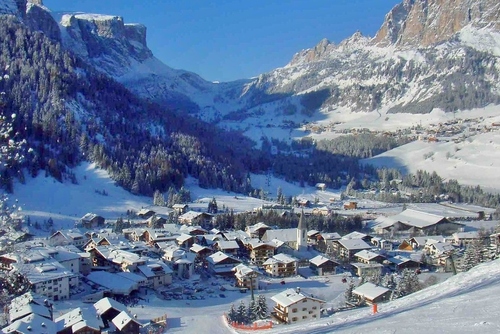 Why are ski holidays in Italy so appealing? The Italian Alps and the Dolomite Mountains (to the east) have so much to offer and top of the list is that skiing in Italy simply offers very good value for money. However, that is not all. Add to the value a friendly atmosphere; superb food and wine; the spectacular scenery (especially in the Dolomites and the Aosta valley); the superb snow making facilities which are amongst the best in the world; a much improved lift infrastructure and first class piste grooming.
Choose the right ski resort in Italy
Italian ski resorts vary widely in their characteristics. A simple analogy would be to classify Italian resorts in a similar way to our football leagues, so here we list the resorts to help you:
Premier League Italian ski resorts:
Cortina d'Ampezzo, Madonna di Campiglio and most of the resorts in the Sella Ronda area.
Championship ski resorts:
Cervinia, Courmayeur, Champoluc, Gressoney, La Thuile
1st Division resorts:
Livigno, Passo Tonale, Sauze d'Oulx, Sestriere, Bardonecchia, Alagna and Madesimo
There are four main areas to ski in Italy - The Milky Way and Aosta Valley both near Turin airport, and the Dolomites and Trentino Valley which are both near to Verona and Innsbruck airports.
Each area has its own following and each area is very different to the other in terms of price, feel, ski area and resort personality. However, what they all have in common is that, like all Italian resorts, they are only busy on the weekends when skiers from the larger Northern cities such as Milan, Turin, Bergamo, Verona and Venice head for the slopes. From Monday to Friday you will enjoy queue free skiing and empty pistes, something hard to find in France and a real advantage for the British holiday maker taking a 7 night ski holiday in Italy.
Another typically Italian trait is that most Italian skiers like a long lunch. For the locals, being in the mountains is a lifestyle rather than a sport - the Italians love their good food and 'family time' more than anyone. This is a good thing if you, like us, want to maximise your time on the slopes. Ski during lunchtime and there won't be an Italian in sight!
Ski holidays in Italy - great for families
Italians love children it follows that the ski schools and ski instructors in Italy are better at dealing with young children than school in neighbouring ski countries. Most ski resorts in Italy have more than adequate ski areas for beginners and low intermediates, and many offer free skiing for children under 8 years of age. Don't worry about any language barrier - this is a myth. Italian ski instructors today all speak very good English.
Ski holidays in Italy - the après ski scene
Essentially there are two distinct types of après ski you can experience in Italy. There is the traditional 'have a beer in a bar with loud music at the bottom of the slopes and then stagger back to your accommodation après ski', or a more typically Italian après ski scene which involves the traditional aperitivo. This is typically a glass of prosecco or the bitter Campari (for a less bitter cocktail try Aperol) which is taken in a trendy bar before dinner, normally accompanied by a few antipasti. Like the afternoon 'passeggiata' this is a time for Italians (and visitors) to savour the local atmosphere and indulge in some people watching.
For lively après ski:
Sauze d'Oulx | Courmayeur | Bardonecchia | Cervinia
For traditional Italian après ski:
Cortina | Selva | Corvara | Madonna di Campiglio | San Cassiano
Snow conditions in Italian ski resorts
One of the concerns for clients thinking of a ski holiday in Italy is the erratic snowfall history. This concern is there for very early or late ski holidays but as a general concern it often gets overblown. Italian resorts often get more snow than ski resorts in neighbouring France, Switzerland and Austria.
As in other alpine countries it's important to head for the higher resorts, especially if you intend to ski in December or April. Cervinia (which links to Zermatt in Switzerland) is one of the highest and most snow-sure ski resorts in the whole of Europe. There are plenty of other snow sure ski resorts in Italy. However, if you are going early or skiing late in the season you must aim high or choose an area that either has a particularly strong snow record or one that has a good snow making facilities. The Italians are masters at snow making and will even keep the entire 23km Sella Ronda ski circuit open, even in poor snow years.
Ski holidays in Italy - accommodation options
Italy offers some amazing hotels, from small and friendly family run three star hotels to five star luxury hotels with Michelin star restaurants and world class concierge services. The common factor uniting all Italian ski hotels is that the staff are friendly and professional, and the service is very reliable. There are far fewer catered chalets than in neighbouring alpine countries but we have a great collection of stand-alone chalets, as well as chalet hotels which offer exceptional value for money.