Home /
Ski Holidays in the Espace Killy
Ski Holidays in the Espace Killy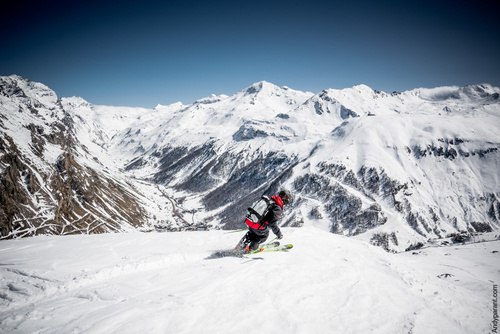 Ski holidays in the Espace Killy region offer two of the World's most famous ski resorts: Val d'Isere and Tignes.
Together this pair of ski resorts offer up to 300km of piste skiing - a total of 154 pistes along with 90 ski lifts. It is little wonder that the Espace Killy is of the most popular ski domains in the world. 86 of these pistes are aimed at the beginner to intermediate skier making it a perfect area for people looking to find their feet on a snowboard or a pair of skis. However, the region of Espace Killy by no means is purely for beginners and the area is widely travelled to by experts from around the world. The steeps of Val d'Isere and rolling powder fields of Tignes give the region great diversity for experienced skiers. Even if the weather comes in and the visibility turns poor there is a lot of fun to be had in the trees of Val d'Isere, especially in Le Fornet.
Starting your Espace Killy ski holiday is easy with plenty of travel options to Lyon, Chambery and Geneva airports, giving you flexibility in choice of flights and a stress free journey to and from the resorts. There are also several different train options from the UK to Bourg St Maurice which is only 45 minutes' drive from either Val d'Isere or Tignes.
Ski Schools in Espace Killy Activities for non-skiers in Espace Killy
Ski Holidays Espace Killy (Val d'Isere)
The Telegraph – "both terrain and town add up to what is essentially the ideal ski resort."

Val d'Isere's roots stem from the ancient alpine farming village clustered around the 17th century church. The charming town of Val d'Isere lies at 1,800 metres above sea level and the high rise self catering apartment blocks shadow old stone chalets and luxury hotels.

Situated in La Daille the chalets are tucked away from the main road and offer convenient access to the funicular and a gondola guaranteeing easy, mountain access in the morning. If you're looking for the quiet part of town this is the place. Away from the busy bustle of the vibrant town you are set up for well rested nights and as harder day skiing as you please.

Le Fornet, another small hamlet further up the valley on the other side of Val d'Isere, offers a similarly quiet place to stay without the traffic. With only one lift out of Le Fornet, however, it is not suited for beginners.

With the relatively steep pistes that return to the valley floor, skiing in Val d'Isere can be challenging. For the nervous intermediate the bottom of the runs leading back to resort at the end of the day can be a struggle (when they are busy). However, the upper pistes are renowned for their upkeep and a quick learner would have no difficulties here. The piste links to Tignes, where the generally easier skiing can be found, are also easily navigated which means that intermediates can cruise the whole area. On the other hand for the advanced skier, Val d'Isere is a mecca for big off-piste routes and steep European lines. With a vertical drop from 3,600m to 1,800m there really is a lot of skiing to be done. Furthermore, with 8 points of mountain access from the town, queues stay relatively short even in the busiest high season weeks.

The snow park in the Bellevarde area, Oakley Valpark, is easily accessible with jumps, rails and boxes for all abilities and is a favourite amongst children. The park is very well kept but is considered to be a little brother compared to the park found in Tignes.

Val d'Isere is home to some of the most famous après ski bars in Europe and a fun afternoon and good night on the tiles are certainly on the cards. The Folie Douce, found at the top of the La Daille gondola, starts the party off and offers live DJ sets, bands and cabaret style entertainment throughout the afternoon right up until the lifts close. After a session here you can continue with a few more drinks in town at the likes of Bananas or Cocorico.


Ski Holidays Espace Killy (Tignes)
If ultra reliable snow is what you seek then Tignes is the resort to go to. At 2,100m Tignes has a 10 month season, keeping the glacier open for much of the year. Keeping this in mind when the first big snowfall of the season comes there is already a solid base layer of snow resulting in prime conditions for those looking to venture off-piste.

Tignes is a purpose built resort and is not as pretty as a Val d'Isere. However, it has been designed keeping every need of the ski holiday maker in mind. At the lower end of the valley lie Tignes' oldest two villages (both with more enchanting architecture): Tignes Les Boisses (1,800m) and Tignes Les Brévières (1,550m). The two main villages of Tignes, Val Claret and Tignes Le Lac, which are collectively known as 'Tignes 2,100' have ideal access to the main area and high altitude skiing, and are the most convenient places to stay with skiing in mind.

From Tignes you can easily access the varied terrain in Val d'Isere or venture up the Aguille Percée (the 'eye of the needle') to reach 2,750m where you will find some of resort's longest runs. However, Tignes is really famous for is its thigh-burning red run from the top of the Grande Motte Glacier back to resort level. Here you stand on the roof of Espace Killy with stunning views surrounding you at an impressive 3,456m, below you is 1,350 metres of uninterrupted skiing which is skiable from the middle of November. Alternatively find some of Tignes most sought after powder fields. If steep couloirs are your thing explore the southern end of the valley around La Grande Balme and La Petite Balme.

With two snow parks, a beginners' park, the Alps' biggest half pipe, two boarder crosses, a slalom course, an airbag, endless pistes, and a beautiful mountainscape that rarely gets skied out, as well as nursery slopes and beginner slopes, Tignes really has everything for everyone. Even when the cloud comes in some of France's best tree skiing is only a stone's throw away in Val d'Isere Le Fornet and La Daille.

If improving in all areas of skiing including skiing off piste is what you want from your ski holiday then Espace Killy is the best place to do it with its varied terrain. Below is a list of ski schools we recommend for beginners to race training or powder hounds.
Ski schools in Espace Killy
Ultimate Snowsports – British based company that only employs the highest qualified ski instructors. They teach all levels of skiing to all ages, with a focus on performance.
ESF – The largest ski school in France with a wide range of teaching styles. With one of the directors being English the quality of teaching for the British market has improved markedly in recent years.
New Generation – Another British ski school that specialises in all realms of skiing. They take small groups for a more interactive session. They also take afternoon clinics specialising in bumps, turns, variable skiing, park and off piste skiing.
Fresh snowboarding – Snowboarding school based in Tignes teaching anything from beginners to specialist tweaking in technique for maximum performance. iSki Val d'Isere – a group of French instructors and experienced mountain guides who specialise in off piste, possibly more suited to the experience skier.
TDC – TDC is a good school for those first venturing off piste, offering beginner off piste lessons.
Henry's Avalanche Talk – Partnered with Val d'Isere, Henry's Avalanche Talk is well worth attending if going off piste takes your fancy. There is a growing need of safety awareness for off piste skiing and Henry's Avalanche Talk will not only inform you of the dangers of being off piste but will also give you the 'know how' to enjoy a safe and fun day in the back country.
Activities for non-Skiers
Why not learn how to drive a rally car on snow? Or, if something peaceful is more your thing why not enjoy a relaxing spa experience which can be found in either resort. Walking with snow shoes through the idyllic alpine woods of Val d'Isere is also a popular way to explore the mountains and see breathtaking views and wildlife. Enjoy a swim at the Centre Aquasportif or challenge yourself on the climbing wall. Tackle the epic Pala'Fou toboggan run as an après ski activity on the Sunday between 4.30pm and 7.00pm. The exhilarating ride is 3km long, twisting and turning from the top of the Palafour lift right the way to the bottom. Although not suitable for small children this toboggan run will give you the ride of your life - just don't forget your thermals.
Accommodation in the Espace Killy ski region
With almost 200 chalets in Val d'Isere and 54 in chalets in Tignes we really have every style and budget of property to choose from in the Espace Killy. Alternatively stay in one of our hotels in the Espace Killy. Val d'Isere has the broader choice of properties but the hotels in Tignes arguably offer better value for money.