Home /
Ski Holidays in Arlberg
Ski Holidays in Arlberg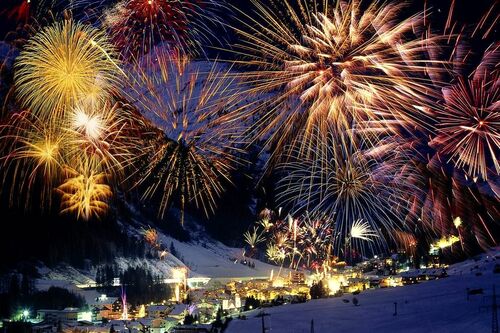 Ski holidays in the Arlberg region of the Austrian Alps are hugely popular for good reason. Linking the resorts of St Anton, Stuben, Lech and St Christoph with 340km of groomed wide open pistes suitable for all abilities, the area makes for great family holidays. With one of the most famous après ski scenes it is also popular with young groups as fanatic about partying as they are skiing. Recently new gondolas have been put in place linking all the resorts without the stress of jumping on a bus. The highest peak, the Valluga, at 2,811m makes for reliable snow cover throughout the season.
Across the area there is a wide range of challenging skiing both on and off the piste with many well kept intermediate slopes, 5 snowparks and 200km of off piste itineraries there is something for everyone. Alpine bowls, hanging valleys and picturesque tree skiing make the Arlberg region one of the most scenic and exciting destinations in the whole of the Alps.
St. Anton - 1,300m
Nestled in the narrow valley of the River Rosanna is the 17th century town of St Anton. Despite expanding in recent years the town has kept its rustic charm with the centre's infrastructure mostly being original timber and stone farm buildings, accommodating restaurants and shops, along with a train station making for convenient travel to and from the resort.
Whilst St Anton is a mecca for experienced skiers and touring enthusiasts, it does have some good nursery slopes at village level that are suitable for the complete beginner, whether adult or child. Nasserein, a quiet hamlet on the outskirts of the town, has a superb children's ski school with nursery slopes and youth centre, making for a stress free holiday for parents. St Anton is famous for its quick progression for beginners as a result of the ski school's world class teaching. After all it is the birthplace of the 'Arlberg technique' of downhill skiing, taught worldwide today thanks to Johann 'Hannes' Schneider giving St Anton some serious heritage.
Travelled to far and wide by people passionate about ski touring, this part of the Austrian Alps packs some serious punches as a contender for the best scenery and skiing beyond reach of lift access. Even so, St. Anton's skiing out the front door is constantly referred to as home to the best alpine skiing in the world. Straight out of St Anton the state of the art Galzigbahn can be taken to reach Valluga I, from here for those more experienced can head on up Valluga II and on to Valluga III (only if you have a mountain guide with you) to its summit where the Arlberg's record snow falls can be fully taken advantage of. For those looking for challenging skiing on-piste St Anton is perfect. The famous mogul fields of Mattun and Schindler will keep you on your toes, turning you into a skier fit for any terrain.
At the end of a challenging day's skiing, the famous après bars, Mooserwirt and Krazy Kangaruh on the blue piste above Galzig are certified party starters. Mooserwirt stands as the self-proclaimed 'baddest après' venue ironically competing with Krazy Kangaruh just across the piste. Either way both will have you moving in your boots from mid afternoon onwards.
St Anton is our most popular resort within the Arlberg. Its satellite villages of Moos, Dengert, Stadle, Gastig and Oberdorf make for a quieter location from which the joys of St Anton can still be experienced but a good night's sleep also guaranteed. We have nearly 80 chalets in St Anton so there is plenty of choice when planning a holiday here.
Stuben - 1,400m
If the busy day and night scene of St Anton isn't your thing, just over the mountain and connected on the same lift system is the sleepy village of Stuben. For the keen skier this is a perfect place to stay. With quicker access to the mountains you can beat the crowds from St Anton. After an overnight snowfall you are guaranteed first tracks on some of Europe's most sought after powder faces.
Lech – 1,450m
Skiing in Lech is much more gentle compared to St Anton and is therefore perfect for a family ski holiday. There are fewer chalets in Lech than there are in St Anton and apart from some excellent value chalet hotels they are pretty luxurious and some with appropriate price tags. Three kilometres up the valley is the small, quaint village of Zug where the area's cheapest chalets can be found. Off the snow the town of Lech is equipped with fabulous shopping, ice-skating rink, bowling, bookable skidoo trips and charming horse drawn sleighs. Lech is more family orientated with perfectly groomed pistes, flattering terrain and a huge selection of on-mountain restaurants, especially in Oberlech which is a sunny plateau overlooking the main resort.
St Christoph – 1,800m
The picture postcard village of St Christoph is 6km away from St Anton and sitting on one side of the high alpine Flexen mountain pass enjoys some of the area's best snow conditions. Situated 400 metres in altitude above St Anton it has a direct access to the Arlberg's vast ski area making it perfect to those looking to get as many miles under their belt as possible. Get up onto the hill early and you can beat the crowds from St Anton on a powder day. This is the perfect holiday destination for a family trying to avoid the hustle and bustle of St Anton.
Getting to the Arlberg
The Arlberg ski area is situated in the Tyrolean Alps due east of Zurich and west of Innsbruck. The latter has the nearest airport (95km away) and is just over an hour's drive from St Anton. However, nervous fliers may not like the approach and take off at Innsbruck - those mountains can feel awfully close. Zurich is 196km away (a 2 hour drive away from St Anton) but offers a less bumpy experience in the plane. Alternatively Friedrichshafen is 130km away (90 minutes' drive) and is sometimes used by the charter airlines. For those wanting to go to St Anton on the east side of the Arlberg region, Innsbruck would be your best bet. Lech, at the western end of the Arlberg, is best approached from Zurich.