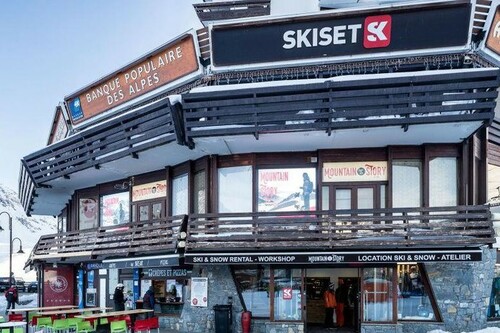 There are a large number of ski hire stores in Tignes. The last time we counted we found over 20 separate stores ranging from the budget options of Ski Republic and Skimium to big, well-stocked independent shops such as Vallon Blanc in Tignes Le Lac. There are also ski hire equipment delivery options in Tignes whereby your chosen ski or snowboard kit is delivered (and picked up at the end of the week) directly to your chalet or hotel. A delivery/pick up service will be a more expensive option but might be a more practical option for some.
Easy online ski hire booking for Tignes
The separate satellite villages of Tignes Val Claret and Tignes Le Lac are relatively small so you are never a long walk from a hire shop. However, there is also the resort free bus service which will get you around the villages of Tignes easily enough.
Ski hire in Tignes - the various options:
1. Whitestorm
Whitestorm offer an equipment delivery/pick up and mobile tech service (within the hour response time). Established in 1998 they have a strong presence in the Tarentaise Valley area. Quote our promo code: Alpine Answers as a promo code for a 35% discount.
2. Tignes Spirit
Tignes Spirit operate in both Tignes and Val d'Isere and offer a high quality equipment delivery/pick up service to your accommodation. They have one base in Tignes Le Lavachet which they work out of but deliver the equipment to all of the Tignes resorts from there. If anybody needs to change any of their equipment in the week they drive to their chalet and do it at the chalet. Or, if they are on the piste we will meet them there and do it on the piste. If the guests are staying in Tignes they often pick the guests up and bring them down to the shop then drop them back off with their friends or family.
Tignes Spirit is especially good for snowboard rental which is a higher level than other shops. They also have an extremely large range of powder and ski touring equipment (for both skiing and snowboarding). We don't believe that their range of kit for off-piste terrain is matched by any other shop in Tignes or Val d'Isere. Book on-line for a 30% discount and quote our promo code: Alpine Answers for best price.
3. Le Vallon Blanc
Le Vallon Blanc is a great independent ski hire store located behind the Hotel L'Arbina at the lower end of Route du Rosset. It is moments from the edge of the home pistes and main lift hub. Our clients enjoy a minimum 30% discount. Families of four or more enjoy an extra 5% discount and hiring at low season will give you an extra 5%. Whether you book 'on line' directly on the Le Vallon Blanc website or simply hire on the spot (pay at the end of your rental period) Nicolas and his team will look after you well. Quote our promo code: Alpine Answers to receive your discount.
---
4. SKISET
For the best prices (up to 45% discount from the walk-in price) and a wide range of equipment please use our online ski hire booking service. For this we have teamed up with SKISET who have the largest network of ski hire outlets across the Alps.
Why we recommend SKISET + Our prices compared with other ski holiday companies
The online booking process is very easy with no need for your shoe size, weight or height. Simply choose your 1st ski day (usually the day after you arrive in resort), the number of days you wish to hire for and what category of equipment you wish to book. On booking you will receive an email receipt with pdf voucher which you print and take to any SKISET shop in resort.
For each category there are many different makes and models of skis and snowboards to choose from. The shop staff in resort will help you select the best equipment to match your ability, preferred ski terrain (piste, park or off-piste) and the prevailing snow conditions.
Your ski hire voucher can be used at the following SKISET stores. See map below:
Tignes Val Claret - Deep Snow: Located at the Rond Point des Pistes at the end of the Avenue de la Grande Motte.
Tignes Val Claret - Sportski 2: On the ground floor of the Residence Odalys in the Hameau du Borsat area.
Tignes Val Claret - Sportski 1: Located next to the Chalet Hotel Curling on the upper street of Val Claret, Rue du Val Claret.


Tignes Le Lac - Mountain Story: Located on the Rue de la Poste close to the centre of resort and main lifts.
Tignes Le Lac - Zato Sport: Located in the upper Lavachet area of Tignes Le Lac.
Extended ski hire for 7 or more days
If you wish to hire for 7 or more days please visit the SKISET website. Their online booking system will accept bookings of 7 days or more. Use this link to benefit from special rates for Alpine Answers clients:
Hire periods of 7 or more days.
---
SKISET 'Premium' category of rental equipment
The top category of rental equipment available through any holiday company is the 'Excellence' category (which we price below). However, if you book directly through the SKISET website there is a more expensive
'Premium' category
available in larger resorts for those that have to have the best no matter the extra cost.
Skiset Ski and Snowboard Prices in Tignes
Adult prices
| | | | | |
| --- | --- | --- | --- | --- |
| Skis & Poles | £59 | £74 | £90 | £104 |
| Skis, Poles & Boots | £79 | £98 | £119 | £139 |
| Snowboard | N/A | £74 | £90 | N/A |
| Snowboard & Boots | N/A | £98 | £119 | N/A |
---
Child prices
| | | | |
| --- | --- | --- | --- |
| Skis & Poles | £38 | £38 | £51 |
| Skis, Poles & Boots | £51 | £51 | £68 |
| Snowboard | N/A | N/A | £51 |
| Snowboard & Boots | N/A | N/A | £68 |
Location of Skiset stores
Key
Funicular
Cable Car
Gondola
Chair lift
Drag lift
Property