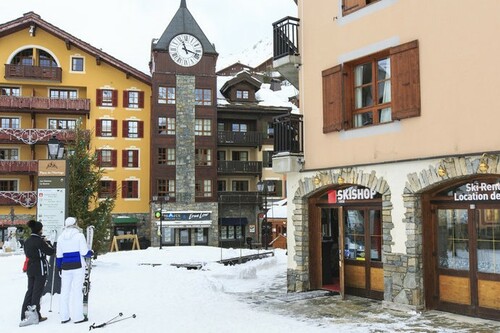 There are many different ski hire shops in Arc 1950 ranging from good value options with the likes of Ski Republic, Skimium, Sport 2000 and Precision Ski through to smaller independent stores.
Easy online ski hire booking for Les Arc 1950
Arc 1950 is a modern resort designed with the pedestrian very much in mind. The resort is car free in the centre which means getting around is very easy indeed. Accessing any of the ski hire shops from any of the accommodation options is no more than a 7 minute stroll although of course it makes sense to choose a shop close to where you are staying.
Ski or snowboard rental in Arc 1950 - the options:
1. Rental Republic
Rental Republic offer an excellent delivery and pick up service. Based at Landry within the Tarentaise Valley this English owned and managed ski hire company will deliver equipment to your accommodation, fit it there, and then pick up hired kit at the end of your stay. They also offer full support during your holiday and are only a text message away (within the hour response time) so that changes of equipment can be made as required.
With a fleet of 6 especially adapted Ford Transit Custom vans based at their large depot near Bourg St Maurice it is a short drive to resorts such as Val d'Isere, Tignes, La Rosiere, Les Arcs and La Plagne.
With a text message sent to you 24 hours before you arrive your technician will arrange a time suitable to you for delivery/fitting. There is then a courtesy text when they are 20 minutes away so you can be ready for their arrival. All their mobile technicians come prepared with a wide selection of spare ski boots to ensure you get equipment that is right for you.
For the quality of service offered their prices are competitive. They may not be the cheapest ski hire option out there but for those wanting the hassle taken out of picking up and returning rental equipment they do offer a neat and efficient solution. Book with Rental Republic and benefit from a special discount. Quote our promo code: ALPINEANSWERS19
---
2. SKISET
For the best prices (up to 45% discount from the walk-in price) and a wide range of equipment please use our online ski hire booking service. For this we have teamed up with SKISET who have the largest network of ski hire outlets across the Alps. Select your accommodation from the drop down list (see map below) to show where you are staying in relation to their store.
Our prices compared with other ski holiday companies
The online booking process is as easy as pie. There is no need to enter your shoe size, weight or height. Simply choose your 1st ski day (usually the day after you arrive in resort), the number of days you wish to hire for and what category of equipment you wish to book. On booking you will receive an email receipt for your booking with an attached voucher. Please print this voucher and present at any SKISET store in your resort.
For each quality category there are many different makes and models of skis and snowboards to choose from. The shop staff in resort will help you select the best equipment from the category you booked to match your ability, preferred ski terrain (piste, park or off-piste) and the prevailing ski/snowboarding conditions.
Your ski hire voucher can be used at the following SKISET store (see map below):
Skishop 1950: Located in the very heart of the pedestrianised centre.
Extended ski hire for 7 or more days
If you wish to hire for 7 or more days (perhaps you are self-driving or taking the overnight Eurostar service) then please visit the SKISET website. Their online booking system will accept bookings of 7 days or more. If you are booking in a French resort the price for 7 days hire is the same as 6 days so you can enjoy 7 days hire for the price of 6. Use this link to benefit from special rates for Alpine Answers clients:
Hire periods of 7 or more days.
---
SKISET 'Premium' category of rental equipment
The top category of rental equipment available through any holiday company is the 'Excellence' category (which we price below). However, if you book directly through the SKISET website there is a more expensive
'Premium' category
available for those that have to have the best no matter the extra cost. Brands featured in this category include: Lacroix, Black Crows, Kastle, Exonde and Blizzard.
Skiset Ski and Snowboard Prices in Les Arcs (1950)
Adult prices
| | | | | |
| --- | --- | --- | --- | --- |
| Skis & Poles | £59 | £74 | £90 | £104 |
| Skis, Poles & Boots | £79 | £98 | £119 | £139 |
| Snowboard | N/A | £74 | £90 | N/A |
| Snowboard & Boots | N/A | £98 | £119 | N/A |
---
Child prices
| | | | |
| --- | --- | --- | --- |
| Skis & Poles | £38 | £38 | £51 |
| Skis, Poles & Boots | £51 | £51 | £68 |
| Snowboard | N/A | N/A | £51 |
| Snowboard & Boots | N/A | N/A | £68 |
Location of Skiset stores
Key
Funicular
Cable Car
Gondola
Chair lift
Drag lift
Property