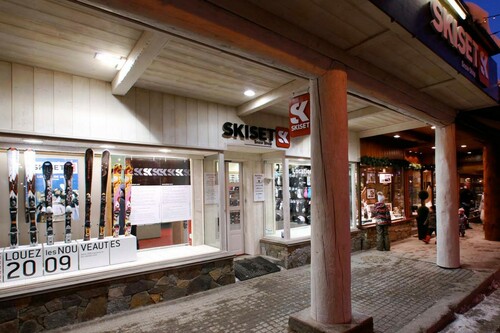 There are approximately 15 different ski hire shops in Courchevel 1850 ranging from the large franchise chains of Sport 2000, Skimium and Intersport through to smaller independent stores such as Jean Blanc Sports. There are also ski hire equipment delivery options in Courchevel 1850 whereby your chosen ski or snowboard kit is delivered (and picked up at the end of the week) directly to your chalet or hotel. A delivery/pick up service will be a more expensive option but might be a more practical option for some.
Easy online ski hire booking for Courchevel 1850
If you are staying in a catered chalet the chances are that the staff will drive you to and from your chosen ski hire shop at the beginning and end of your holiday to pick up and drop off your equipment. If there is no driver service available there is always the resort free bus service which will get you around Courchevel 1850 easily enough.
Ski hire in Courchevel 1850 - the various options:
1. White Storm
White Storm offer an equipment delivery/pick up service. However, they also offer a driver service in one of their chauffeured resort vehicles if you would rather go to their shop and choose your ski hire rental kit there. Established in 1998 they have a strong presence in the Three Valleys area. Quote our promo code: ALPINEANSWERS for a 20%-45% discount. Check out a short video on the White Storm mobile ski delivery service.
2. Freeride
Freeride offer an equipment delivery/pick up service. Established in 2001 they have a strong presence in the Tarentaise Valley and are linked for their product offering with the Precision Ski hire shops based in the Bourg St Maurice area.
---
3. SKISET
For the best prices (up to 45% discount from the walk-in price) and a wide range of equipment please use our online ski hire booking service. For this we have teamed up with SKISET who have the largest network of ski hire outlets across the Alps.
Why we recommend SKISET + Our prices compared with other ski holiday companies
The online booking process is very easy with no need for your shoe size, weight or height. Simply choose your 1st ski day (usually the day after you arrive in resort), the number of days you wish to hire for and what category of equipment you wish to book. On booking you will receive an email receipt with pdf voucher which you print and take to any SKISET shop in resort.
For each category there are many different makes and models of skis and snowboards to choose from. The shop staff in resort will help you select the best equipment to match your ability, preferred ski terrain (piste, park or off-piste) and the prevailing snow conditions.
Your ski hire voucher can be used at the following SKISET stores (see map below):
Ski Service Hotel Bellecote: Located in the upper area of the resort at 25 Rue de Bellecote under the hotel of the same name.
Ski Service Hotel New Solarium: Next door to the luxury Hotel L'Apogee in the Jardin Alpin area.
Ski Service Hotel Le Lana: Located at the lower end of Rue de Bellecote next door to the Hotel Le Lana.
Ski Service Snow Shop: On the Rue des Verdons in the lower section of the main resort of Courchevel 1850.
Ski Service Six Senses: Located in the new luxury Six Senses Residence at the entrance to Courchevel 1850, Rue des Tovets.
Ski Service Chamois: On the Rue Park City behind the Hotel La Loze and on the edge of the pistes.
Extended ski hire for 7 or more days
If you wish to hire for 7 or more days please visit the SKISET website. Their online booking system will accept bookings of 7 days or more. Use this link to benefit from special rates for Alpine Answers clients:
Hire periods of 7 or more days.
---
SKISET 'Premium' category of rental equipment
The top category of rental equipment available through any holiday company is the 'Excellence' category (which we price below). However, if you book directly through the SKISET website there is a more expensive
'Premium' category
available in larger resorts for those that have to have the best no matter the extra cost.
Skiset Ski and Snowboard Prices in Courchevel 1850
Adult prices
| | | | | |
| --- | --- | --- | --- | --- |
| Skis & Poles | £64 | £80 | £97 | £113 |
| Skis, Poles & Boots | £85 | £107 | £129 | £150 |
| Snowboard | N/A | £80 | £97 | N/A |
| Snowboard & Boots | N/A | £107 | £129 | N/A |
---
Child prices
| | | | |
| --- | --- | --- | --- |
| Skis & Poles | £41 | £41 | £55 |
| Skis, Poles & Boots | £55 | £55 | £73 |
| Snowboard | N/A | N/A | £55 |
| Snowboard & Boots | N/A | N/A | £73 |
Location of Skiset stores
Key
Funicular
Cable Car
Gondola
Chair lift
Drag lift
Property