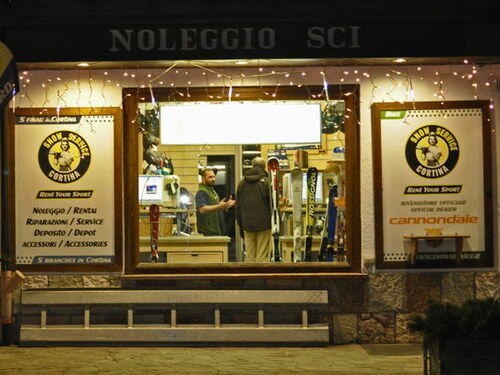 There are many different ski hire shops in Cortina ranging from good value on-line booking options with AlpinResorts and Skimium through to smaller independent stores such as Snow Service and Jgor Ski & More. You only have to Google 'Ski hire Cortina' to get a huge variety of options.
Easy online ski hire booking for Cortina d'Ampezzo
We have commercial links with SKISET (one of the largest ski hire providers in the Alps) and they are in partnership with Snow Service ski rental in Cortina. This independent store has three outlets in Cortina resort centre and apart from a wide range of quality equipment offer both a delivery/pick up service (small extra charge) or, alternatively, a minibus and driver service if you are staying in a hotel outside of Cortina centre.
Ski or snowboard rental in Cortina
SKISET
For the best prices (up to 45% discount from the walk-in price) and a wide range of equipment please use our online ski hire booking service. For this we have teamed up with SKISET who have the largest network of ski hire outlets across the Alps. Select your accommodation from the drop down list (see map below) to show where you are staying in relation to their stores.
Our prices compared with other ski holiday companies
The online booking process is as easy as pie. There is no need to enter your shoe size, weight or height. Simply choose your 1st ski day (usually the day after you arrive in resort), the number of days you wish to hire for and what category of equipment you wish to book. On booking you will receive an email receipt for your booking with an attached voucher. Please print this voucher and present at any SKISET store in your resort.
For each quality category there are many different makes and models of skis and snowboards to choose from. The shop staff in resort will help you select the best equipment from the category you booked to match your ability, preferred ski terrain (piste, park or off-piste) and the prevailing ski/snowboarding conditions.
Your ski hire voucher can be used at the following SKISET store (see map below):
Snow Service 2: Located No.11/a Via XXIX Maggio which is in the centre of resort and close to the Faloria cable car station.
Extended ski hire for 7 or more days
If you wish to hire for 7 or more days then please visit the SKISET website. Their online booking system will accept bookings of 7 days or more. Use this link to benefit from special rates for Alpine Answers clients:
Hire periods of 7 or more days.
Skiset Ski and Snowboard Prices in Cortina d'Ampezzo
Adult prices
| | | | | |
| --- | --- | --- | --- | --- |
| Skis & Poles | N/A | £89 | £109 | £148 |
| Skis, Poles & Boots | N/A | £133 | £170 | £210 |
| Snowboard | N/A | £89 | £109 | N/A |
| Snowboard & Boots | N/A | £133 | £170 | N/A |
---
Child prices
| | | | |
| --- | --- | --- | --- |
| Skis & Poles | £41 | £56 | N/A |
| Skis, Poles & Boots | £66 | £86 | N/A |
| Snowboard | N/A | N/A | £56 |
| Snowboard & Boots | N/A | N/A | £86 |
Location of Skiset stores
Key
Funicular
Cable Car
Gondola
Chair lift
Drag lift
Property