Chalets in Saas Fee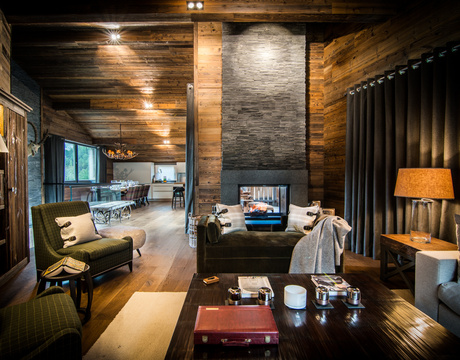 Chalets in Saas Fee offer affordable luxury and are perfect for a comfortable family ski holiday. Saas Fee has car-free streets, lots of traditional alpine charm and wide, easy beginner slopes right at resort level. Our favourite Saas Fee chalet is Chalet Jessica which has amazing south westerly views over the resort centre and towards the resort's glacial peaks.
Saas Fee chalets - check availability and prices
We have several other chalets in Saas Fee that, like Chalet Jessica, are also located near the Hannig cable car station. However, this lift does not access the ski area so it's necessary to walk through the resort centre to the main lifts at the other end of town. Initially this would seem a pain but, firstly, the resort is car-free so a walk through this traditional resort is one of the pleasures of a ski holiday taken here, secondly, skis and boots are usually left over night at ski hire shops near to the main lifts so that walking from the chalets in Saas Fee to the main lifts is not only a scenic experience but also a comfortable one.
Using the search engine below select your departure weekend. This will enable you to view the prices and availability for all chalets in Saas Fee on your chosen week. Simply send your shortlist or enquiry to our team of advisers. We will be back to you within a few hours to help get your holiday booked, or simply to answer any questions you may have. For more info on Saas Fee see our resort guide to Saas Fee.
Saas Fee on YouTube
Video clips on the internet can drag on a bit too long these days so how about a short bio on Saas Fee that lasts just 100 seconds? It's amazing the sense of place that you can convey in a video that is considerably less than two minutes long. So, if you are sitting there with a mug of tea or coffee to hand and are wondering what to do with the next two minutes please check out this video on Saas Fee the resort. You will learn about the geography of Saas Fee, a ski resort that nestles in the foot of a high alpine bowl; the history of this old car-free alpine town, and what it would be like to take a ski holiday here.
Search 1 chalets in Saas Fee
Advanced Search
Key
Funicular
Cable Car
Gondola
Chair lift
Drag lift
Property