Meribel Chalets with Sauna or Steam Room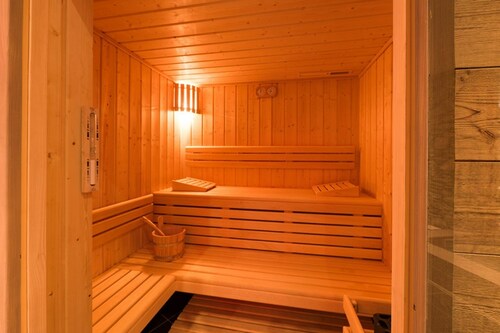 The chalets in Meribel with sauna or steam room (hammam) offer the ultimate in ski holiday luxury and relaxation. What better way to re-energise your body after a massive day skiing the Three Valleys' ski area (which offers over 600km of pistes) than to take a relaxing session in your very own sauna or steam room?
Meribel chalets with sauna: prices
With over 60 chalets in Meribel, Meribel Village and Meribel Les Allues with either a sauna or hammam there is plenty of choice to suit most budgets and group sizes. Use the link below to check availability and prices for spa chalets in Meribel. Alternatively read on and check out the individual chalets that we have highlighted below.
Meribel chalets with sauna
There are lots of chalets in Meribel with sauna to choose from and the good news is that most are very attractively priced. A sauna doesn't take up much room (some are only big enough for two people to use at the same time) and they are relatively cheap to run and maintain. This allows several inexpensive three star rated chalets to sport a sauna. Chalet Arols Bleus (which sleeps 10 guests) is a perfect example. With a mid season price for the 2016/17 season of under £850pp (including flights from the UK, transfers and chalet board) guests staying here can also enjoy a minibus service to and from the slopes, an open wood burning fireplace and five bedrooms all with en-suite bath and wc (rather than a shower). It's no wonder that this fantastic value chalet is highly popular.
If you are looking for something a little smarter then why not consider the four star Chalet Zebra. This chic and stylish modern chalet has six en-suite bedrooms, a sauna and an outdoor hot tub, driver service and very good food and in-resort service from a friendly team of staff.
Set to be a future classic luxury chalet in Meribel the five star Chalet Carcajou is one of the best properties in Meribel. This fine property also has a hot tub and sauna but also boasts a treatment room if you really want to indulge yourself with a massage session or two. The chalet food and service are really quite superb and the chalet comes with a private 4x4 chauffeur service. Our advice is to book early to avoid disappointment.
Meribel chalets with steam room
For those who prefer a steam room (or hammam as they are also known) there sadly are fewer chalets to choose from. The best of the pick though is the wonderful Chalet Trois Ours which sleeps 10-12 guests and is located in a ski in ski out position close to Meribel 1600. Steam room, outdoor hot tub, massage room, top quality cuisine & service, gym, cinema and a sumptuous interior are all yours. We cannot recommend this property highly enough.
Meribel Village is the small, traditional village that is located at the foot of the Golf Chairlift. From here you have direct access to the altiport ski area of Meribel and from there you can link on to the rest of the Three Valleys ski area easily enough. Meribel Village is blissfully quiet, not swamped by the English and with a great local après ski bar and well-stocked ski hire shop it has everything for a perfect family ski holiday. The luxury Chalet du Vallon (sleeping 8-10 guests) is just two minutes walk from the bottom of the Golf Chairlift (and the bottom of the home piste) and the friendly La Terrasse du Village bar. Like the Trois Ours above this is another quite superb chalet property.
No time to browse our site now? No problem. We would be delighted to hear from you with any current ideas you have for your ski holiday. Please fill in our quick Enquiry Form: