Meribel Chalets with Hot Tub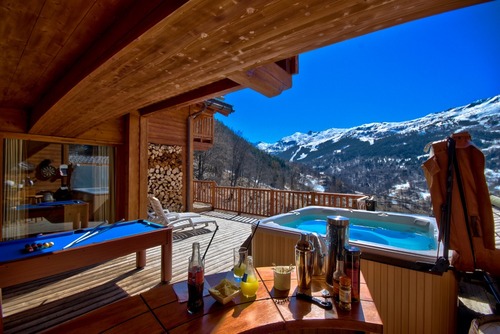 With over 70 chalets in Meribel with hot tub to choose from there are properties to suit all budgets and party size. It was after all pretty much the birth place of the 'chalet holiday' concept and today the choice of chalet properties on offer is immense.
Meribel chalets with hot tub - availability & prices
It is a quirk of the local topography that the chalet properties in Meribel are strung up the side of the lower slopes of the Saulire Mountain. Making full advantage of their west facing aspect most of the freestanding chalets were either built on large private plots of land or were endowed with large balconies designed to capture the afternoon sun (particularly in March and April when it's higher in the sky). Although most of these properties were built long before installing a private hot tub became popular the large chalet balconies and the private gardens provided the perfect space for 'retro' fitting a hot tub. This means that today a huge proportion of the chalets in the resort have been fitted with a Jacuzzi giving clients a large choice when it comes to deciding which chalet to book.
Browse through all our chalets in Meribel
It may be that you are only interested in a chalet with a hot tub but there are plenty of other fantastic Meribel properties that do not have a hot tub. These other chalets might have a dedicated cinema room, or a steam room, a swimming pool, or even just a fantastic ski in ski out location on the edge of the Doron piste. Please take the time to look at the prices and availability for all our Meribel chalets - there are over 100 to look at.
Prices and availability for all our Meribel chalets
Look for an elevated west facing view for afternoon sun
When choosing your Meribel chalet with hot tub we recommend selecting one of the chalets with a fabulous west facing terrace with far reaching mountain views. Booking one of these properties will allow you to ski back from a day on the mountain (possibly after taking a few drinks at either Ronnies or the Folie Douce après ski bar on the way) with plenty of time still left in the day to sink into the hot tub and watch the sun dip down behind the mountains. With a cool drink in hand, what could be more relaxing?
VIP Ski have some great chalets and we particularly recommend the Bellacima Lodge which sleeps 11 to 12 guests. However, the award for 'best chalet hot tub in Meribel' must surely go to the fabulous Chalet Mont Tremblant, a luxury chalet with six bedrooms, sleeping 12 guests in supreme comfort.
No time to browse our site now? No problem. We would be delighted to hear from you with any current ideas you have for your ski holiday. Please fill in our quick Enquiry Form: