Last minute ski deals Meribel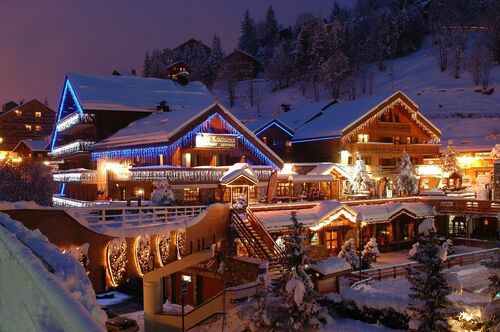 last minute ski deals to Meribel in a range of chalet and chalet hotel properties. A great selection of reduced price ski holidays to one of the best resorts in the Alps. With easy access to the huge Three Valleys ski area why not pick up a bargain and book a ski holiday at a much lower price than normally advertised?
Search: last minute ski holiday deals in Meribel
Best chalet companies for ski deals in Meribel
Even the most popular and sought after ski chalet holidays can be reduced in price for certain weeks of the season. Chalet companies have fixed costs including their resort staff, season chalet rents and weekly return flight seats from UK airports. If a week has not sold in advance prices are lowered approximately 4 weeks before a departure date so that some of the fixed costs can be recouped.
Given the relative high cost of prepaid flight seats and ground transportation it is usually the chalet companies offering package holidays (with flights from the UK included in the price of the holiday) that reduce their prices on a last minute basis. Alpine Action, Skiworld, Mark Warner, VIP Ski, Ski Beat and Inghams all offer last minute ski deals in Meribel. We collate all the latest prices and availability so that you can see which ski holidays suit your party's needs best. We do not represent the cheaper end of the chalet market so you will not find properties on our website with chalet companies like Crystal, Alpine Elements or Powder White.
We also offer some luxury catered chalets in Meribel which are reduced in price to sell on a last minute basis. These top rated properties are not offered with packaged flights but we can buy these in as required and combine with private taxi transfers, for the ultimate in luxury travel to Meribel.
The price you pay is the same as if you booked direct. We save you the hassle and time it would take to ring around all the companies; we accept credit card payments for last minute ski holiday deals and we also offer impartial advice on which holiday is best for you. It's win, win and win.
When is the best time to book one of our last minute ski deals in Meribel?
Catered chalets and chalet hotels are very unlikely to be offered on a reduced price basis for the peak weeks of the season. If you are looking for a holiday in Meribel at Christmas, New Year, February Half Term week or Easter you are advised to book as early as possible. There is no point waiting for a last minute deal which is highly unlikely to exist.
Mid January and mid March are the best times to travel if you are looking to snaffle a reduced price ski holiday. Prices will start to come down 4 - 5 weeks before a given departure date. As one gets closer to departure the prices will be reduced further. However, as available chalets are booked up so too will the amount of choice be reduced. The optimum time to maximise your choice and take advantage of reduced prices is 21 - 14 days before you travel.
Please note that we do not own a crystal ball. We cannot tell in advance how far prices may be reduced, or which chalets will be discounted. With great snow conditions the demand for ski holidays can easily outstrip supply. When this happens chalet companies are able to sell all their chalet beds and flight seats without having to discount at all.
No time to browse our site now? No problem. We would be delighted to hear from you with ideas you may have for your ski holiday in Meribel. Please fill in our quick Enquiry Form: