Home /
Corporate Ski Holidays and Short Breaks for Group Ski Trips
Corporate Ski Holidays and Short Breaks for Group Ski Trips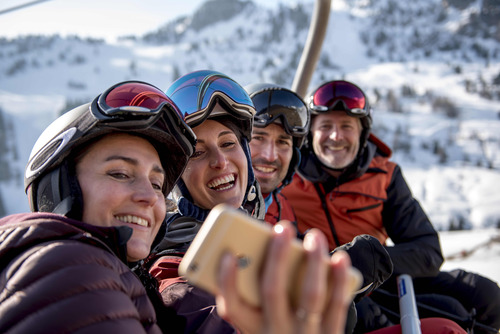 Corporate ski trips can bring many benefits to your business. Whether you want to organise a ski break to reward your team for their hard work, improve team bonding and re-energise your business. Using our expertise, Alpine Answers can provide you with the perfect corporate short ski break. We work to find the right resort and accommodation for your corporate ski holiday to match your group's size and cater to every individual's level of skiing.
Why choose us?
At Alpine Answers we understand the importance of finding the right resort for your corporate ski trip. There are a number of different factors that are essential: budget, time of the year, and of course the skiing. When you book with one of our ski experts we can provide a solution in order to maximise time on the slopes and minimise time out of the office. Strong relationships with accommodation providers combined with our expertise knowledge of the top areas allow us find the best corporate ski holiday for your business. Our ski specialists can work closely with you to help you prioritise your requirements to provide exciting destinations including activities for the whole group to enjoy both on and off the slopes.
Recommended Resorts:
Below is a hand-picked selection of ski resorts to provide the perfect corporate ski weekend:
Morzine
Plus points: Short transfer from GVA (1 hour). Great value. Skiing to suit all standards. Good apres ski and restaurant options.
Negative: Large resort town (location is important). Morzine is traditional but not glamorous.
Beautifully located in the Chablis mountain range between Lake Geneva and Mont Blanc, Morzine is a charming popular resort for corporate ski holidays. The resort has an extensive lift system and free shuttle services, maximising your time on the slopes. The skiing in Morzine is suitable for all levels, with plenty of slopes for beginners, intermediates and of course for the more advanced the resort is renowned for its scenic tree-lined runs. Due to the investment of new bars, high quality restaurants and the buzzing nightlife, Morzine is a top ski resort that meets all the necessary requirements for the perfect corporate ski break.
Chamonix
Plus points: Short transfer from GVA (1 hour). Range of accommodation options. Wonderful resort town with atmosphere.
Negative: Large resort town (location is important). Skiing mainly suited to better skiers. Ski areas are separated by a local bus network.
Chamonix is the known for its striking alpine scenery as the valley cuts deeply through Europe's highest glacial mountains providing exceptional, long and versatile runs. The slopes are spread across three distinct areas: The Brevent, Flegere and Grands Montets. Located at the foot of Mont Blanc, Chamonix is a resort for beginners, intermediates as well as those wanting tough off-piste terrain.
The Chamonix Valley's higher slopes are covered by glaciers with year round snow, of which 90% of the slopes are located above 2,000m. This resort is a great choice for a corporate ski trip, whether you chose to go early or late in the season, as there is snow all year round.
Steeped in mountain traditions, Chamonix has lots of great restaurants, après bars and markets which allow your team to finish your day off in style. Additionally new for winter 18/19, the QC Terme wellness centre has opened, an impressive three-storey spa with a range of facilities to relax after a day on the slopes or for the non-skiers of the group!
Val d'Isere
Plus points: Range of accommodation. Wonderful resort town. World class skiing for all standards. Superb lift infrastructure.
Negative: Long transfer time (3 hrs).
Val d'Isere is considered to be one of the top ski resorts in the world, with one of the best snow records in Europe. Great ski conditions from early December to early May are assured.
The variety of slopes accommodate all levels, from total beginners to the most expert skiers, will find endless terrain to conquer. The resort is known for its efficient lift systems, one of the best in Europe, allowing you to maximise your time on the slopes whether in Val d'Isere or the neighbouring resort, Tignes.
The lively town has plenty to offer to please everyone, bustling with bars, restaurants and shops to suit all tastes and budgets for your corporate ski trip.
Whatever your requirements, once you have picked your favourite resort, don't hesitate to call our experts today on 020 7801 1080
---
Activities both on and off the slopes:
Corporate ski holidays can cater to every member of the group – even if they don't ski. There are plenty of activities for non-skiers including; Sleigh Rides, Skidoo Rides, Husky Sledging, Ice Climbing, Helicopter Flights, Guided Mountain Walks in Snowshoes, Curling, Spa Visits and Treatments.
Visit our blog to discover more fun activities or give our experts a call on 020 7801 1080