Home /
Chalets in La Plagne
Chalets in La Plagne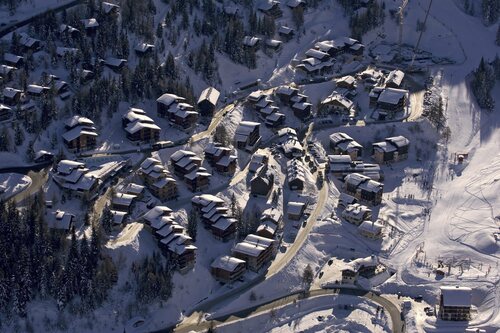 Chalets in La Plagne are popular as they offer great value holiday accommodation combined with easy access to the huge shared ski area of Les Arcs and La Plagne. When the Vanoise Express lift opened in 2003 it spanned the deep valley separating Les Arcs Plan Peisey (1,612m) and Plagne Les Coches (1,548m) thereby creating the combined Paradiski ski domain.
Chalets in La Plagne - prices and availability
Today this huge interlinked ski area offers 160 lifts and 425km of pistes, with 152 green/blue (beginner) runs, 79 red (intermediate) runs and 22 black (expert) runs. It is bigger than the Val d'Isere/Tignes ski area and offers plenty of north facing, high altitude slopes which provide consistently excellent snow conditions - both on and off piste.
The western end of the Paradiski area is made up of the various ski resorts and villages that go under the name La Plagne. Each of the resorts are separate and have their own character and feel. Some are high altitude purpose built ski villages giving instant access to and from the ski area, and others are lower lying more traditional villages set in the trees.
Whichever La Plagne village you choose the general theme of a ski holiday here is the same. Catered chalets in La Plagne almost unfailingly offer superb value accommodation combined with easy access to the large snow sure ski area (suitable for all standards). The value element is further enhanced by ski holiday companies offering package holidays with cheaper chartered flights and coach transfers. The chalets in La Plagne are also practical for skiers wanting to travel out to the Alps on the Eurostar train service. The train station of Aime is no more than 30 minutes short taxi drive from the ski resorts of La Plagne.
Chalets in La Plagne - the separate village resorts
Aime La Plagne (altitude: 2,100m). The highest of the La Plagne villages and the location of two enormous Club Med hotels - Club Med Aime and Club Med Plagne 2100.
Plagne Centre (altitude: 2,000m). The largest of the La Plagne resorts. VIP Ski have some luxury chalets here. Mark Warner have their Chalet Hotel Christina and Skiworld have a few chalets.
Plagne 1800 (altitude: 1,800m). A wide selection (over 30 properties) of catered chalets with Ski Beat, Ski Famille and Mountain Heaven. Village feel, pretty and home to one of the better après ski bars in La Plagne.

Plagne Bellecote (altitude: 1,940m). Large blocks full of self-catering apartments. We have no catered chalets here. Instant access to and from the ski area but a brutal architectural landscape.
Belle Plagne (altitude: 2,060m). Located above Plagne Bellecote. Skiworld have a couple of chalets here and Esprit Ski (the family ski holiday specialists) have their large chalet hotel, Les Deux Domaines. Easy access to and from the skiing but very limited resort amenities.
Plagne Soleil (altitude: 2,100m). Purpose built and high altitude - Skiworld have a selection of comfortable apartment chalets here. Easy access to and from the skiing but very limited resort amenities and 'zero' après ski atmosphere.
Plagne Montchavin (altitude: 1,240m). Traditional village feel - Ski Hiver have some chalets located at the base of the slopes and next to the main lifts. Easy access to Les Arcs ski area via the Vanoise Express lift. Long lift journeys to access the high skiing of La Plagne.
Montalbert (1,380m) & Les Coches (1,220m - 1,400m). Two other lower lying traditional villages with some charm but with slow access to the main ski area. We do not have catered chalets in either resort.
If you don't have time to look for chalets in La Plagne right now - no problem. We would be delighted to hear from you with any current ideas you have for your ski holiday in La Plagne. Please fill in our quick Enquiry Form: