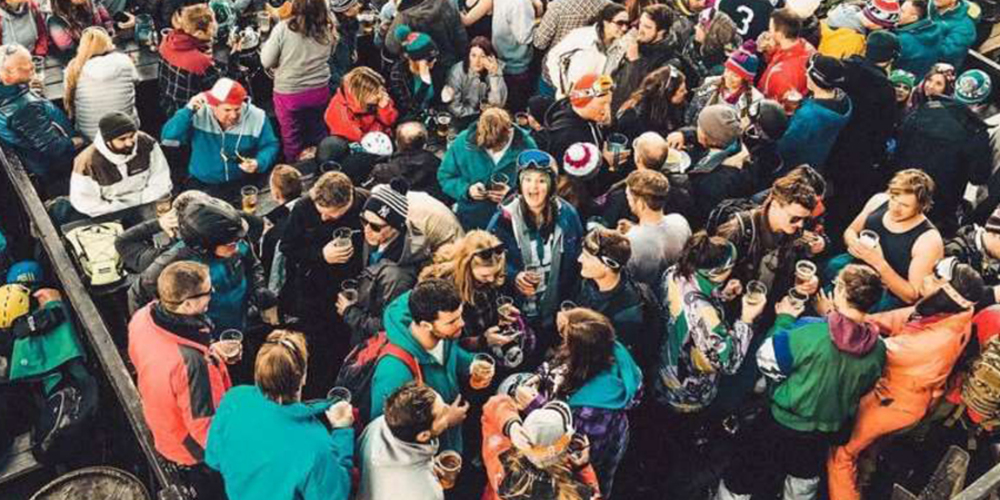 Top 10 Apres Ski Resorts in Europe 2020
Elizabeth Willis | 17 January 2020 | Ski Resorts
For many of us, what we get up to off the slopes is just as important to our holiday as the skiing. The most popular activity of all? It has to be apres-ski. From classic Euro-pop to bouncing dance beats, to a relaxing beer on a sunny terrace looking out over the mountains, you'd be hard-pressed to find someone who didn't visit an apres bar at least once during their ski holiday.
And whilst you might not make it up for first lifts the next day, you'll have some great stories to share when you get home! Here are our official Top 10 Apres Ski Resorts in Europe.
1. St Anton
It wouldn't be a list of apres-ski resorts without including St Anton. Mooserwirt and Krazy Kangaruh consider themselves the home of apres-ski, and claim that they were the first bars to invent the table-dancing, beer swinging apres vibe people have come to expect. The party starts on the mountain around 3pm, with everyone skiing down at 8pm to continue the fun in town until the early hours of the morning. Our other favourite bars include Taps, Basecamp, Bar Cuba and Bobo's. If you make it to the end, the party always finishes at Horny Bull club.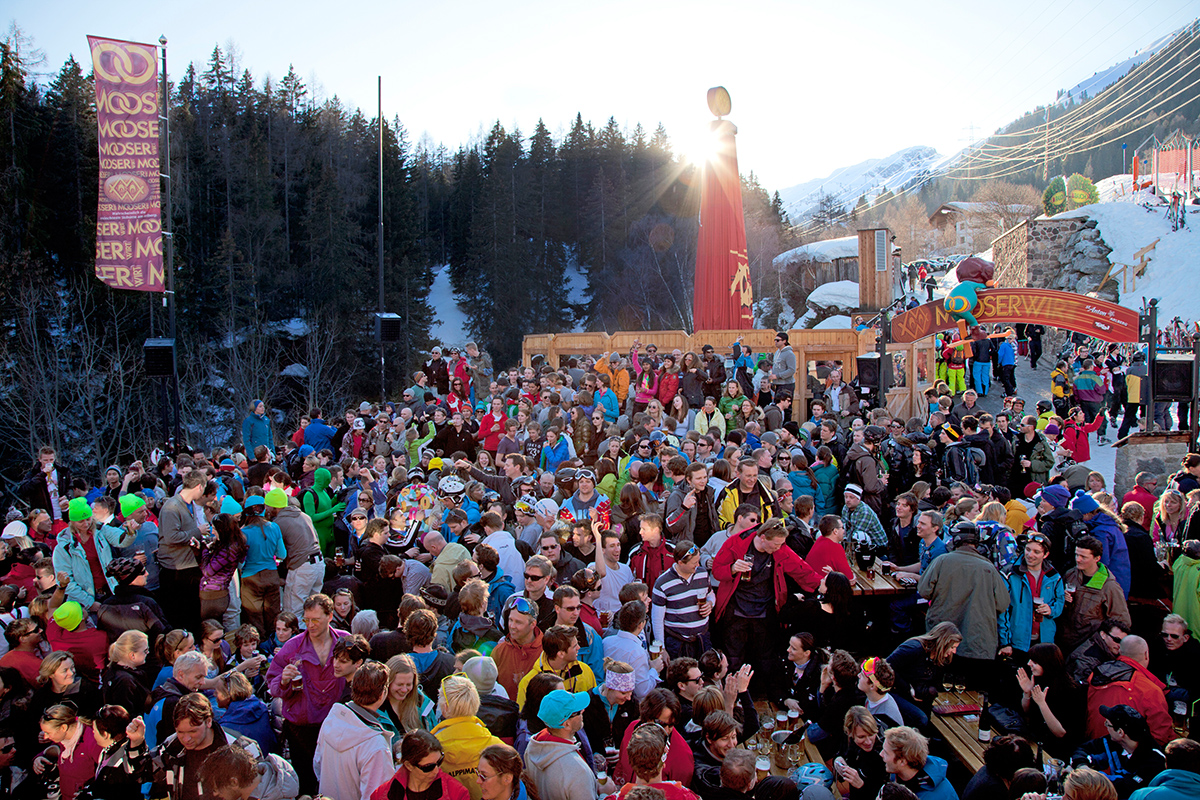 2. Val d'Isere
The spiritual home of apres-ski in France, Val d'Isere is another must-visit resort for people who like to party. La Folie Douce and Cocorico are the top spots out on the mountain and are usually the first port of call for apres. Later on in the evening, Val d'Isere has an amazing atmosphere and you'll be spoilt for choice with places to go. Try Dicks Tea Bar, Face, Petit Danois and Underground. It is everything you'd expect from France's premier apres-ski resort.
3. Val Thorens
Val Thorens is the highest party resort in Europe at 2,000m and a favourite with students from all over Europe. Thanks to the altitude, it's a great choice for early or late-season skiing. The crowd here is energetic and boisterous, giving the resort a fantastic, lively atmosphere.
It wouldn't be French apres without a trip to La Folie Douce, and whilst smaller than its sisters in Val d'Isere and Meribel, Val Thorens' branch has plenty of character. If you want slightly better value for money, head to Bar 360. It's just as fun and has a large terrace perfect for enjoying a beer in the sun.
Back down in resort, the dutch bar, Cafe Snesko, gets very busy and is the rowdiest venue on the high street: think drunk sing-a-longs and drinking games with the bar staff. They even set the bar and ceiling on fire later in the evening! Other popular spots include The Frog and Roast Beef, the highest pub in Europe, and Malaysia, the largest club in the Alps.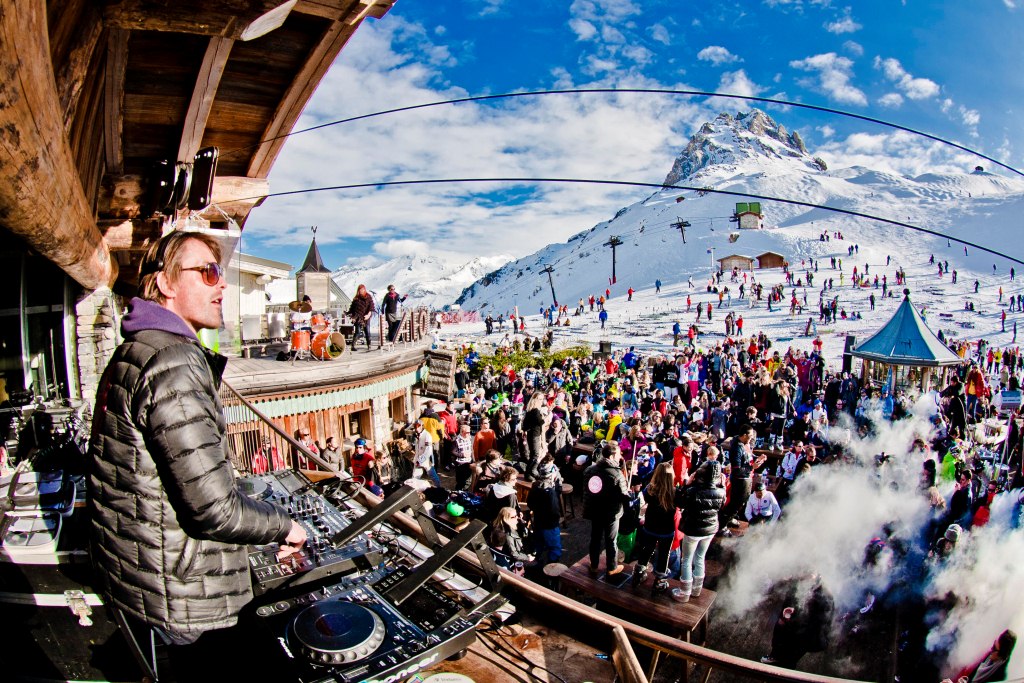 4. Verbier
High-end nightclubs and diamonds in drinks: that's apres in Verbier. Go celebrity spotting in the most exclusive venues like Farm Club and Tataras, where expensive cocktails are the drinks of choice. Coco's is the most glamorous bar in town - and yes, they really do put diamonds in their cocktails!
If you're looking for something a little more affordable, visit Fairnet Lounge, Le Pub Mont Fort and Fer a Cheval. Follow the seasonnaires example, and follow the happy hours around the town.
5. Meribel
The nightlife and apres-ski scene in Meribel has a very British feel, thanks to the thousands of skiers who visit from the UK every year. As a nation, it's one of our favourite resorts.
Out on the slopes, the party starts at 3pm. Try the famous toffee vodka at Rondpoint, world-famous for its amazing apres atmosphere, or head to La Folie Douce, where you're always guaranteed a good time. Once you've made it down the slopes, there are plenty more great venues to visit. Our favourites include Jack's, Le Loft or Dicks Tea Bar.
6. Chamonix
Chamonix has a reputation for hardcore skiing and hardcore partying. Sitting at the junction between France, Italy and Switzerland, Chamonix attracts a multinational crowd. You'll be spoilt for choice for lively venues to visit here, but we recommend Cafe la Terrasse, The Jekyll, Chambre Neuf, Ice Rock Cafe and Wild Wallabies.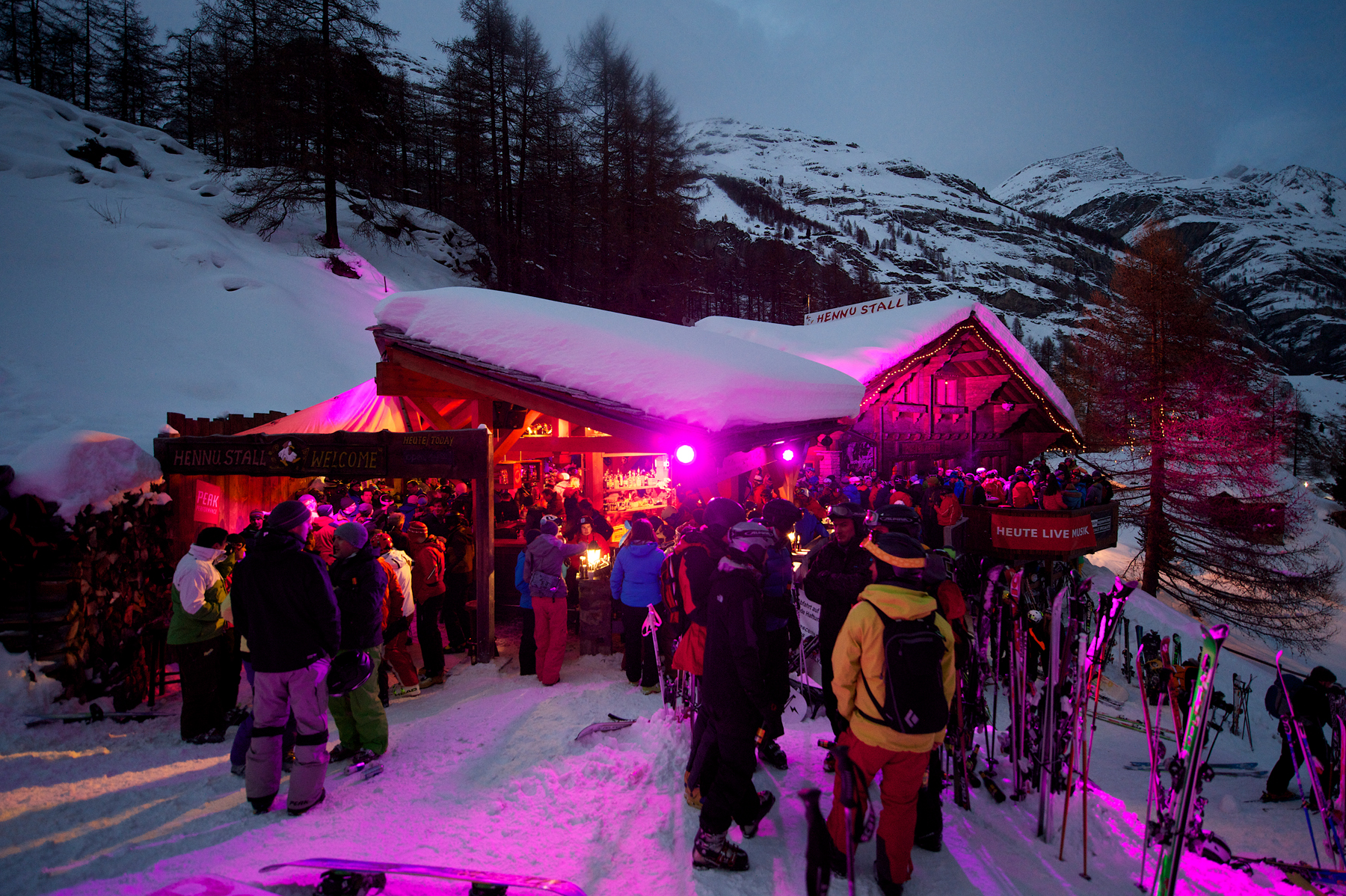 7. Zermatt
Prices are high in Zermatt, but once you visit, you'll understand why. A beautiful alpine village, sitting in the shadow of the iconic Matterhorn mountain, with incredible skiing and an amazing apres-ski scene - Zermatt has it all. Our favourite spots to visit include Papperla Pub, GramPi's Pub, Panorama Bar and Hotel de la Post.
8. Ischgl
Always considered a great party spot by those in-the-know, Ischgl is on the rise as an apres-ski holiday destination. More bars open every year, and there's something to suit all ages and tastes. Trofana Alm gives the big bars of St Anton and Val d'Isere a run for their money, and the Champagne Alpine Lodge has a cosy atmosphere with a large range of champagne to sample. There's also Schatzi Bar, Showareana, Pacha and Kuhstall, for more class table-dancing fun into the early hours of the morning. Fire & Ice is another great spot, and it has a slide down to the toilets if you don't think you can manage the stairs.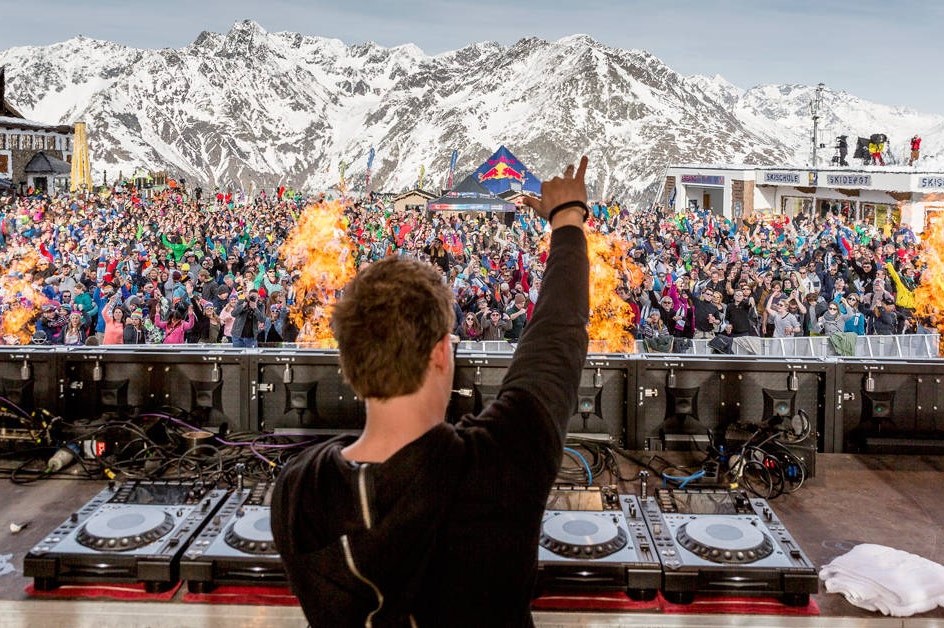 9. Les Deux Alpes
Considered by many to be the Alp's answer to Ibiza, Les Deux Alpes is another amazing French destination for apres ski - and don't worry, it won't cost you the earth. The resort hosts the famous Rise Festival in early December, and the party doesn't stop all season. Pano Bar could rival any Folie Douce in terms of liveliness and table dancing. If you get a bit carried away, make sure to take the gondola back down into town, as the Valentin home run can be a challenge. There's plenty more to choose from back down in resort, but our bar of choice has to be Umbrella Bar.
10. Tignes
No longer hidden behind Val d'Isere's towering reputation, Tignes has really come into its own as an apres-ski resort in recent years. In 2018, Tignes got its own brand of the famous Cocorico. Other great venues include Loop Bar, Saloon Bar, the Marmot Arms and Jack's Bar. With access to the same incredible ski area, and arguably better value for money than across the valley, Tignes is rightfully deserving of a place on our list.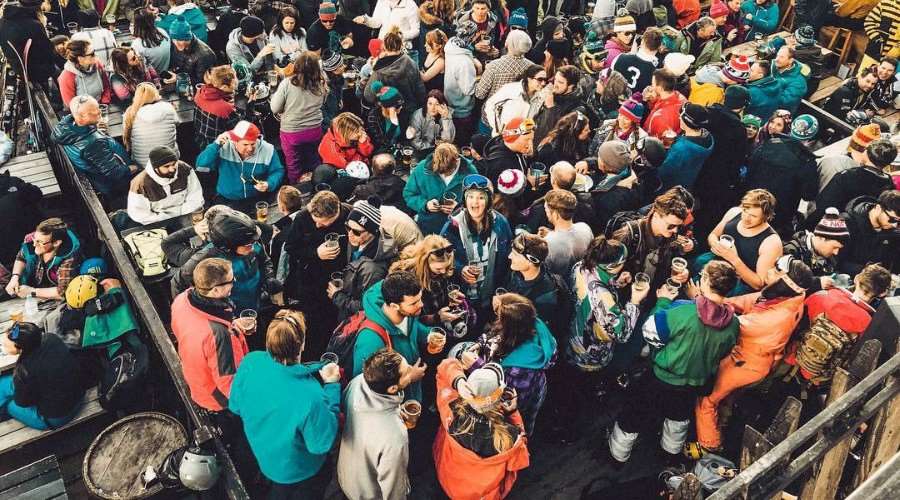 Photo Credit: Loop Bar Facebook
If we've inspired you to head back out to the slopes, give one of our ski holiday specialists a call now on 020 7801 1080. We've skied, worked and partied in ski resorts across Europe, and we really know our stuff! We can help find you the perfect accommodation in the best resort for your group, whether you're after amazing skiing, brilliant apres or the best of everything.
Recent Posts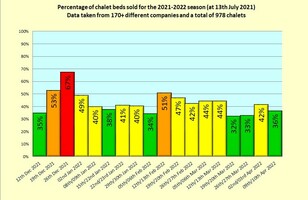 Simon Hoskyns | 13 July 2021 | Ski Chalets
What a strange and unpleasant last 17 months the UK travel industry has endur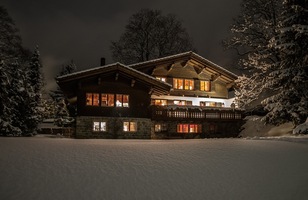 Simon Hoskyns | 21 June 2021 | Ski Chalets
We have seen unprecedented high levels of advance bookings for next winter 20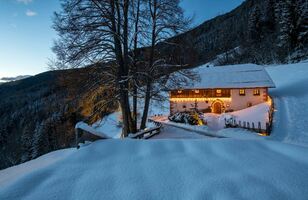 Simon Hoskyns | 10 November 2020 | Ski Chalets
Plenty of clients look at remote ski chalets in the Alps for their winter hol