Home /
Apres Ski Holidays
Apres Ski Holidays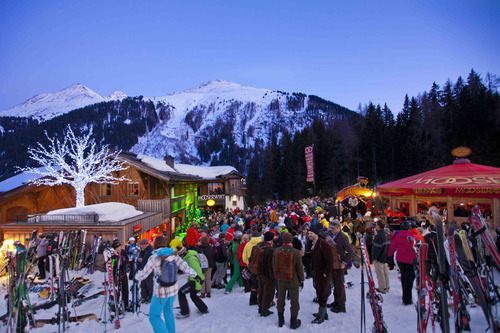 Apres-ski partying and activities are as important as the skiing itself for many clients! Apres-ski is a huge part of the ski holiday experience, whether it be sitting with a pint on an outdoor terrace listening to live music, or dancing on the tables in your ski boots singing along to the very best Euro-pop. Although there's just a couple of hours between the lifts closing and dinner being served, plenty of drinking and dancing can be packed in at brilliant venues!
Some resorts naturally have a more lively and exciting apres scene than others, and if you're imagining a specific kind of apres on your ski holiday, it's important you choose your resort carefully.
The best ski resorts for apres-ski
We look at our favourite ski resorts in the Alps for when we want to party. These resorts provide a lively apres ski vibe for when you have finished skiing for the day but aren't ready to retire to your chalet or hotel for dinner. These resorts will keep you and your friends buzzing until the dinner gong is sounded.
One of the most famous resorts for apres ski in France, no list would be complete without Val d'Isere. Home of the first La Folie Douce bar, and still the brand's HQ venue, the party starts up on the slopes with live funk and soul music before the house and electronica music takes over until close. There are plenty more popular bars and clubs in town, including the famous Dick's Tea Bar club and Cocorico's, perfect for enjoying live music under the twinkling fairy lights. Petit Danois and Underground are also worth checking out.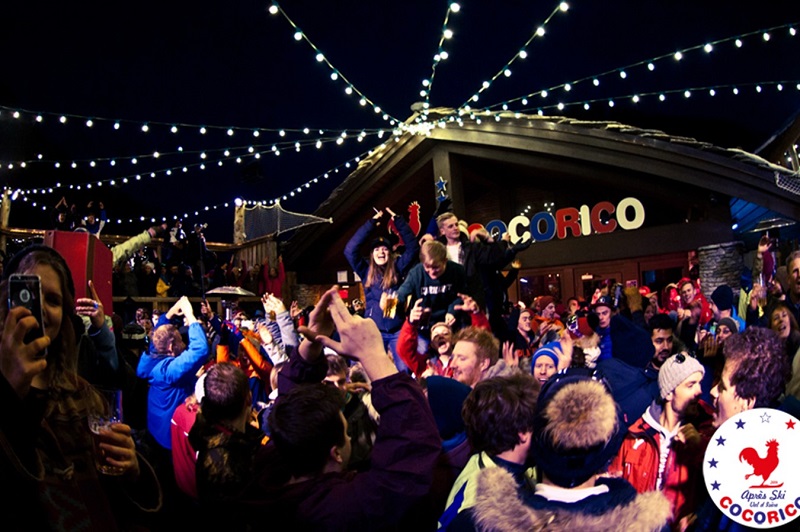 Skiers in St Anton party as hard as they ski. The resort is home to some of the most famous apres bars in the world. Mooserwirt claims it sells more beer than any other bar in Austria, and just across the slope, Krazy Kangaruh says the crazy apres party scene of Europe started with them. Both are absolutely packed every afternoon from 4pm, but the seasonnaires can be found next door to "KKs" in Taps bar. At the bottom of Galzigbahn gondola, Basecamp bar blasts out the tunes from under its umbrella, but the drinks are slightly more expensive here and the tables too high to dance on! If you're after something a bit more relaxed, Anton Bar next door has a perfect for a pint in the sunshine.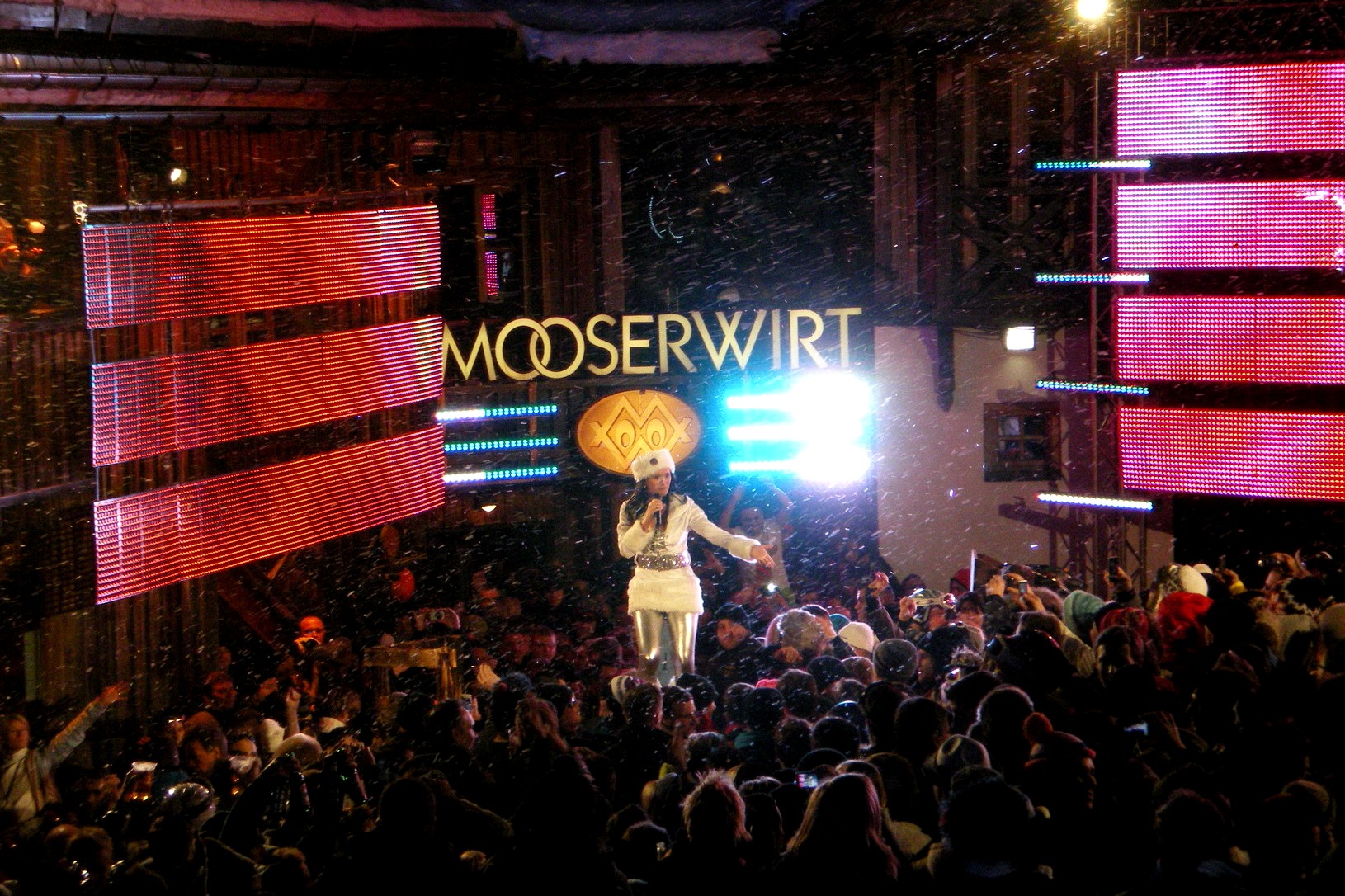 Head to Val Thorens for the highest partying in the Alps. In the past, it hasn't had as much attention as the other big Three Valleys resorts of Meribel and Courchevel, but Val Thorens has really come into its own in recent years. Often seen as the student party capital of European ski resorts, there's plenty of apres-ski fun for everyone. Out on the slopes, the VT branch of La Folie Douce sits just above the town. Whilst it's smaller than its sister bars in neighbouring French resorts, it still holds one of the best parties in town.
Elsewhere in resort, The Frog and Roast Beef is the highest pub in Europe and is naturally popular with the British. The rowdiest bar in town is always Café Snesko, particularly after they set the ceiling and bar on fire in the evenings! And don't be fooled by the outward appearance of Malaysia club, it might look like just a small mountain hut, but its huge underground rooms make it the largest club in the Alps.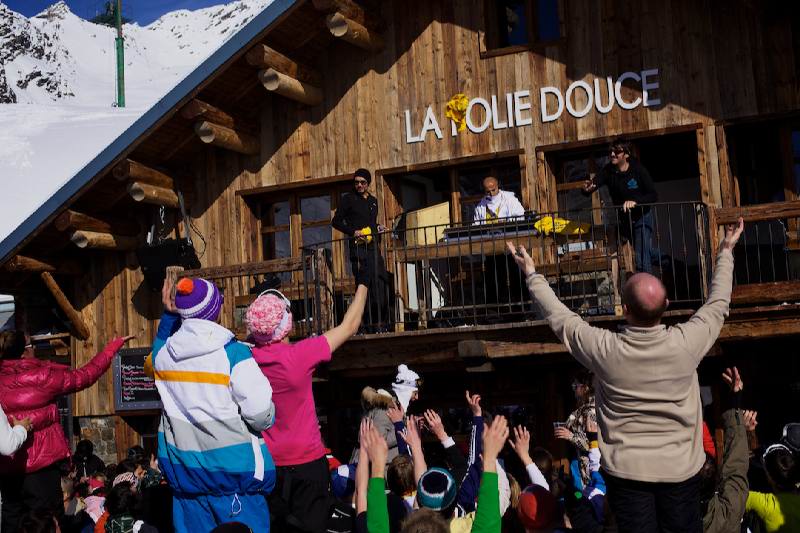 Referred to as both 'Las Vegas of the Alps' and 'Ibiza on a budget', Les Deux Alpes is an amazing choice for a holiday if you love to party. With 45 bars along its main street at 8 clubs, it has more venues than Val d'Isere and Tignes added together, and almost as many as the whole Three Valleys region. Pano Bar gives La Folie Douce a run for its money. Les Deux Alps is also the home of the legendary Rise Festival, which kicks off the season in early December. Umbrella Bar at the bottom of the slopes is popular, and the large umbrella means it's great fun whatever the weather. Other great options include Smokey Joe's for live music and O'Brian's pub with its disco from 10 pm.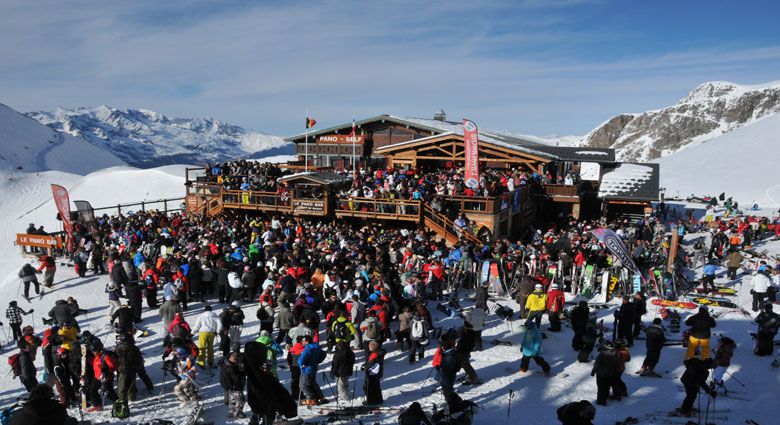 Not content with sitting in Val d'Isere's shadow anymore, Tignes has seriously upped its apres game in recent years. With easy access to apres on the slopes and lots of good value accommodation options, Tignes has everything you need for an amazing apres-ski holiday. The resort's branch of Cocorico's opened in December 2018, as the resort's first open-air apres-ski bar. Elsewhere in town, Loop Bar is great for soaking up some late season sunshine. Saloon Bar, The Marmot Arms and Jack's Bar are also popular spots to party.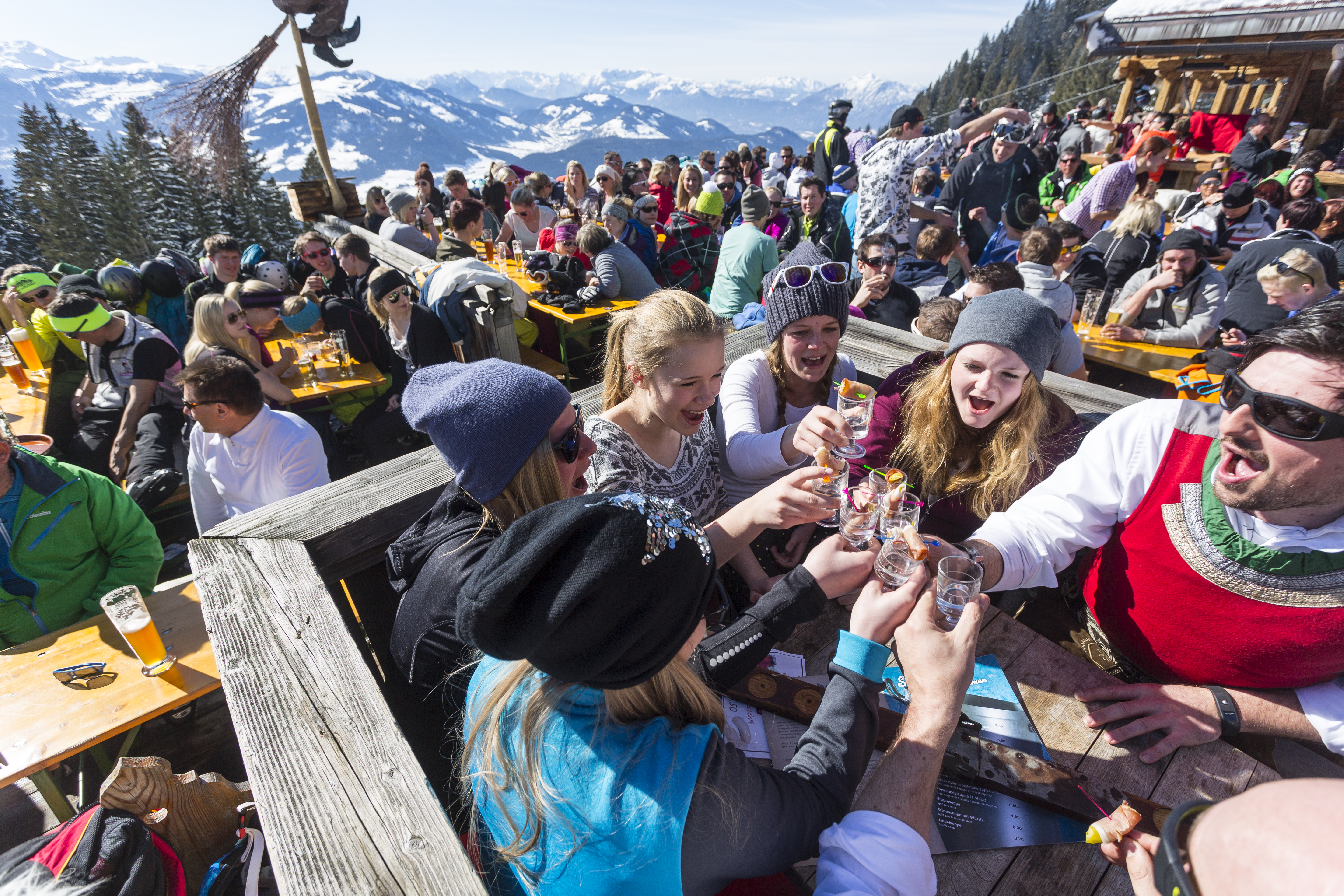 If money is no object, it's hard not to get swept up in the sophisticated and hedonistic vibe in Verbier. Apres-ski here is expensive and indulgent; Coco's bar targets the billionaires and adds diamonds to one of their cocktails. Le Fairnet Bar, awarded Which?'s best apres ski bar, has a mechanical sliding roof. This can make for an amazing experience, when the roof opens during a light snowstorm and you're dancing along to fantastic live music! Head to Farm Club for a classy night out full of celebrity spotting. If you're looking for something a little more affordable but still lots of fun, try Le Pub Mont or Fer a Cheval.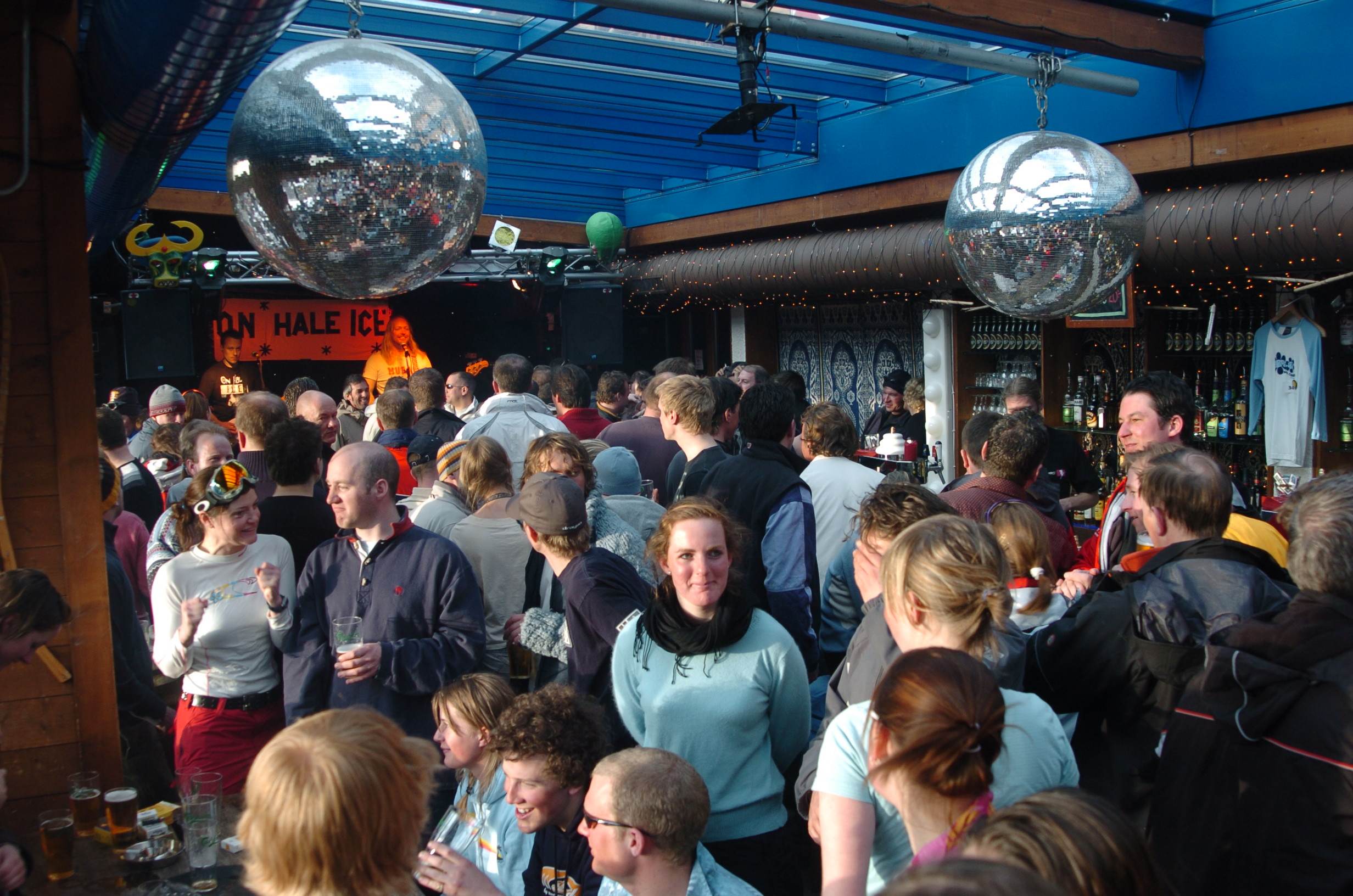 Meribel is a real all-round ski resort, and is amazing for pretty much anything you could want on your ski holiday, including brilliant apres! As a popular resort with skiers and snowboarders from the UK, the parties and bars here have a distinctly British feel. Meribel has its own branch of La Folie Douce, which is guaranteed to be lively every afternoon. Also try Rond Point and its famous toffee vodka, if you like your apres loud and dancing on tables. Other great venues include Jack's Bar, Le Poste and Le Loft.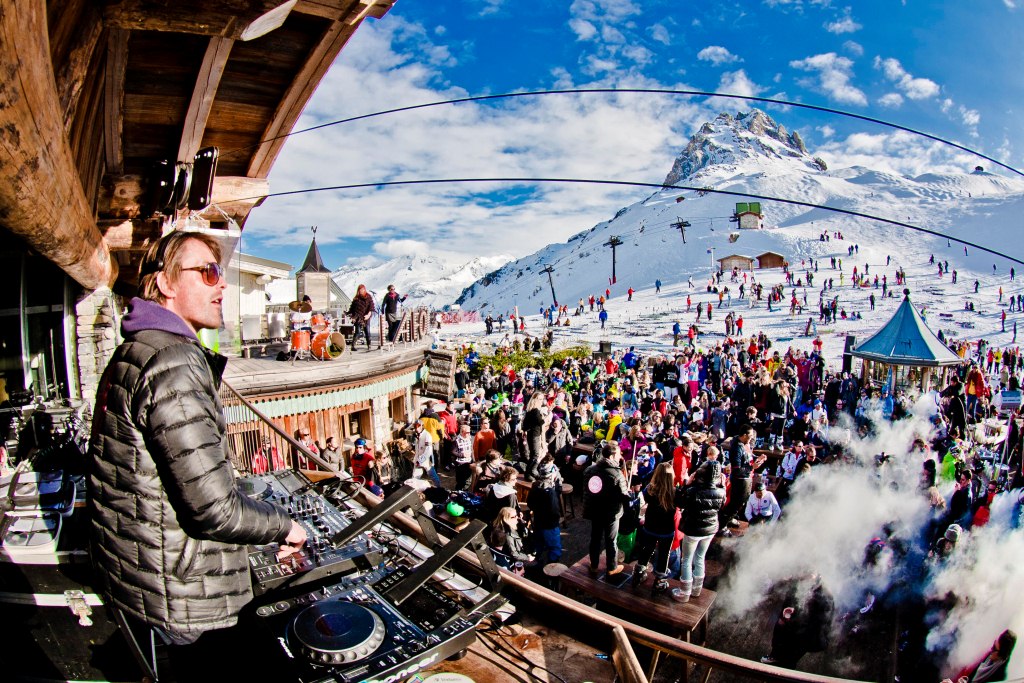 It's most famous for hosting Snowbombing festival at the end of season, but Mayrhofen has a lively apres ski scene all winter. The resort is home to 30 huts and bars spread across the slopes, and it's popular with a young crowd looking to party into the early hours of the morning. The White Lounge, with its 6m high igloo and outdoor bar, is a must-visit spot. Bruck n Stadl, found at the bottom of Ahornbahn gondola, is a traditional Austrian-style apres bar with reasonably priced drinks and Europop tunes. Other popular bars include Scotland Yard pub in town, inside the old police station, and Ice Bar next to Penken Gondola.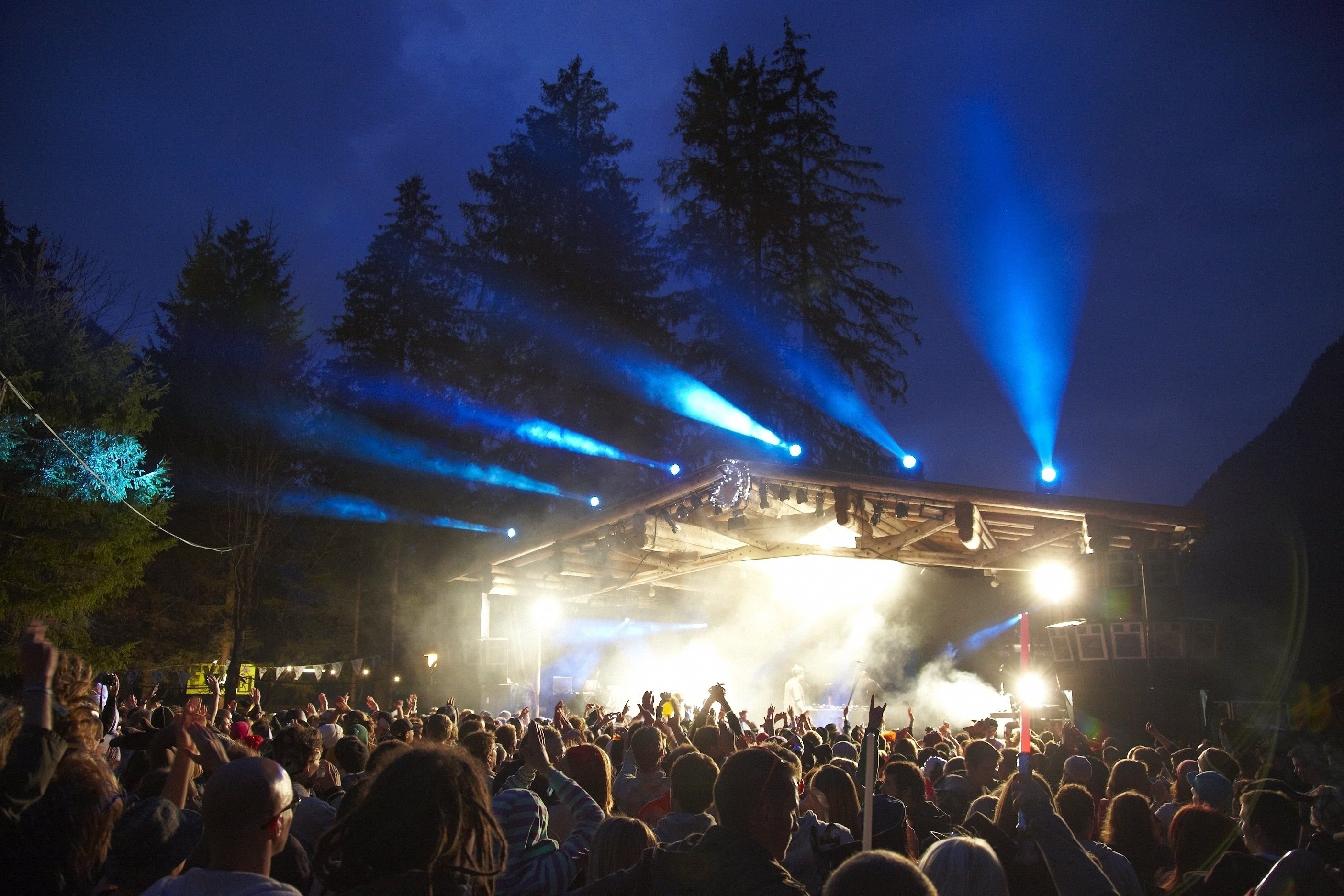 If you love to party hard alongside your skiing and snowboarding, we can organise the perfect ski holiday for you and your group. Browse our chalets and hotels and send us your shortlist, or give our ski specialists a call on +44 (0)20 7801 1080 now. We know which accommodations are closest to the slopes and the centre of resort, as well as the best bars and clubs to visit while you're there!
No time to browse our site now? No problem. We would be delighted to hear from you with any current ideas you have for your ski holiday. Please fill in our quick Enquiry Form: