Home /
Alta Badia, Italy - a Taste for Skiing
Alta Badia, Italy - a Taste for Skiing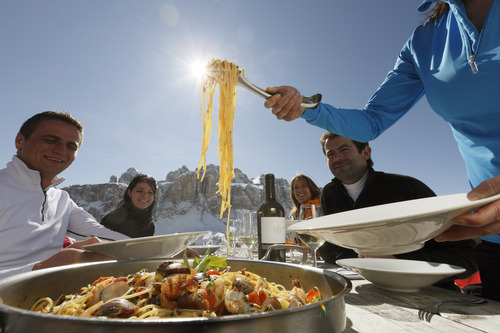 Situated in the north eastern corner of the Sella Ronda ski circuit, the Alta Badia area is made up of six scenic alpine villages and is home to arguably the best mountain cuisine in the world - perfect for skiers who appreciate a fine lunch and gourmet dining. Although the inter-connected ski area is epic in its proportions and the scenery of the Dolomite Mountains stunning the Alta Badia region is recognised most as a culinary hot spot. Whether you are looking for a charming mountain restaurant or a more formal dining experience within one of the luxury hotels in Corvara or San Cassiano there are more Michelin starred establishments and delicious menu options than you can wave a stick at.
If you are looking for a ski holiday in the Alta Badia region we have a great collection of luxury hotels and some lovely chalets.
Alta Badia – a taste for skiing
Alta Badia has claimed the right to call itself the Alps' leading gourmet ski destination – combining incredible ski opportunities with exceptional cuisine. Under the leadership of Norbert Niederfofler (head chef at the fabulous Restaurant St Hubertus) and the Pizzinini family (owners of the lovely Hotel Rosa Alpina), a 'Taste for Skiing' brings a wonderful collection of Michelin starred restaurants to the area. Created to celebrate the culinary excellence of Italy combined with a world class skiing experience, thirteen Michelin star chefs have each been assigned one mountain restaurant to work with so that all the huts in the area serve at least one truly remarkable dish that can be served to skiers throughout the season.
Providing traditional dishes which loosely follow the theme of 'Childhood Memories' Italy's best known chefs have each created an incredible dish that you can try for a bargain price on the mountain. The dishes on offer (which all use local ingredients) are based on meals that their parents, or grandparents, used to serve them which have now been enhanced with the addition of their own professional expertise. Each dish has also been paired with a carefully selected local wine by some of Alta Badia's expert sommeliers and with prices starting at just €15 including a glass of wine you can experience luxury gourmet food and wine at an incredibly reasonable price. The Michelin starred chefs taking part in the 'Taste for Skiing' experience include Norbert Niederfofler, Matteo Metullio, Nicola Laera, Enrico & Roberto Cerea, Enrico Bartolini, Francesco Baldissarutti, Andrea Aprea, Guiseppe Biuso and Alberto Faccani.
Gourmet ski safari
A Taste for Skiing has also launched the 'Gourmet Ski Safari' which offers a chance to sample a selection of delicious local wines along side your Michelin chef created food. Running early in the season this event offers one of the biggest bargains on the slopes. Select a set number of huts or dishes that you would like to try throughout your day and combine a fabulous day's skiing with an incredible gourmet experience. You may be lucky to have a celebrated chef presenting you with his or her dish personally. Tickets are available to buy at the first mountain hut that is visited.
Sommelier on the slopes
Sommelier on the slopes offers days where groups are accompanied by both a ski instructor and a professional sommelier, stopping off at three different mountain refuges to taste some of South Tyrol's finest wines. Tickets cost roughly £30 per person and include guided skiing and the three wine tasting sessions. Tickets can be purchased in advance through the Alta Badia Tourist office (we advise you to book early to avoid disappointment).
Wine ski safari
In March, the Alta Badia will be bringing the best local wines to high altitudes for an exclusive tasting session. The aim of the event is to celebrate the winter season with fine lunches of traditional food and delicious wine. Combine a day on the slopes with best friends or family and over a hundred different wines to taste. Again tickets cost approximately £30 per person and are also available via the Alta Badia Tourist office.
Breakfast with powder snow
Experience the beautiful mountains of the Dolomites at sunrise and make first tracks down the slopes before anyone else. After taking a snowcat up the mountain, enjoy a hearty breakfast with local South Tyrolean fare before skiing down the empty slopes - an incredible way to start the day. Tickets can be purchased the day before from the Las Vegas mountain restaurant.