Home /
Skiing with Children
Skiing with Children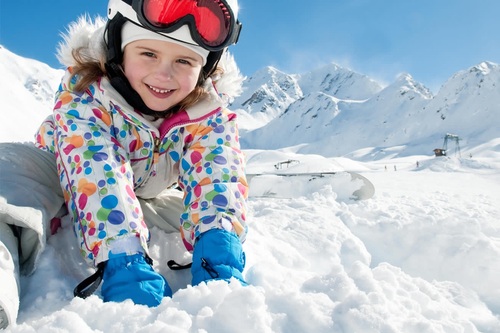 Skiing with children on a family ski holiday can be a wonderful time. Get your choice of resort, accommodation and childcare right and you will create lovely memories to last you a lifetime. However, get just one of these arrangements wrong and the nightmares may haunt you for years. We have been selling ski holidays for families since 1992 and some of the children from our earliest bookings have since grown up and had children of their own. They now come to us for advice on which ski holiday to book, just as their parents did before them.
As your children get older you will find that your family ski holidays evolve very quickly, and as this happens the various factors you need to consider will also change.
Skiing with children under 2 years of age
Ski holidays with babies are really holidays for parents who want to ski and need their baby to be looked after while they do it. Most likely you will have been skiing before and are hooked. You can't face the idea of missing out for a few years, and you have no choice but to take your baby with you.
Your choice of resort and accommodation will be determined by many of the same factors that they previously were – size of ski area, snow conditions, budget and so on. You will probably want to keep the transfer time down but the biggest difference, of course, is that you will need some childcare. If you can bring a non-skiing carer with you, maybe a grandparent, that would be ideal. Otherwise, you will need either a private nanny or a crèche.
While all the main resorts will have a crèche that you could use, most UK families prefer to use
childcare provided by a tour operator
. This ensures the staff will all be English speaking and the care will be provided in a style similar to what you would be familiar with. It also often means that the childcare takes place in the same location as your accommodation, and if not, the transport to and from the crèche is taken care of.
If you prefer the idea of a private nanny there are a number of chalet tour operators that provide them plus there is a number of
nanny agencies based in resorts
if you stay with an operator that does not have their own nanny service.
Travelling with infants
Once they have passed their second birthday children require their own flight seat which is charged at the normal adult rate. Under 2 years of age children are expected to sit on their parent's lap and to wear a 'lap belt'. However, infants under 2 years of age are not charged for a seat.
On the continent coaches do not have seat belts that will fit a baby seat securely - they are just less safety conscious than we are in the UK. If you are travelling on a package ski holiday with flights and transfers included expect to have your baby sitting on your lap without a belt. If this arrangement is not suitable for you we can book a private taxi for your airport transfers which would have the necessary 3 point belting system required to secure a baby seat. However, a private taxi service is expensive in the Alps and may add up to £800 (for a return journey) to the cost of your holiday.
Before you panic and ask us to book a private taxi transfer to ferry your baby to and from resort please consider that travelling by coach is very safe indeed. Allegedly you are 10 times more likely to drown in your own bath than die in a coach accident.
Skiing with toddlers
It isn't long before babies become toddlers and by the age of 3 or 4 most children are ready to try some skiing themselves. The emphasis to start with is heavily on having fun and at that age a couple of hours per day on the snow is going to be enough. This means childcare is still a major consideration. There are a number of options provided by the UK tour operators where your children can have supervised activities during the day to fit around the ski school. The staff will take the children to and from their lessons and parents can still ski all day if they wish. Evening clubs and babysitting can also be provided while the adults have their dinner.

Some parents might prefer to meet their children after lunch and spend the afternoons doing activities as a family. It might be a bit of snowman building, sledging is popular with younger children and many of the resorts have superb swimming pools.

Travelling with toddlers runs into the same issues regards coach transfers and the lack of 3 point seat belts as travelling with babies above. Again, we can arrange a private taxi transfer vehicle (usually a VW Caravelle or similar) which comes with standard car seat belts to fit a child or booster seat.
Skiing with older children
Over the next few years the routine might be the same but the children's ski lessons will be progressing quickly. It won't be long before they are ready to ski all day, either in lessons or skiing as a family in the afternoons after having lessons in the mornings.

This is really when family skiing holidays come into their own. It's hard to think of a better way to spend some quality time than zooming around the mountain together. Childcare may no longer be necessary but you might well want to continue with ski school at least for some of the time if the children enjoy it and the adults want to ski with more freedom.

The choice of resort and accommodation is still vital. Good ski schools and activities off the slopes are important. The position of the chalet or hotel is also crucial. As anyone who has ever tried to carry two or three sets of skis and poles whilst keeping a hand free to steer a meandering child will know, anything beyond the bare minimum walking distance to access the lifts, or transport to the lifts, is to be avoided like the plague.
Top tips for skiing with children
Choose accommodation that is really close to the slopes (or an accommodation option that offers an efficient driver service.
Have lots of calorie replenishing snacks to hand.
Have spare gloves and lots of socks.
Attach gloves to the jacket somehow. Even a length of string from one glove to the other will work well.
Show them before they go what they will be doing. You tube is a great source.
Make sure you build in some rest time for their day - they'll need it.
Take them up in a lift as a pedestrian to admire the view.
Take a marker pen.
Make sure they finish each day wanting more. Get them off the slopes early if necessary.
Do some fun activities other than skiing. Tobogganing, swimming, climbing etc.
When it comes to planning a ski holiday for the family there is so much to consider and Alpine Answers can help with all of that. Call one of our experts to talk through your requirements and we will provide a range of handpicked options to suit your family.