Home /
Chalet Holidays Explained
Chalet Holidays Explained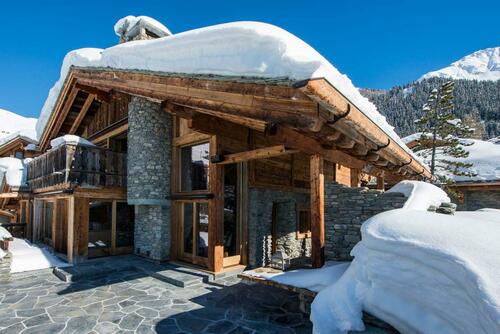 The development of ski chalet holidays began in the 1970's with pioneering holiday companies such as John Morgan Travel, Supertravel and Bladon Lines. These companies recognised that there was a supply of alpine chalet properties available for seasonal rent and a market of UK skiers looking for cheaper and more informal ski holidays than those already found in established ski hotels. Partly based on the love for the 'English country house weekend' chalet girls were employed to provide home-cooked meals, a welcoming atmosphere and a hostessing service.
The early chalets typically slept 8 - 10 guests in five bedrooms but were quite removed from the modern purpose built holiday chalets that we find in ski resorts today. There were no en-suite bedrooms (guests were expected to share facilities) and sufficient hot water for all guests could not be relied upon. Whereas the early chalets may have had a balcony and a fireplace they certainly did not come with the modern chalet comforts.
What is a catered ski chalet?
Although the ski chalets in use today have either been upgraded or even rebuilt to modern standards the original concept of chalet catering remains much the same as it did when chalet holidays were first introduced in the 1970's. Your chalet staff (more often than not a 'chalet boy' these days) will prepare breakfast each morning, clean the chalet and make the beds, bake a fresh cake for afternoon tea and then later in the day cook a three or four course evening dinner which is served with wine. There is usually one or two days during your week long holiday that the chalet staff have 'off duty'. Read more about:
chalet catering.
Ski chalet driver service - some considerations
As a very rough and general rule resorts have developed over the last 60 years so that the original hotel buildings are located in the centre and the newer chalets are found in outer residential areas. This is particularly the case in the larger ski resorts of Courchevel, Meribel, St Anton, Verbier and Morzine. For the UK holiday maker who has usually travelled by plane this then presents the problem of how to get to and from the lifts and ski school meeting points which are too far away from the chalet to walk to.
Some resorts, notably Val d'Isere, have such an efficient local bus service that the location of your chalet within the resort is barely an issue at all. Your chalet is never located far from a bus stop and the next bus is never more than a couple of minutes away. Problem solved. An alternative solution to the same location issue is to book a
ski in ski out chalet
. However, as there are not so many piste-side chalets (approximately 15% of our chalet stock) you will need to book early to bag yourself one.
The chalet driver service is a third and just as effective solution to the location issue of your chalet. The best service provided by the more expensive chalet holiday companies will mean that each chalet has its own dedicated driver and comfortable 4x4 vehicle. The driver is simply 'on-call' waiting to run you and your party to where ever you want. Even if your chalet is 2km from the lifts simply jumping into an already running and heated 4x4 for a four minute drive to the slopes is the ultimate in luxury and convenience. At the end of the day you can ski down to any point in the resort (perhaps after an après ski drink or two on the way) and simply call your driver to pick you up. You will be back in your chalet sitting in front of the fire, sipping champagne and eating fine canapés before you know it. When it works well there is nothing finer than a chalet driver service.
Cheaper chalet holiday companies will also provide a chalet driver service to get their guests to and from the lifts. The principal of the driver service will be exactly the same as described above although in practice you will find that there is one driver/vehicle which is shared between a dozen chalets. This inevitably will lead to some waiting time and possible frustrations.
Chalets packaged with flights & transfers - vs - accommodation only chalets
Half the chalets we feature are managed by larger holiday companies and they come packaged with flights and transfers so that clients pay one price which covers both travel from the UK as well as the chalet accommodation for the week. As the holiday companies buy both the flight seats and the transfer seats in bulk they can negotiate very good prices which are passed on to clients. Typically the tour operator cost of a flight and transfer coach seat combined might be £140-£180 per person. This saves approximately £200-£300pp from the cost of booking a scheduled flight and taxi transfer if a client was to book these services privately. Apart from the advantage of price there is also the advantage of the financial protection offered by the Civil Aviation Authority which covers all package holidays including air travel.
The remaining 50% of chalets without flights and transfers are those managed by smaller chalet holiday companies that do not wish to get involved with the financial risk and commitment of bulk buying charter airline flight seats. The advantage of booking one of these chalets is that you are free to fly from an airport that suits you and at flight times that are much more social. We can buy in scheduled flights that are good for you and marry these with a private taxi transfer to and from resort. The overall cost of your holiday will be higher than an equivalent standard chalet in a packaged holiday but the comfort of travel, the social travel times and the higher quality of in-resort service offered by a smaller company are well worth the extra cost.
Chalet holidays packaged with flights & transfers
Chalet holidays booked without travel
Chalet holidays - some conclusions
Chalet holidays all sound very similar to each other with seemingly the same provision of chalet catering and driver service which makes the decision on which chalet holiday to book very difficult. Whereas it is easy to see the material difference between one chalet and the next (there are photos and factual descriptions to show what your money will buy) how does one tell the difference in catering? After all the differences in the quality of catering and driver service between one chalet and another are pretty much impossible to tell.
In reality there is a huge difference in quality between the holiday provided by one chalet company and another and this is where we come in. We know the chalet companies and the people running them. We know which provide the best staff, the highest budgets for their cooks and the best drivers. Ultimately when you are comparing several chalet holidays against each other we know which will provide the best holiday experience. So please take the time to search, sort and browse through all our ski chalet holidays - we have photos, maps, reviews, prices and availability all handily displayed.