Home /
Snowboard Holidays for Beginners
Snowboard Holidays for Beginners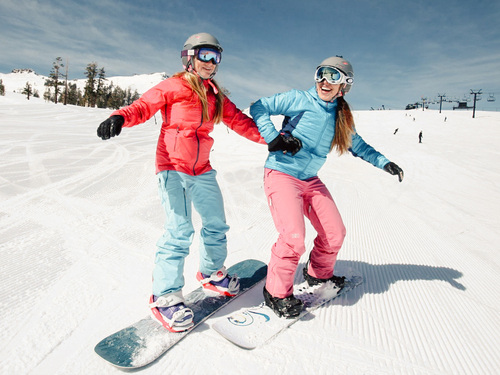 So, you have decided to take up the sport of snowboarding for the first time and have no idea where to start. First of all it needs to be said that the process of learning to snowboard is incredibly challenging for many, and requires dedication, bravery, perseverance, as well as an awful lot of energy.
On the plus side, once you are fully committed to the process you can often improve quickly and will be flying down the slopes linking beautiful turns in no time at all. To increase your chances of improving as quickly as possible and also enjoying the whole learning process there are a few things that need to be considered carefully before booking your beginner's snowboard holiday.
Choose the right resort for your first snowboard holiday
Arguably the most important factor which can make or break the learning process is choosing the right resort in which to begin this journey. Always aim for resorts with plenty of gentle green runs to ease the learning process. Choosing a quieter resort with nice wide slopes would also be advised as having more space on the mountain will allow you to focus on your technique rather than worrying about other people on the mountain. Speak to Alpine Answers for professional advice when choosing a resort.

Look for a resort with beginner friendly lifts. Gondolas, magic carpets and cable cars are by far the easiest way up the mountain for a beginner snowboarder. Once you are a little more confident you can advance to chairlifts, and finally on to T-bar and button drag lifts which are notoriously difficult even for experienced snowboarders. Luckily these days almost all resorts have invested heavily in modernising their lifts but there are still some resorts (mainly in Austria and Switzerland) which could do with some upgrades.
Recommended resorts for a beginner snowboard holiday
Kuhtai - Austria. High, snow sure and with gentle slopes. Great value chalet hotel accommodation.
Avoriaz - France. High and snow sure with all accommodation on the slopes. Great beginner slopes and good snowboard schools.
Val Thorens - France. Wide open beginner slopes, great value accommodation, good nightlife and also snow-sure.
Cervinia - Italy. Inexpensive accommodation. Wide, easy slopes with great mountain restaurants. High and snow sure.
Choose and book the right snowboarding instructor
Make sure you have a snowboarding instructor booked at the same time as your holiday. No matter how easy you think you'll find snowboarding, by far the quickest way to learn is to use a highly reputable snowboard school that will make sure you learn the basics before progressing onto more challenging terrain. It can be tempting to save money and avoid this cost, but 'self taught' snowboarders can be spotted a mile off! It is particularly important for your first outing, as you will be taught exactly how to get the most from your equipment as well as mountain etiquette and using the lifts safely.

As a general rule, the more lessons you can book the better. Booking for the entire week is the ideal solution but if time or money prevent this then we recommend to get a minimum of 3 days instruction. Doing just half a day or 1 day for your first attempt really is not long enough to cover everything you need to learn before safely applying your skills on the blue runs.


Pack the right clothes
It sounds silly but making sure you have the right clothes can be the difference between a successful beginner snowboarding holiday and a disappointment. The last thing you need is cold hands when you are trying to listen to your instructor's advice. Make sure all of your kit is waterproo, and buy proper ski gloves designed for very low temperatures. Even towards the end of the season when it can be 20 degrees at resort level, the temperature can drop quickly as you scale the mountain on a lift. Thick ski socks, salopettes, a proper mountain jacket, a nice thick jumper, and even a something to cover your face would be advised.


Hire the right snowboard for a beginner holiday
Having the right equipment is equally important. Beginners will typically need an 'all mountain' board as these are more forgiving. Choose an equipment shop/outlet with a wide range selection of snowboards, and be completely honest about your ability so the technician can match your weight, height and ability to the perfect snowboard.

Always wear a helmet. Even the best snowboarders in the world wear helmets so do not be fooled into thinking that this is not a beginner's item. Falls will inevitably happen, and we need to protect ourselves in the best way possible. Other safety items for your first few weeks include wrist guards, spine protectors, as well as padding for your bum or knees. These are the areas which typically take the brunt of the force when you fall over. It is not absolutely essential to have all of this equipment but a helmet and wrist guards are going to help prevent serious injury and would be advised as a bare minimum.


What kit should I buy as a beginner snowboarder?
Purchase proper snowboarding goggles and be aware different lenses are available to match the level of light you can experience on the mountain. Wearing appropriate lenses will allow you to see the terrain clearly so you will not get caught out by any sudden changes in light. Do not wear sunglasses as these are unsuitable, dangerous and likely to get lost if you are falling over frequently.


Snowboard holidays for beginners - when to go?
It can be hard to predict the weather but learning to snowboard in soft snow conditions is optimal. Learning on icy runs can be intimidating as they make it harder to control your speed and do not offer a gentle landing when you fall over. Either fresh powder or end of season slush will be the best for a beginner snowboarder. In softer snow conditions the edge of your snowboard will gain more grip which in turn will give you more control and confidence. If you are unfortunate with the conditions remember that icy snow can soften up as the day goes on. Talk to someone experienced and local who can show you which slopes soften up first. South facing slopes can be soft by 11am whereas north facing slopes may still be icy well into the afternoon.
Snowboard holidays for beginners - don't forget
Some other considerations which are after often overlooked or forgotten.
Bring sun cream as the UV levels are incredibly high in the Alps.
Lip balm would also be useful for the same reason.
Snowboarding is exhausting, so don't forget to stop for plenty of water. A camel pack is a good idea.
Bring a hat to wear under your helmet for particularly cold days.
No time to browse our site now? No problem. We would be delighted to hear from you with any current ideas you have for your ski holiday. Please fill in our quick Enquiry Form: