Home /
Organising a Group Ski Holiday
Organising a Group Ski Holiday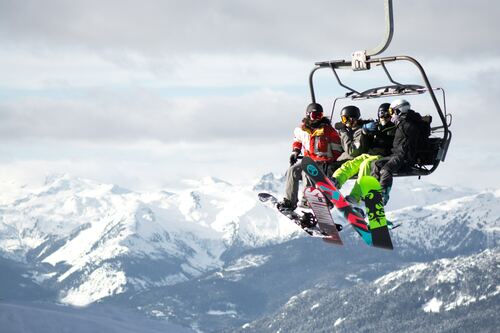 How to organise a group ski holiday - our best advice. We've been successfully organising amazing ski holidays to the Alps for groups since we started back in 1992. Whether you're looking for the best hotel for a large group or a cheap package deal that gets you all the best value for money, we can help.
Check out our top tips below for organising a group ski holiday, or give one of our ski holiday specialists a call - let us do all the hard work for you!
How to Organise a Group Ski Holiday
You've been nominated as the party leader for the group holiday this winter, but you don't know where to start. We've organised hundreds of group ski trips in the last 25 years, and we're always happy to share our expert advice.
1. Hotel or chalet?
Generally, we recommend booking an exclusive-use chalet for large group ski holidays. You'll have all the convenience of chalet hosts and staff, and often with great facilities like spas and private ski & boot storage, and won't need to worry about disturbing other guests.
Browse all our ski chalets
If you'd prefer a hotel, it's important to remember that tour operators offering good value package holidays (with flights and transfers included) don't usually have a large allocation of rooms at hotels. We can put together a tailor-made holiday package for you by booking directly through the hotel and adding flights and private transfers, all of which would be protected under our ATOL license. A hotel might be the best option for you if you're organising an alpine conference or corporate trip.
2. Set a budget
This might seem obvious but it's important to set the budget as early as possible early on! Establish how much everyone in your group is willing to pay, and what standards they are expecting from the holiday. It might be worth setting the budget slightly higher than you expect the end price to be. People are always happy to pay a bit less, and it can be difficult to get everyone to cough up an extra couple of hundred pounds at the end when you realise it's going to be more expensive than you thought. Also, don't forget to factor in all the extras like lift passes, equipment hire, food and drinks.
Larger ski areas will command higher prices when it comes to accommodation, so it might be worth considering smaller resorts if you have a tight budget. This is also true for properties located close to the centre of resorts or the lifts/slopes. If you're a group that likes to party, being in a central location might be a priority, but remember that a lot of chalets come with private driver services. Also, many resorts have efficient and free bus services that run late into the night.
As a rule of thumb, a group of 12+ people will benefit from group discounts. In a chalet, these discounts are typically 10% off the advertised basic per person rate.
3. When to go?
The winter ski season is divided into low, mid and high season periods. We recommend that you avoid the high season periods (Christmas, New Year, February Half Term and Easter) unless you are a family group, have teachers in your group or want to party hard at New Year. High season prices are very high and group discounts unlikely. The low season periods of early December, mid-January, mid-March or late April will give you the best prices. However, you will need to choose your resort carefully if considering early December or late April - snow cover is likely to be an issue so aim for high altitude resorts.
4. Use a specialist agent
Specialist ski travel agencies like us have a wide range of accommodation options, a wealth of experience and plenty of expert advice on everything ski holiday related. We're totally independent, and our booking service is completely free. We always recommend the holiday that we believe is right for you. We are ATOL and ABTA bonded, giving you great financial security.
When you are a party leader you are often paying large sums of money on your group's behalf. Make sure the agent or holiday company you are using and booking with offer financial protection and are who they say they are. There are many fake ski holiday websites out there, so it's important to remember: if the price looks too good to be true, it probably is!
For more information on organising the best group ski holiday, check out our blog post.
No time to browse our site now? No problem. We would be delighted to hear from you with any current ideas you have for your ski holiday. Please fill in our quick Enquiry Form: