Home /
Heli Skiing in France
Heli Skiing in France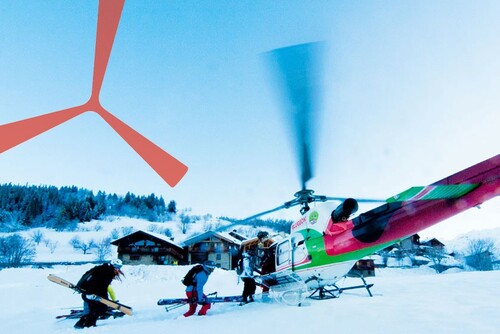 Heli-skiing in France is not allowed as heli drops (for heli-skiing purposes) have been banned in France. However, there is nothing stopping you from taking off from France in a helicopter and landing just across the border in Italy. Given that the Franco-Italian border runs very close to a lot of the major ski resorts of the French Alps arranging heli-skiing in France is a lot easier than you might think.
We've all seen the photo images of a day back country skiing - massive slopes of untouched powder snow, blue skies, beautiful backcountry mountain scenery and smiling faces. Anyone lucky enough to have heli-skied will tell you that a day in the mountains with a helicopter, their best friends and a mountain guide are the very best of days.
Ski resorts in France best for heli-skiing
If you are taking a ski holiday in the French Alps but wish to add on a few days heli-skiing across the border in the Italian Aosta Valley you should look to stay in a resort close to the helicopter base La Rosiere. Alternatively you can stay anywhere within the Chamonix Valley, which is also just a short heli flight from the Aosta Valley.
Chalet holidays in France close to the heli-base of La Rosiere or Chamonix
Hotels in France close to the heli-base of La Rosiere or Chamonix
Is heli-skiing only for experts?
Most people consider heli-skiing as an adventure that other people enjoy. However, that doesn't have to be the case. Modern skis with wider bases and rocker tips make powder skiing much easier than you might imagine. Heli-skiing is no longer the preserve of expert skiers with superhuman levels of fitness. As long as you can ski 'parallel', are reasonably fit and are not fazed by big mountain scenery then the wonderful experience of heli-skiing is yours to enjoy. So, why not create memories to last a lifetime this winter?
British owned Val Heliski have been operating in the French/Italian Alps for 10 years. Since 2009 they have developed an amazing team of dedicated guides, pilots, drivers and instructors, all knitted together to provide the best heli-ski experience. Their helicopters take off from bases in Chamonix, La Rosiere and Val d'Isere to transport skiers to the drop zones just over the border in the Aosta Valley of Italy (helicopters cannot land in France for heli-skiing purposes). There are hundreds of square kilometres of untouched high-altitude ski terrain available and the drop zones are just 15-20km from the heli bases in France (less than 10 minutes flight time).
Three elements to your heli-ski day winter 2019-2020
Getting to the heli base
If you are staying in Tignes, Les Arcs, La Plagne or even the Portes du Soleil resort of Morzine you can either take a heli transfer to reach one of the three bases, or opt for a cheaper minibus transfer. Once at the base you meet your guide, get your safety equipment (transceiver, probe and shovel) and pick up your ABS backpack. From here you are just a short hop from skiing nirvana.


Flying to the ski terrain
Costs vary. However, £1,400 (split between a party of 4 skiers) is typical for a return flight from La Rosiere to the drop zones within the Aosta Valley, Italy.


The heli drops and guide costs
1 x heli drop costs £265 per person (based on a party of 4 people). 3 x heli drops costs £700 per person (based on a party of 4 people). These costs include the helicopter, your mountain guide for the day and use of the safety equipment. ABS backpacks can also be rented extra for a very reasonable £25 per day. Each drop will give between 1,000m and 1,500m of vertical descent, taking between 45 minutes and 1.5 hours (depending on skier speed, fitness and snow conditions).
A Typical day's heli-skiing itinerary from Val d'Isere
08.30 - Your minibus transfer picks your party up from your accommodation in Val d'Isere.
08.50 - Arrive at the heli-base in La Rosiere. Meet your guide and receive a briefing on the morning's skiing.
09.30 - Depart in your helicopter. Destination: the powder fields of the Aosta Valley
Enjoy 3 amazing descents within the best mountain scenery of the Alps. With a vertical descent approaching 5,000 metres you will have skied your legs off.
13.30 - Enjoy a fabulous lunch in an authentic Italian mountain restaurant.
14.30 - Return to the heli-base in La Rosiere and minibus transfer back to Val d'Isere. If conditions are good and your legs are up to it carry on skiing with your mountain guide. Why not take on the legendary off-piste routes of the Espace Killy region: Mickey's Ears, Pisteurs Couloir, Col Pers or Spatule?
Approximate costs for itinerary above (based on a party of 4 people) = £1,140 per person.
Price includes:
Return minibus transfers to and back from La Rosiere heli base.
Use of safety equipment (probe, shovel and transceiver).
Hire of ABS backpack.
Return helicopter transfers to and from the powder fields of the Aosta Valley.
3 x heli drops giving a total vertical descent of approximately 5,000m.
Use of fully qualified mountain guide for the day (one guide for a party of 4 skiers).
A professionally edited video of your amazing heli-skiing adventure.
FAQs
Can I book on my own? Yes – you can join a group made up with similar standard skiers. There is a single person supplement of 50 euros per heli-drop.
When should I book? It is recommended you book as soon as possible. The number of guides and helicopters is limited so book early to avoid disappointment.
What happens if the weather is bad for the day I booked? The Val Heliski operation is large enough that you and your party can nearly always move your booking to a different day during your stay. If the bad weather continues you and your guide can always find plenty of great lift accessed skiing. You will not be charged for a helicopter you don't use.
What is the cost of my mountain guide for a day? The day cost is £440 - £480 (depending on the week chosen). However, this is split by the group, typically of 4 people.
No time to browse our site now? No problem. We would be delighted to hear from you with any current ideas you have for your ski holiday. To book your fabulous heli-ski adventure in the French/Italian Alps please fill in our quick Enquiry Form (or contact Simon on our main telephone number: 020 7801 1080):