Home /
Cheap Ski Weekends
Cheap Ski Weekends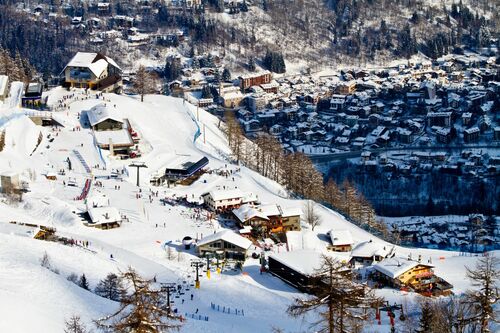 Is there such a thing as cheap ski weekends?The simple answer to this conundrum is for you to call our team and let us do the work. We have been selling ski holidays for 25 years so we have the knowledge to help you.
The earlier we book your flights, the cheaper the price of your ski weekend should be. Airlines operate a fluid pricing policy whereby the earlier you book your flights the cheaper the price is. Given that the return flights from the Alps back to the UK on Sunday nights are very much in demand it is advisable to book at least 4 months in advance of travelling.
Hotels for a cheap ski weekend
Cheap ski weekends in catered chalets
Unless you are staying in one of our luxury properties staying in a catered chalet is nearly always cheaper than staying in a hotel. Catered chalets, apart from providing a relaxing and informal atmosphere, also included complimentary wine with dinner giving a further saving when compared to a hotel.
Ski chalet weekend stays - Prices and availability
There are some considerations when it comes to staying in a chalet for a weekend that you need to be aware of:
1) You will be expected to check out of your chalet on departure day by 10am. If you have a late return flight and you intend to ski on your last day you will need to consider where you will change and shower after skiing.
2) Chalet staff day off is usually Wednesday or Thursday so if your arrival day coincides with the staff night off you will not be given dinner that night.
3) A 'reverse weekend' is usually cheaper than a standard weekend. A reverse weekend is where you arrive on a Saturday or Sunday and return to the UK mid week.
Some ski resorts are cheaper than others
There is definitely a hierarchy of ski resorts in the Alps, with the best resorts commanding the highest prices. Of course you can always spend a few nights in a top quality resort without having to ask your bank manager for a loan so long as you stay in a youth hostel or a pension style hotel. However, if you are willing to compromise a little on the quality of your ski resort you can stay in good quality accommodation and still enjoy a great value ski weekend.
The cheaper countries for a ski weekend
Italy is the cheapest country in which to take an enjoyable ski weekend. Ski passes, ski hire and eating out are all cheaper in Italy compared to other Alpine countries. Furthermore, there are plenty of great Italian ski resorts within reach of suitably close airports.
Approximate costs for cheap ski weekends
The prices below are based on a 3 night bed and breakfast stay (sharing a twin/double room) including scheduled flights and private taxi transfers for weekends in January 2020.
2 star hotel in Italy: Price from £480pp
3 star hotel in Italy: Prices from £545pp


2 star hotel in Austria: Prices from £525pp
3 star hotel in Austria: Prices from £595pp


2 star hotel in France: Prices from £545pp
3 star hotel in France: Prices from £615pp


2 star hotel in Switzerland: Prices from £595pp
3 star hotel in Switzerland: Prices from £665pp
The easiest and most cost effective way to book a cheap ski weekend is to start your research early and book early. In fact the earlier the better. Call us and we can recommend some cracking resorts for a cheap ski weekend to remember.
No time to browse our site now? No problem. We would be delighted to hear from you with any current ideas you have for your ski holiday. Please fill in our quick Enquiry Form: