Home /
Chalet Holiday Glossary of Terms
Chalet Holiday Glossary of Terms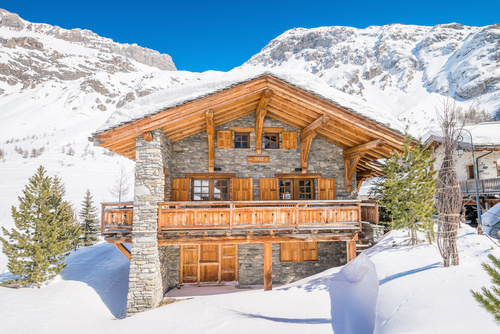 We understand that booking a chalet holiday is often not as straight forward as you might think. All sectors of the commercial world we inhabit have strange words, phrases and terms that the people within these sectors use every day.
Industry-speak or 'parlance' can be a confusing language for those that are not used to it on a daily basis and the travel industry is no different to other sectors of the market. Clients who dip in and out of our world perhaps only a few times a year can easily be confused by some of the terms they encounter.
We have been immersed in the travel industry, and more specifically the ski holiday travel industry, since 1992 and during that time have learnt just about all there is to learn regards booking ski chalet holidays. Clients have been coming to us year after year to pick our brains for ideas, take the hassle out of the searching, smooth over the booking process and lastly to provide them with fantastic after sales care. In short we make things easy for them.
Seven widely used chalet holiday phrases explained
To make the process of booking a ski holiday even easier we list below the widely used phrases and terms of our world. We explain what they mean and why they are important.
1.Empty Bed Supplement
Although usually a term that applies to chalet holidays it can also apply to hotel holidays where it is more widely known as a 'single room' supplement.
Typically chalets are priced by the holiday companies running them on a per person basis whereby two people are expected to occupy one bedroom (either configured as a twin with two single beds or as a double bedroom). In this way a chalet with five bedrooms would ordinarily be expected to sleep 10 guests each paying a published price.
If your party size is 9 people and you want to book a five bedroom chalet for 10 guests then one bedroom will be occupied by just one person – thereby creating the 'empty bed' situation. As the holiday is priced per person the company running the chalet will expect to recoup the cost of the missing 10th person and this is what is known as the 'empty bed supplement'. This supplement typically won't be as much as the full per person price as the missing guest will not be taking a flight, eating food or using hot water so the supplement for an empty bed might be anywhere between 50% and 90% of the basic per person price.
2.Group Booking Discount
Again this is something that applies to chalet rather than hotel based holidays. Some chalet holiday companies will allow their chalets to be sold by the room ('split selling') which results in different parties sharing one chalet property. Although this shared house party situation can sometimes work brilliantly with the different parties creating lifelong friendships and possibly even new romances the holiday companies will generally prefer to sell the entire chalet to just one group. Dealing with one party leader for a week's booking into the chalet means less admin and more efficiency. To encourage groups to book exclusive use chalet properties companies will therefore offer 'group discounts' which typically would be one person in ten stays for free.
The prices we show on our website are the basic per person price which do not take into consideration any applicable group discounts. Therefore for a party of 10 people or more you might expect to pay a per person price that is actually 10% lower than the amount advertised.
There are two main caveats. Firstly, not all group discounts are the same and some companies do not even offer any kind of group discount. Secondly, when prices have been reduced from their original level then group discounts may no longer apply.
The relationship between Group Discount and Empty Bed Supplement
The 'empty bed' situation gets more complicated when it affects a group discount. Chalet companies will often offer an incentive to parties to book with a 'group discount'. The standard offer is book 9 people and the 10th person will travel either half price or free (equating to an overall discount of between 5% and 10%).
There can sometimes be the situation when it is better to pay for 10 guests even if you only have 9 people in your party so that the group benefits from the group discount.
3.Extra Bed Supplement
This supplement is entirely different to the 'empty bed' scenario and any extra bed supplements are actually beneficial to groups even though they are classed as an extra charge.
Chalets very often will have a certain amount of standard bedrooms that sleep two people each. As in the examples above a five bedroom chalet above would therefore sleep 10 people and the chalet company would be more than happy to accept a party of 10 people paying a per person price and taking the chalet for exclusive use. However, sometimes bedrooms might be large enough to take a 3rd bed (usually a smaller child bed or sofa bed) or perhaps the chalet has an open mezzanine level overlooking the sitting room that has one or two extra single beds (again best suited for children). These extra beds are shown in a chalet listing that sleeps from X to Y. A chalet that is described as sleeping 10 – 12 people means that 10 people can take the chalet for exclusive use but there are two 'extra beds' that can be utilised by the group.
Extra beds therefore generate extra income for a chalet holiday company which they might not ordinarily expect to receive. Because of this and also because the extra beds may only be suitable for children the extra bed supplement typically is charged at 50% of the standard per person price. Children (or adults) occupying these extra beds effectively stay at half the normal price which may be very beneficial for groups looking to keep costs down.
4.Pax
The term 'pax' first came into use within the travel trade as early as the 1940's but was not widely accepted until the 1970's. It basically refers to a 'paying person' or 'paying people' and can be used in singular or plural form – 1 pax or 3 pax. Infants (children under two years of age) are not referred to as 'pax' as they do not pay for a holiday, do not occupy a seat on a commercial flight and are not expected to use a proper bed in accommodation. A group containing 6 adults, 3 children over two years of age and one infant will be described as 9 pax plus 1 infant.
As to why the term 'pax' was first used is open to debate. Some claim that as early computer generated reports concerned with passenger numbers were limited to the space available on the printer paper the term pax was used to keep column widths to a minimum.
5.Austrian Twin Bedroom
This bedroom configuration is most usually found in Austrian (hence the name), German, German speaking Swiss and some Italian resorts. An Austrian twin bed is actually a king size double bed frame with two single mattresses and two single duvet covers on top. It is effectively like two UK single beds that have been fixed together. The Austrian twin bed is fine for a couple (and sometimes even preferred over a standard double bed) but is less popular to people sharing a bedroom who are simply friends.
6.Chalet Board
Usually this means that guests staying in a catered chalet can expect a daily breakfast and afternoon tea every day and an evening meal on 6 nights of the week that includes wine and coffee. Chalet staff are usually given just one full day off a week. The night before the day off dinner will be served and cleared as usual and then breakfast is laid out for guests to help themselves to the following morning. Dinner on the staff day off is not provided so the chalet staff will return the morning of the day after to prepare breakfast. Typically the staffs' day off is on a Wednesday so guests would not see them between Tuesday night (after finishing their duties) and Thursday morning. Chalet Board can sometimes only include 5 dinners during the week and there can also be varying conditions regards the supply of wine with dinners. Sometimes there is an unlimited supply of chalet wine throughout the evening, other times the wine might be free flowing but only until coffee is served. If this is important to your group then please do check the details. Read more about catered chalet meals.
7.Private bathroom versus en-suite bathroom
A private bathroom might have communal access as it is located across the hallway or on the other side of a corridor from a bedroom but it will generally be used only by the occupants of the bedroom. It is therefore a private bathroom but not one that is en-suite. An en-suite (or en suite) bathroom can only be accessed from the bedroom to which it belongs. Note that a bathroom should never be described as being ensuite as the French word ensuite means 'afterwards' or 'following' or 'then' which makes no sense when using it as either an adjective or noun for a bathroom.
A bedroom that is described as having en-suite facilities is a little vague. A bedroom thus described might have a shower, or a bath, or both a shower and a bath. Confused you will be!
No time to browse our site now? No problem. We would be delighted to hear from you with any current ideas you have for your ski holiday. Please fill in our quick Enquiry Form: