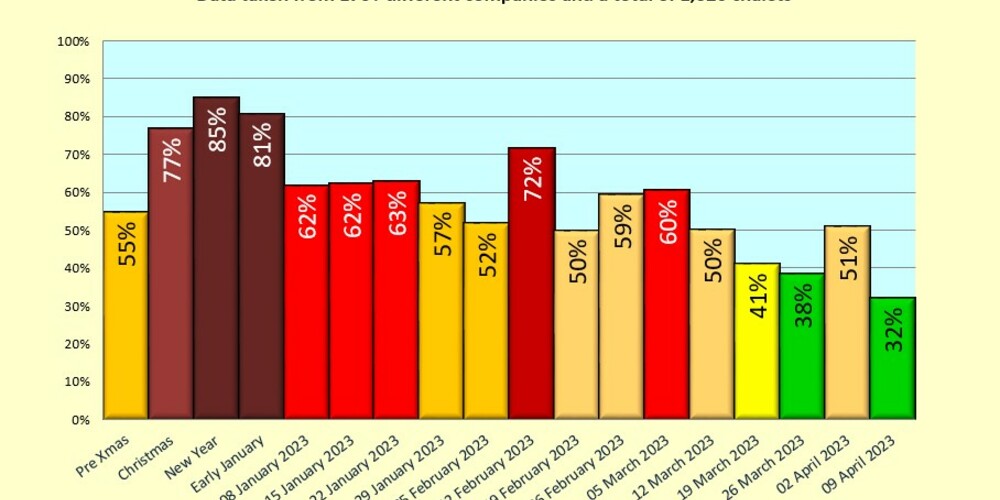 Ski Chalet Holiday Market Analysis 2022-2023
Simon Hoskyns

|
25 October 2022

| Ski Chalets
The bounce back in holiday sales immediately post-Covid was inevitable. After being restricted (by and large) from international travel for the best part of 18 months the World wanted to make up for lost time and book as many holidays as their finances would allow.
Summer of 2021 was a busy time for us as we took hundreds of bookings for the 2021-22 winter from clients desperate to get away to the slopes. All looked set fair for a great winter until we hit a rather large 'bump' in the road to recovery in December 2021 and early January 2022. European governments took the opportunity to seemingly punish British holiday makers with travel bans that sprang up with little or no warning. We lost approximately 25% of our annual business last winter when first the Swiss, and then more seriously the French, said a firm "non" to coming to the Alps. Their knee-jerk reaction wiped out our Christmas, new year and beginning of January sales which plunged us into the chaos of dealing with all the refunds and re-bookings, amid the clamour from other clients wanting to book for later in the same season. No one in the ski holiday industry wants a repeat of the nightmare of Winter 2021-22. RIP is what I say.
The airlines also had their own issues this Spring and Summer. Short staffed and therefore ill-prepared for the booking rush they struggled with baggage handling in particular, with double the normal number of flights being cancelled and many more suffering severe delays. It probably felt worse than it actually was (only 4% of flights were cancelled during that time compared to a normal figure of 2%) and most of the ill-feeling towards the airlines was whipped up by the press, who did what they do best.
But enough of dwelling on the past, and the woes of the travel industry in general. We need to look forward and hope for a better run on things for winter 2022-2023. One thing we do here at Alpine Answers is take a look at the ski chalet market place in mid-October - looking at the state of play for the whole of the approaching winter's sales. We work with over 170 different ski chalet companies and have bed bank data encompassing over 1,000 chalet and chalet hotel properties in the Alps. Our portfolio of ski companies and properties is not necessarily representative of the whole of the ski holiday industry but it certainly can be used as a barometer reflecting the state of the entire ski holiday market.
The size of our ski chalet portfolio hasn't changed much since 2015 but its composition certainly has. The number of chalet companies offering package holidays with flights and transfers has needless to say dwindled. However, that has in fact matched the preference for clients wanting to drive to resort rather than fly (high prices from airlines and the hangover from the summer of delay and cancellation worries putting them off). We have also seen the rise of the self-catered chalet market which now accounts for 30% of our chalet stock, and even the increasing number of chalets that come with pre-cooked meal delivery (contactless catering) - a useful hybrid holiday product offering a halfway house between traditional catered and self-catered ski holidays.
Looking at the sales made to date across the market for ski chalets of all types (catered, self-catered and contactless) the bounce back in bookings is clear to see.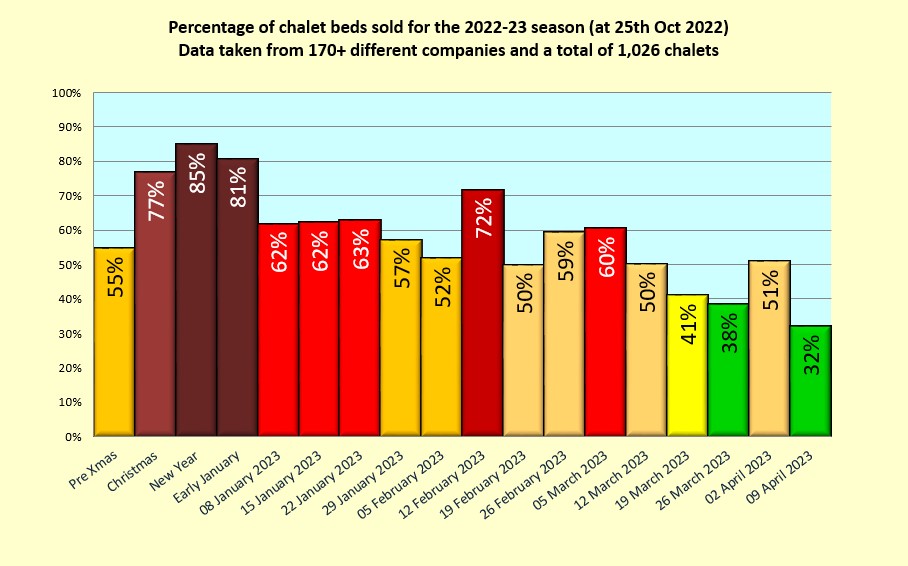 Ski chalet market analysis for winter 2022-2023 (as at October 2022)
The peak festive holidays weeks
Christmas, New Year week and the very beginning of January are all very heavily booked already. New Year week at over 85% full means that what is left is either rather expensive or simply not that desirable - although a few gems are still to be had, especially if you can self-drive to the Alps.
Off-peak January 2023
January is normally a great time to pick up a last minute holiday bargain. Chalet companies that struggle to sell remaining beds in the low season weeks of January are normally forced to lower their prices in order to sell. However, January 2023 is already very well sold and continues to sell well. It would be foolish to wait for a bargain this year if you like your slopes empty and your powder deep. Our advice is to book now. It is very unlikely that prices will fall later so much better to snap up something now that you like the look of, rather than paying full price for a resort or accommodation that is less desirable.
The week before February Half Term 2023
This is always a quieter week for ski chalet holiday sales. We have never been able to fathom why this is the case but every winter is the same. So, if there are to be any bargains to be had next winter season they are likely to be for the week starting 04th/05th February 2023.
March 2023
Like January this too is far more booked up than it would normally be for mid-October. Traditionally at this point in time between 40% and 50% of the market would have been sold. However, the weeks of March 2023 are between 50% and 60% sold - sales up by approximately 20-25% year on year for this period. The only exception is the week before the start of the school Easter holidays (starting 25th/26th March 2023). At only 40% sold this is lagging behind the other March weeks with regards sales - possibly this is another week for the bargain hunters out there.
Easter school holidays - April 2023
Sales for this period are actually pretty much exactly where we would expect to see them in any given normal year. The 1st week of the school holidays is always the more popular but this season the advance sales of chalet beds stands at 51%. Looking back to pre-Covid years this figure would normally be at 60%+ so has the market generally shifted to booking ski holidays earlier in the season? Is this a worry about snow reliability? Or something else? It's hard to say why the sales for April skiing 2023 are lagging behind the curve but this means that there are still lots of highly desirable properties, set at fair prices, and in some of the top ski resorts of the Alps being still available. Our advice is (as always) to head high.
Ski resorts such as Val d'Isere have great snow right through to May. Those that haven't been skiing in April don't know what they are missing - the lovely April sun to enjoy, al-fresco lunches, corn snow off-piste, festivals, apres ski parties, empty slopes, cheaper prices....I mean.....what's not to like?